Posted in
Humor
on July 29th, 2010 by MadDog
Yesterday, Trevor Hattersley came around to my office with a flash drive containing some pictures which he and Karen got at The Henley Festival at Henley on Thames in jolly old England. Trev wanted to see if I could fix some exposure problems and generally doll the images up. As usual, I said no worries, as long as I could use them for fish relief on Madang – Ples Bilong Mi.
But first, let me show you last evening's sunset: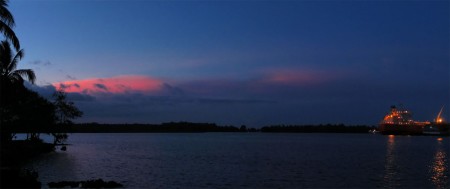 The glow of the ship's lights on the right is a nice balance to the fiery cloud tops on the left in the Southern sky.
Apparently one can't get into The Henley Festival without a coat and tie. I still do own one tie, though I haven't worn it for at least a decade. It's one of those skinny ones from the mid '60s. The colour is a dark, reddish maroon. I could probably still tie a Windsor knot, with a little practice, but where am I going to wear it? I'm saving it for when I die. I want to lie in state in my Lt. Dangle short jeans, a black Harley Davidson t-shirt and my skinny tie around my neck tied with a bit, fat Windsor knot. Anyway, here are Karen and Trevor looking like a fashion model who has brought her sheep dog along to the party: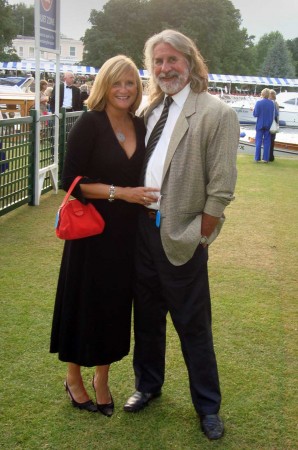 Trevor will give me some lip over that remark, because my hair is possibly even longer than his. I never thought that Trev really looked like the person that he is until he let his hair grow out and let it go a little wild.
Also at the party was Claire Hodgkinson, who was bridesmaid at Karen and Trevor's wedding. Trevor told me that the pebble encrusted pony in this shot was going for £200,000 (or maybe it was £20,000, I'm not sure). That's a lot of bread for something that's going to end up in the attic gathering dust after a couple of decades: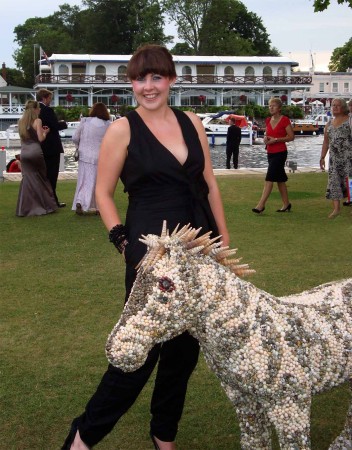 The festival include an incredible variety of entertainments. There are bands and famous solo artists of all sorts, artworks scattered about, fashion contests and fireworks, to mention just a few distractions.
Since whimsy is my thing, I am particularly attracted to this Wire Woman. However, I don't care much for the chair: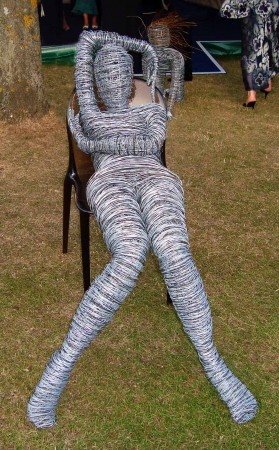 The problem is that she takes up too much space. Unless you had a house the size of Bill Gates', where would you put her? It's not like you can hang her on the wall. I suppose that you could create a conversation nook where friends could sit around with you and make witty, unkind remarks about her as if she weren't there. One thing that you would definitely want to do is to keep her well clear of electrical outlets.
The entire event came within a hair's breadth of a tragic end when poor Trev, wine glass in hand, was viciously attacked by this Stainless Steel Horse: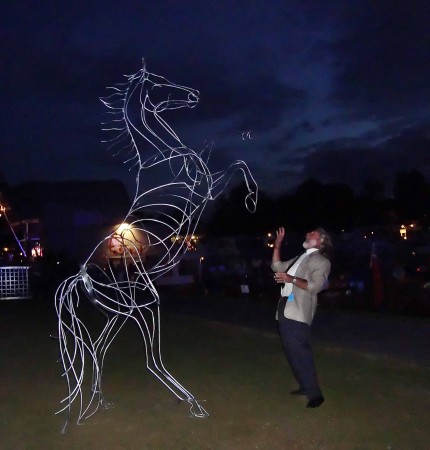 Fortunately, Trev had had the presence of mind to shake his head violently and roar. The horse mistook him for a lion in disguise and fled the scene. I'd love to go to The Henley Festival some day to soak up some culture. But I'd have to borrow some clothes.
To knock this one off and get to work, I'll finish up with this ultra-funky image conglomerated by our Guest Shot artist Lindsay Smith: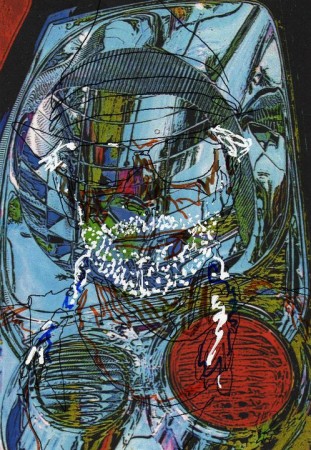 It's a bizarre amalgamation of a bit of my own Dubious Art (a headlamp of our Nissan Navara) with a sketch of me in my Cherokee braids, Space Cowboys sunglasses and black fedora hat.
I don't know what to make of it. It's a little scary.
Tags:
claire hodgkinson
,
henley festival
,
karen simmons
,
sunset
,
trevor hattersley