Posted in
Under the Sea
on July 26th, 2010 by MadDog
Yesterday I took a long overdue holiday from journaling daily. I let my compulsion go and worked on other things. A family portrait session for friends took up most of the morning. I came back and worked on some editing projects in the afternoon, fully intending to read for a while and maybe take a nap. The nap would follow naturally after about fifteen minutes of reading. Neither the reading or the nap eventuated. I ended up working on images for our friend Ush's article for Niugini Blue  called A New Fish.  Ush came over to the house and we edited her text and Photoshopped images for the article.
One of the images was from Saturday's dive on The Henry Leith  near Wongat Island.  Here is Ush half-way down in the cargo hold: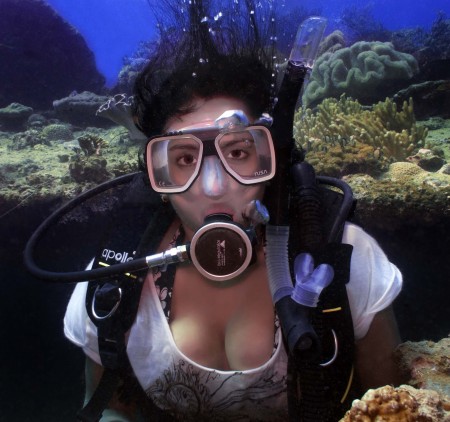 I asked Ush to write a short article about her experiences while completing her PADI Open Water Diver course. This course covers all the training and knowledge required to allow one to dive safely down to eighteen metres.
The dive on The Henry Leith  was Ush's second dive since finishing the course. I was happy to see that she had been well instructed. She did very well on the dive. I did note that she was fascinated by this Trumpetfish (Aulostomus chinensis):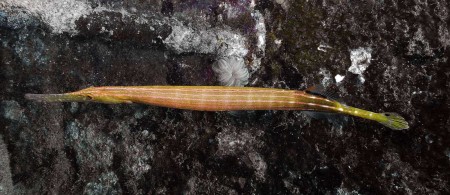 It and a friend are almost always hanging around the bow area of the Henry. They are very shy. I was lucky to get the shot above when the fish was moving from one bit of cover to another.
They are nearly a half-metre long, so it's impossible to get fine details in one shot. You have to take a picture of the head: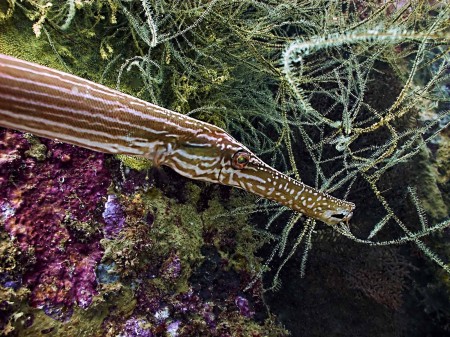 As you can see, it has a very unusual mouth.
Then you shoot the tail: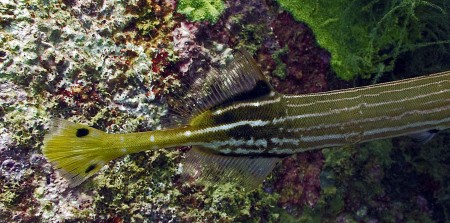 The tail is just an unusual as the head.
The Henry Leith  is covered with life. This is a large sponge with colonies of coral on each side: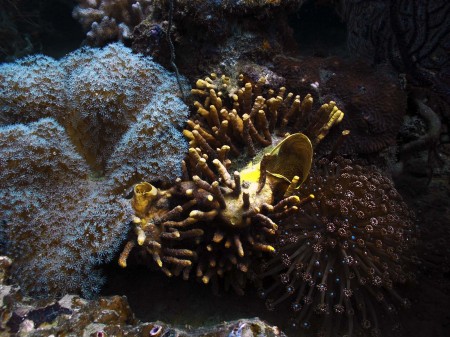 One could probably complete a Doctoral degree by describing the life on this one wreck. I've been photographing it for almost twenty-five years and I still find new thing on every dive.
There are some familiar friends, however. This Golden Damsel (Amblyglyphidodon aureus)  has been haning around just aft of the cargo hold for several years: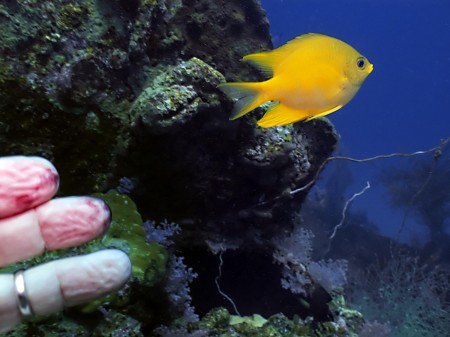 Every time I stop to photograph it, it tries to bite me, sometimes successfully. The red stain on my fingers is not blood. Blood appears green underwater. The colour comes from touching bits of corroded iron while I steady myself for taking shots.
Tags:
amblyglyphidodon aureus
,
aulostomus chinensis
,
golden damsel
,
henry leith
,
sponge
,
trumpetfish
,
ush
,
wongat island