Posted in
Under the Sea
on March 7th, 2011 by MadDog
On Saturday I had my last dive in Madang for several months. We went out to Planet Rock in Astrolabe Bay. I had not been there since October of last year. Fortunately I'm feeling much better than I was then. I distinctly remember feeling suicidal on that dive. Things are greatly improved since then. Life could get interesting, so I'm happy to stick around for a while. I still have important work which provides me with a living and I have many other good things in my life. I'm coming around. I'm on my way to adventure for several months starting in two more days. All this is good news.
What is definitely not good news is the massive coral bleaching that is happening all up and down the coast near Madang. I'm not an expert on anything, but I think that I can safely say that the episode is caused by the rise of local water temperature.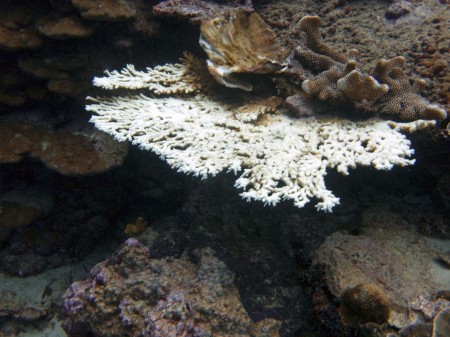 I can remember when the average water temperature on a dive to twenty metres was about 27 or 28 ° C. Now it is more like 30 or 31. This is certainly enough to trigger coral bleaching on a long-term basis. If bleaching episodes last long enough, the coral dies completely and the reef becomes broken rubble in short order. New coral growths have a hard time establishing themselves on rubble, because it is not a solid foundation. As soon as a new colony begins to grow, the bit of rubble is disturbed by wave action caused by storms and the colony is dislodged.
Here is a large plate coral which looks to me as if it will soon be rubble.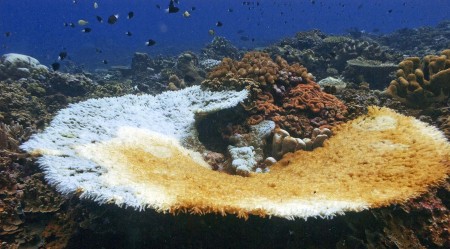 Nearly this entire colony is affected to some extent.
Here is a close up of another type of coral which will most likely not recover. It's difficult to tell without specialised knowledge whether or not the coral polyps will survive. To me, it appears that these are empty shells.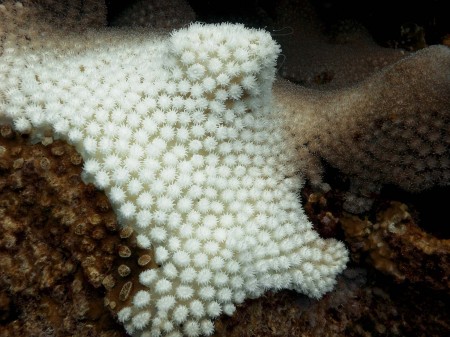 It looks bad enough up close.
It looks even worse from a distance.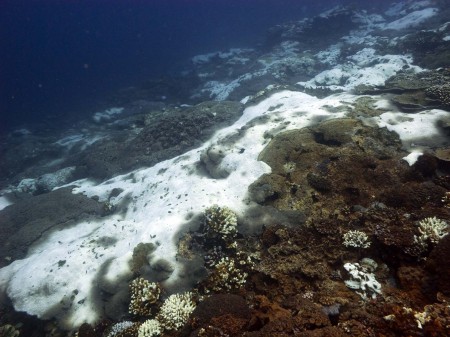 This patch of dead or dying coral is about a hundred metres long.
Here is another badly bleached area about fifty metres wide.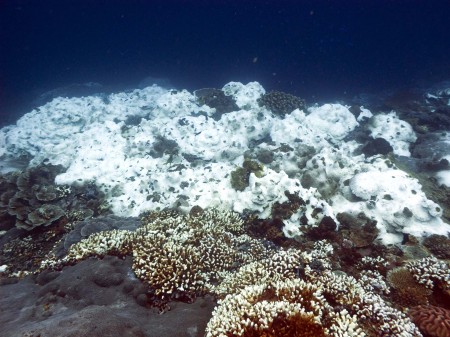 All around the top of the rock we saw hundreds of patches of bleached coral during a forty-five minute dive. I would say that this is an increase of about fifty times as much dying coral over any cases which I have seen before. It is very worrisome.
We did not spend the entire dive surveying dead coral. Rich Jones found this little octopus in a hole.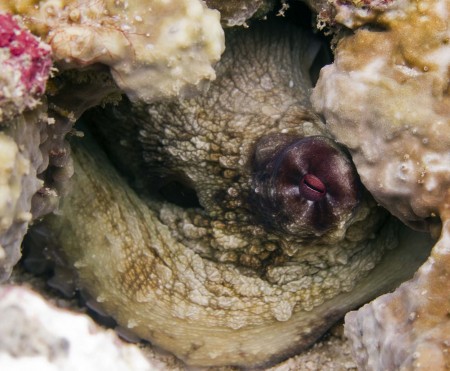 It is devilishly difficult to photograph something back in a hole. You simply cannot jam in enough light for a decent exposure back in the hole without overexposing the coral which is surrounding it. In the shot above you can see one of the legs and the eye.
The octopus had captured a shell occupied by a hermit crab and it was busy trying to extract it for lunch when we came along. I pulled the shell from its tentacles so get the picture above.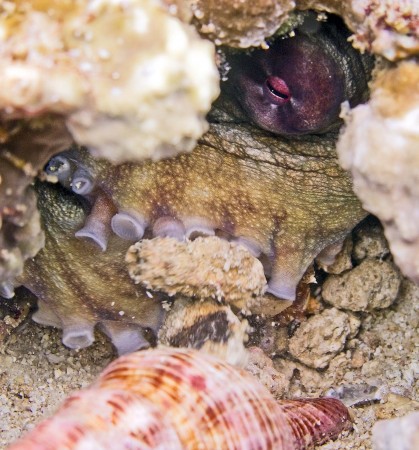 Then I was faced with an ethical dilemma. Do I turn the hermit crab back over to the tender mercies of the octopus to suffer its natural fate and allow the octopus to enjoy its rightful meal or do I carry the shell a few metres away and drop it, giving the hermit crab a new lease on life, but leaving the octopus hungry?
I decided to put things back the way we found them and let nature take its course.
But I did feel bad for the hermit crab.
Tags:
astrolabe bay
,
coral
,
coral bleaching
,
hermit crab
,
octopus
,
planet rock