Posted in
Dangerous
,
Mixed Nuts
on August 25th, 2009 by MadDog
As I reported some time ago, The National, one of our major daily newspapers has been infected by a virus since at least the 29th of July. The virus is called HTML/Framer, but that's probably of little interest to you.
I visited the site (I'm well protected) a couple of days ago (don't remember the day) and my AVG threw up the same old warnings. Today the story is different. I was just preparing to remove it from my list of "Try These Links" when I decided to give it one more shot. This is what popped up in Firefox: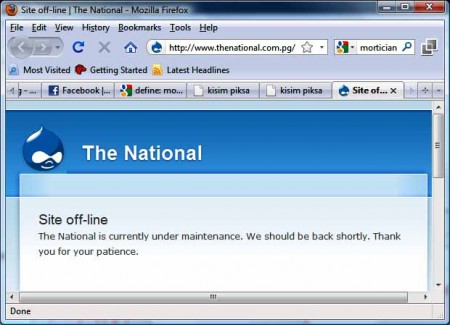 The site is completely off line. I hope this means that they are fixing the problem. I called the system administrator as soon as I discovered the virus. He never returned my call. I'm going to give the person the benefit of the doubt and assume that he was too flabbergasted at the moment to talk to me, but I am suspicious, nevertheless. I've been rebuffed many times when I had a solution in hand and tried to help out a webmaster or a system administrator. Many simply can't believe that someone calling on the phone to report a virus could possibly know as much about it as they do.
Anyway, I find it abominable that they didn't take the site down the minute that they discovered the virus. Practically everybody knows that maybe over 90% (note the wacky estimation technique) of the computers that can get on the internet in PNG are probably unprotected and already spewing out viruses by the bus load to any other unprotected computer. Every single flash drive that comes into our building from outside is infected. That's why I forbid them to be inserted into an office computer until I have de-loused them.
I find it irresponsible of the management of The National to allow their web site to remain on line for such a long time knowing that it was spreading a virus to every unprotected computer that visited it.
Any rebuttals? Corrections? Comments?
Tags:
html/framer
,
the national
,
virus