Posted in
Mixed Nuts
,
On Tthe Road
on April 20th, 2008 by MadDog
A couple of days ago I was awakened by a familiar sensation. The bed was jiggling with vigor and surrounding objects were rattling and clinking.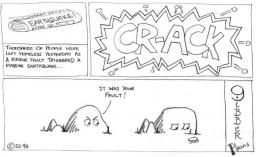 My first thought on awakening was, "Hmm . . . earthquake." As I stepped through the door to dreamland again my brain rebooted and I realized, "WAIT A MINUTE. THIS IS INDIANA!"
Madang residents will understand. Earthquakes of this magnitude (5.2 on the Richter) are so common that they hardly elicit comment. Mick: "You feel the earthquake last night?" Sheila: "Yep."
It is, however, a matter of no small concern. The New Madrid fault is a very dangerous critter, though it hibernates most of the time.
There have been three significant earthquakes during the last forty years in Indiana. Strangely enough, though we've lived in PNG for most of that time, we experienced all three of them. The first was in 1968, before we left the USA. The next one was in 1987 (I think) while we were in the USA for a visit. The third was a few days ago.
Tags:
earthquake
,
indiana
,
New Madrid fault