Posted in
Photography Tricks
,
Under the Sea
on May 27th, 2010 by MadDog
I'm greatly relieved that Madang – Ples Bilong Mi now seems to be alive and kicking again. A recent double-whammy of weird interactions between plugins and some possible security problems conspired to knock me off of my own site and caused many readers to receive weird offers to download a mysterious "wordpress.gz" file, dump them to a 404 "Not Found" page, or behave normally, as the fortunes of fate dictated at the moment. I'm sad that this happened, because the last thing which I want to generate in my readers is frustration. My game is amusement, not apoplexy. If you do encounter any problems with the site, please inform me by email or leave a comment, if possible. I can't fix anything which I do not know about. I'll praise once again my WordPress guru, Michael VanDeMar, who, for a modest sum, plucked my precious baby from the tar pit and washed her clean. If you are a WordPress user, you will probably need Michael someday. Put him in your contacts now before you forget.
If you're a long-time "local" in or around Madang, you will remember Doctors Michael "Mick" and Margaret Horwood who were the local sawbones in town for years. We lived in a small flat above their office. They are wonderful, caring doctors and excellent friends. Mick still comes up to Madang on occasion and dives with us. His son, Will, recently visited us along with some of his fellow medical students. Will was visiting Sam Young, a friend in New York City, and got this phenomenal shot of the skyline with an iPhone!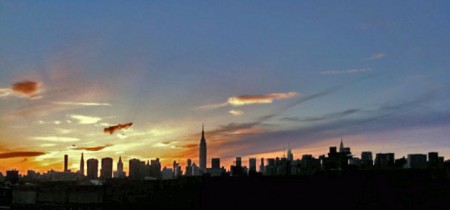 Not too shabby for something with an Apple logo on it. I confess to not being an Apple fan. Please don't hate me. However, one of our co-workers has just arrived with a new iPad. In a couple of days I will deliver to you the definitive review of this absolutely fascinating, but seemingly useless product. I admit that I was mesmerised the first time that I squeezed my fingers together and watched the images shrink and then grow again when I moved my fingers apart. Mind blowing!
Here is something that I'd bet that you have never seen. It is the underside of a New Guinea Cushion Star (Culcita novaeguineae):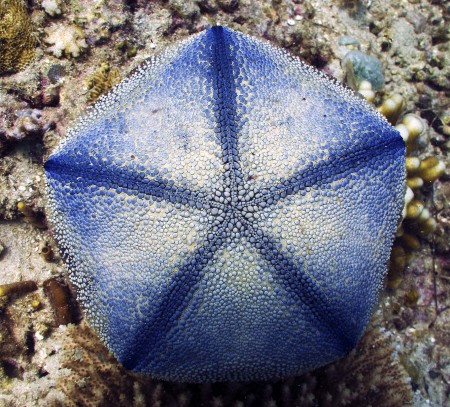 It clearly shows that it is really a starfish with the stubbiest possible legs. Yeah, yeah, I know that most people call them arms. But, we don't walk on arms, do we? If somebody asks you how many arms a starfish has, answer, "Zero, dummkopf." If you click to enlarge this image and look carefully, you will see some small shrimp crawling around on the underside of the critter. Look for the two dark eyes and then you will see the rest of their nearly transparent bodies.
And, here is yet another thingie which only the most bizarre of you may have ever seen: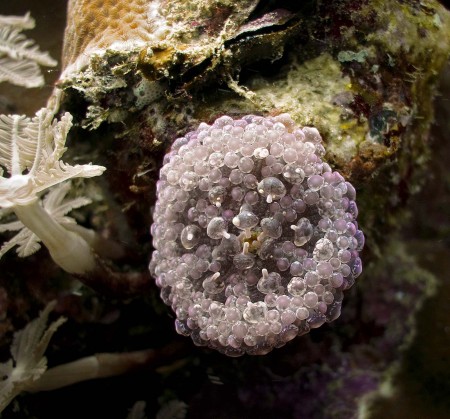 It is an extremely juvenile Bulb Anemone (Entacmaea quadricolor). When I first saw this from a couple of metres away, I bubbled into my regulator, "What the . . ." It is very small, only about 20mm across. I honestly couldn't say what it was until I got the shot on my computer and enlarged it. Seeing it big made it clear from the shape of the little bulbs with the . . . er . . . nipples on them (hey, what would you call them?) that is is definitely an itsy-bitsy Bulb Anemone.
At the Madang Lodge Hotel and Restaurant there are several carving similar to this one of two old men and a dog in a canoe: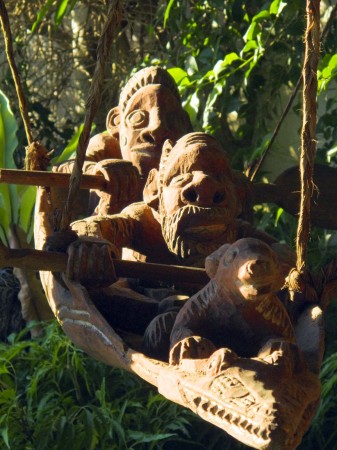 There is a guy in Madang who carves these. I think he may have a patent on the design. I have coveted these for years. Maybe if my new jobs work out, I may commission one. I don't know where I'll put it. Our house is so full of artifacts that we're running out of wall space.
I saved this one for last because it makes me giggle. Click to enlarge this image of a Slender Grouper (Anyperodon leucogrammicus):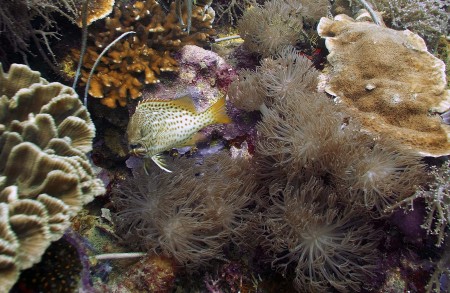 I've uploaded it to my server lager than usual so that you can see the raw hatred and anger on the face of this fish. If this fish had been a tiger, I'm certain that I wouldn't be sitting here boring you into a catatonic state. Fish don't usually react to me this way. Maybe it got out of bed on the wrong side.
Tags:
anyperodon leucogrammicus
,
Bulb Anemone
,
culcita novaeguineae
,
cushion star
,
Entacmaea quadricolor
,
ipad
,
iphone
,
margaret horwood
,
mick horwood
,
new york city
,
slender grouper
,
will horwood