Posted in
Under the Sea
on January 26th, 2010 by MadDog
Don't ask me why, but I think of nudibranchs as the furry little bunny rabbits of the sea. They're not furry. They don't breathe air. They have no legs. They do sometimes, however, have what may appear to be ears, but are not. Here's a little funny-bunny Nudibranch (Phyllidiella pustulosa) for you: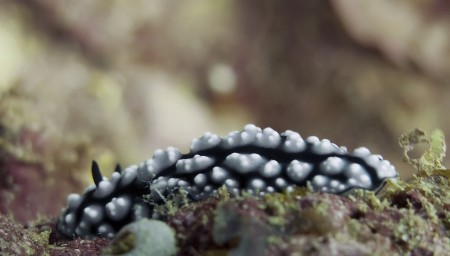 As you may have surmised, I'm a bit mentally frazzled today. I have a tentative job to run someone out to Bag Bag Island in two days and it has me a bit disconcerted, as I usually have more time to plan a trip like that. It's only about 120 kliks round trip, including a fudge factor for finding the spot where the guy wants to be, but it's wild country and if you have problems, you're in for a long, long stay. There are no regular boat runs out there, so the money is good. I can't afford to pass it up, but I'm not like the fishermen with big boats who tootle out to Bag Bag on a lark. I've got to get my act together tomorrow and be ready to go at 06:00 the next day. I need to get used to this kind of work, because there will be a lot of it in our future.
Here's another P. pustulosa (I hate that name – it's so . . . indelicate) for you: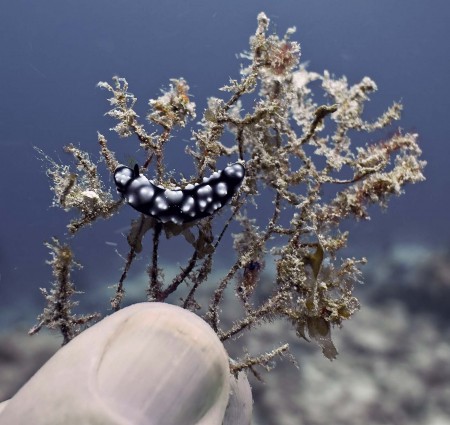 The one in the shot above is a fairly small specimen. Most of those that we notice are three or four times as large. It was crawling on a bit if stuff that wasn't attached to anything. That's why I picked it up to show to you. We don't normally bother the critters unless there's sufficient reason and a genuine purpose (the reason being that I wanted to show you the size and the purpose was that picking it up was the most interesting way to do it).
This Nudibranch (Fryeria menindie) is even less bunny-like, but it does have a couple of yellow ear-like appendages: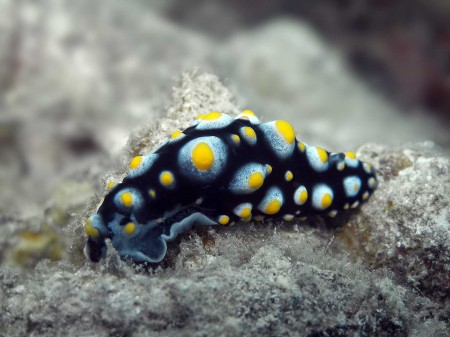 I could not get myself around to shoot this one sraight from the side without scrunching my face up against the coral, which would have induced an itchy rash oozing stuff that you don't want to hear about and lasting for weeks. Therefore, its front end and back end are slightly out of focus. These are the travails of an underwater photographer. I like to dwell on the minor irritations of life. I do this so that the big ones can't take up all of my precious moaning time.
I'm a little puffed up about this image. These Trumpetfish (Aulostomus chinensis) are difficult to shoot: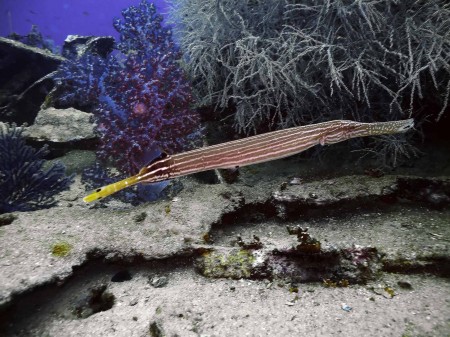 I managed to fire one off at this fine specimen just as he was attempting to scurry from one completely ineffective hiding position to another. Of course, they can't really hide. They just like to imagine that they are invisible. All that they require is a few sprigs of sea fan or coral to make them believe that they have disappeared. I can still see them, of course, but the shot is ruined. It's rare to get a good side shot such as this of one which is not obscured by something.
I include this shot simply because it's a good example of "what I see when I'm diving":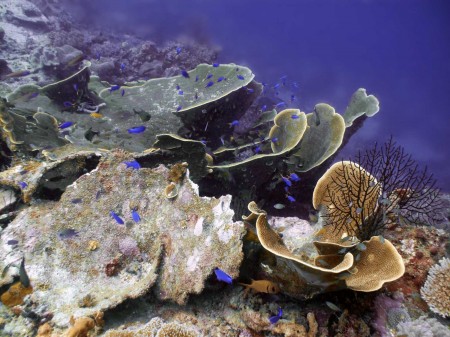 It's a little mob of female Purple Anthea (Psudanthias tuka) hovering over a lovely coral formation which I think is Turbinaria reniformis. It does make a pretty scene. I got that shot at Barracuda Point.
Returning home on Saturday, I stopped right in front of our house and took this shot to the South showing the big wood chip loading equipment at JANT (Japan and New Guinea Timber). They grind up trees to make paper: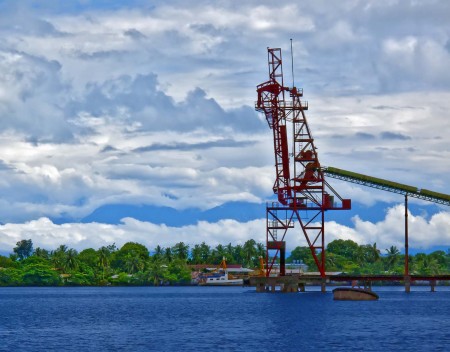 That's the Finisterre Mountains in the background. You can also see the Lutheran Shipping Engineering Yard on the far shore.
I seem to have nothing witty to wrap it up.
Happy Australia Day.
Tags:
aulostomus chinensis
,
coral
,
fryeria menindie
,
jant
,
nudibranch
,
phyllidiella pustulosa
,
psudanthias tuka
,
purple anthea
,
trumpetfish
,
turbinaria reniformis