Posted in
Mixed Nuts
,
On Tthe Road
on April 5th, 2008 by MadDog
Have you ever been to heaven? . . . Me neither. However, I've been to a place that might be as close as you can get while your heart is still pumping. That respite from pain, stress, and anxiety is Aloha Healing Arts. The Angel-In-Charge is a warm and loving soul blessed with an equally lovely name.
Eunice and I have known Fran Rose for more years than I care to number. When we periodically zombie-walk through Honolulu on our tedious treks to North America we never neglect to treat ourselves to the inexpressible pleasure of enjoying time with her. That she is extensively trained and certified is a given. The more precious qualification is her profound understanding that humans are not mere hunks of meat. Her appreciation of the interrelationships of body, mind and spirit transform what might be simply a good massage into a truly holistic healing experience.
Please don't take my word for it. Call a major movie studio. When an overwrought matinee idol cries out for solace, who answers the midnight call? Check this out: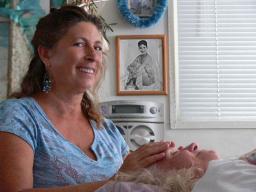 No, that's not a movie star on the table. It's only Eunie. (I should be horse-whipped for saying that!) But wait . . . inspect the photo on the wall in the background. (Click on the image for a closer look.) Could that be an extensively autographed photo of Halle Berry? Right you are. (Hey! All you fellows out there. Calm down and stop imagining what I know you're imagining.)
Among the multitudes that have quivered and moaned under Fran's exquisite manipulation are: Jack LaLanne (think about that one), Jerry Bruckheimer, Carrie Fisher, and Antoine Fuqua. I could list additional luminaries, but you get the idea.
I will say only that Richard Dreyfuss commented, "WOW!" Eunie has always mooned over Dreyfuss. He's always seemed a little wacky to me. I can only count myself lucky that, to Eunie, that's a good thing.
Ah . . . I digress. Anyway, if you're up for a treat and you're anywhere near the middle of the Pacific, don't cheat yourself. Let Fran have a go at you.
Tags:
aloha healing arts
,
antoine fuqua
,
carrie fisher
,
fran rose
,
halle berry
,
jack lalanne
,
jerry bruckheimer
,
massage
,
richard dreyfuss