Posted in
Mixed Nuts
on April 16th, 2009 by MadDog
No, I have not had a sudden change of heart concerning the former President of the USA. Yesterday I started on a bush walk at about eight in the morning and didn't return until late in the afternoon. It was not by far the most rugged country that I've covered afoot. However suffering recently through my 65th birthday, I'm beginning to feel my age a little. By the afternoon the uphill slogs were making my knees noticeably wobbly. For bush walking that is accessible and manageable for most people in fit condition, you can't beat this area. Believe it or not, it's a twenty minute drive from my house: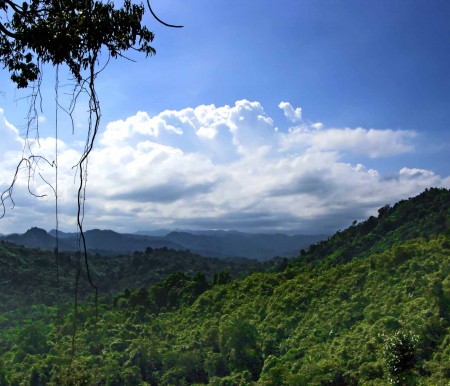 I organised the bush walk as research for an article that I'm writing for Paradise Magazine, the in-flight magazine for Air Niugini. I have an old friend named Tagtap who lives on Nob Nob Mountain.  We've known each other for twenty-eight years. He's even older than I. I wanted to relive some old bush treks with him. I hired three of his "children" (pikinini bilong mi  in the local pidgin – could mean son, nephew, grandson, adopted son – whatever) to carry my backpack, tripod, water, and me, if necessary. Thankfully, the latter did not occurr. Here is Tagtap, on the left, me, and two of my porters: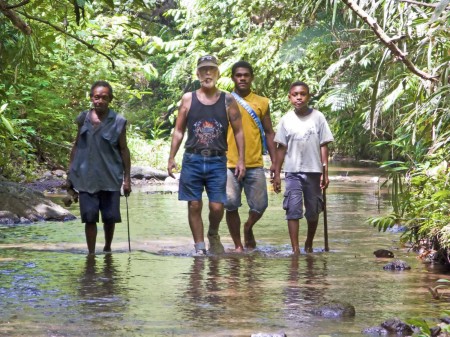 It would fair to ask, "Who took the photos?" Ingeniously, I brought along my tripod. I set up each shot in which I wanted to appear with the camera mounted on the tripod. I taught each of the boys how to press the button slightly, wait for the green box on the screen indicating that the camera had acquired focus, and then push it down the rest of the way.
The trick worked well for this shot: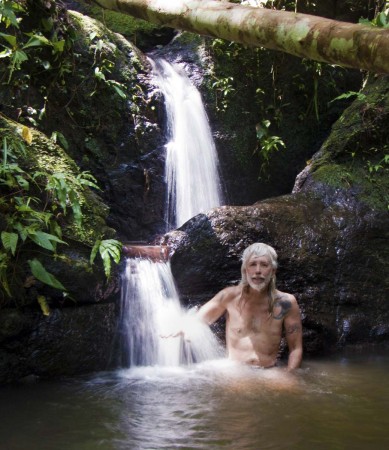 I set the camera up with a neutral density filter to cut the light way down. I then put the camera on manual and closed the lens down as far as I could. I ended up with about a quarter second shutter speed – just enough to motion-blur the water and make it silky looking. Of course, I had to hold very still.
The title of the article will be Bush Tucker – PNG Style.  In case you're not familiar with the term, bush tucker means food that you can find in the wilderness.  In this shot, Tagtap is showing us how to find a wel mami  or wild yam: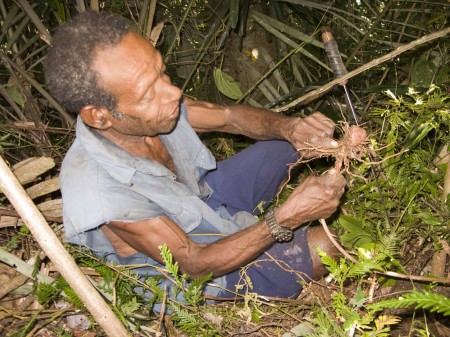 I'll be mixing in more images and stories of my bush walk over the next few days (or weeks – who knows?).
Tags:
bush walking
,
kamba
,
nob nob
,
wild yam