Posted in
Madang Happenings
,
Parties
on October 4th, 2008 by MadDog
Having missed this milestone event myself due to abundant sloth (didn't get my tickets before they were sold out), I depend on our own local Society Reporter and dive buddy Lorraine Collins to recount the festivities.
This from Lorraine Collins:
A groovy night was had by all who attended the 60 Year Celebration of the Madang Club. The theme was come dressed in 60′s attire and man did we see some outfits…! There was everything from early 1960′s dress elegance flowing on to the Mary Quant look closely followed by several hippie love dudes.

Wonderful food provided by The Madang Lodge was accompanied by some groovy tunes. Several speeches were made reminiscing the old days of the Madang Club. These brought many memories flooding back to the "Long-Termers" and was great info for the post-60′s groupies! BJ Kramer wandered down Memory Lane as did Peter Hill. Dr. John, Gim, Nancy, also put their two bobs worth in.

Prizes were given out for best dressed, with Lorraine Collins winning Best Dressed Female. The outfit comprised of a fuchsia pink and black pretend snake-skin knee length coat and black shiny trousers and no shoes (they'd actually broken apart on the way to the event!). Our British correspondent in Madang actually said that The Coat is all the vogue in London right now. Aaaaah! The high fashion of the Madang Boutiques does it again…!!! Best Dressed Male was won by Trevor Hattersley although it was hard to tell if he was actually in fancy dress…!!

Other super-cool dressed dudes were Shane McCarthy in a very flattering lime green shirt and bandana, Karl McGeorge in skin-tight orange patterned shirt (lashed out a whole 50t for it, well worth spending that extra little bit as it didn't even burst as expected…), Julie-Anne McGeorge in matching ensemble with Californian flowers in her hair, Karen Simmons sporting a dark Mary Quant look proving brunettes REALLY do have more fun… Richard Coleman looked well cool in his black shades, black shirt, black leather jacket and imaginary Harley parked outside… As John Mackerel quipped, "Black is ALWAYS in fashion"…!

The Madang Club put on a great effort and a big thank you to the Entertainment Committee and all the groovy dudes and dudesses that helped decorate the place so tastefully. And of course, a big thank you to Madang's Tom Cruise and his cocktail shakin' hands, Gary McGowan. Never knew a Slippery Nipple could taste so good…
So, on to the photos.
Here are Trevor Hattersley and Karen Simmons looking as groovy as one can get in Madang: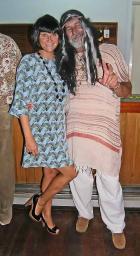 Shane, Karl, and Julie-Anne look as if they're headed for San Francisco: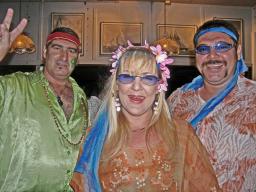 And, here are Tony and Lorraine keeping the faith, baby: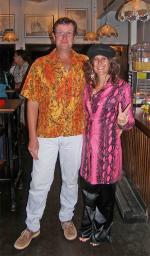 I may only presume that the good times rolled.
Tags:
Gary McGowan
,
John Mackerel
,
Julie-Anne McGeorge
,
karen simmons
,
Karl McGeorge
,
lorraine collins
,
madang club
,
Peter Hill
,
Richard Coleman
,
shane mccarthy
,
trevor hattersley