Posted in
Mixed Nuts
,
On Tthe Road
on September 11th, 2009 by MadDog
I find that I must utilise my time machine to make sense of the last few days. I'm writing this on Sunday morning about my visit to the highlands. I drove up on Thursday, which is your Wednesday. I posted on Wednesday a post to be released on Thursday, so you wouldn't know that I was gone. I was in the highlands on Friday (your Thursday) and posted nothing then or on Saturday. I was out diving on Saturday and far too lazy to drive to town afterwards. So now, I'm faking a Friday post on Sunday morning. Later, I'll fake the Saturday post followed by a time-machine-unassisted post for Sunday, If I have time before lunch. Clear on that?
So, what does it look like up there?  Driving from Madang to Kainantu, the real beginning of the highlands as you come from Madang, would be a lovely experience were is not for the horrible roads. It's 233 kilometres from Madang to Ukarumpa, near Kainantu. I'd guess that about 100 kilometres of that is not very nice (potholes) and of that, about 50 kliks is truly nasty.
When you've passed through the Ramu Valley and passed the little junction of Wara Ais (cold water), you hang a right and begin to climb into the highlands. At the top of the first range you go through Kassam Pass. Here's a panorama from Kassam Pass looking back down on the Ramu Valley:

Here is another view showing the twisty bunch of switchbacks that you've just traversed:

And here is another shot with a bit wider angle: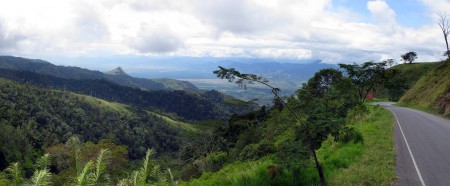 And yet another with an even wider view:

Bored yet? Okay, I'll move on. The next place of interest is Youki Lake and the big hydro-electric dam which supplies power with dubious reliability to a wide area, including Madang. I'll have some more shots later of Yonki Dam, but this one can't wait. As I was snapping away, I noticed two schoolboys trudging up the 45° slope of the side of the spillway. It is about a thirty metre drop from where the boys are walking. When they got to the top, they were huffing and puffing, something that is rare to hear from a young Papuaniuginian. They are very tough people: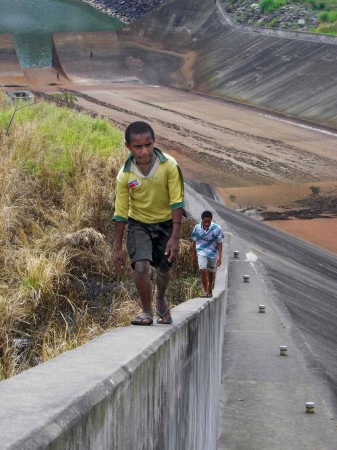 If you want to get an idea of the scale, look at the little black dot at the bottom of the spillway on the right. That's a person standing there.
After passing the dam, you begin another long climb to Kainantu. Here is a shot looking back toward Yonki Lake from the road climbing into the clouds. Kassam Pass is on the other side of the lake:

It is about here that my allergies being to kick in. This trip was not bad at all. Usually, I am fully plugged up by this point. I guess the weather was favourable. Here is another shot of Yonki Lake:

Over the next few days I'll have more images from our two day trip. The bosses were pleased with the results of the meeting, so I don't feel so bad about my numb hands.
Tags:
kassam pass
,
yonki
,
yonki lake