Posted in
Under the Sea
on February 11th, 2010 by MadDog
As it's already after 15:00 today and I've not written a word yet, I'll be mercifully brief. I did break free from the office yesterday afternoon to take KP Perkins for her last dive in Papua New Guinea, at least for the foreseeable future. You may remember this shot of her from another recent post: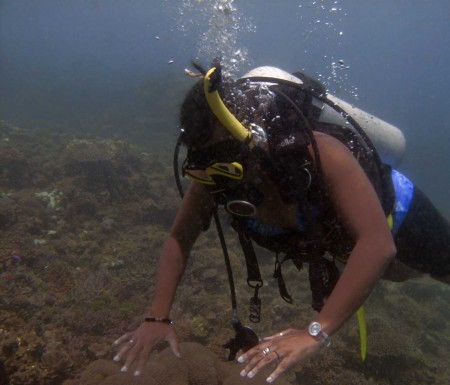 KP had asked me to give her some basic photography lessons, since her previous experiences had not been very satisfying for her. I took her out to Pig Island and we dived The Eel Garden. The surface water was horrible. We could barely see our hands in front of our faces. Underneath, is was not so bad.
KP took most of the shots. One of the most difficult things about underwater photography is staying in position for the shot. Most divers are not used to moving their bodies to achieve precision; you just sort of swim through the water like a fish. KP got her introduction to motion blur. Shooting without flash as in this image of a Sea Squirt (Polycarpa aurata), will quickly show you how shakey your hands are: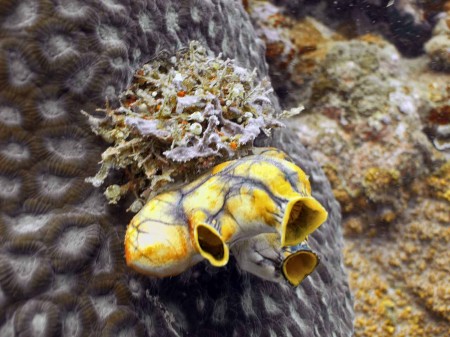 Macro shots, such as the one above are the most difficult.
Wider field shots such as this river of tiny catfish (Plotosus lineatus) are more forgiving: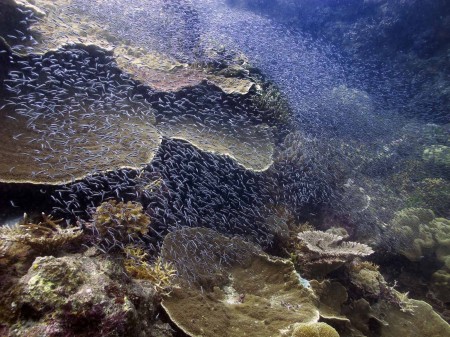 The common Reef Lizardfish (Synodus variegatus) is good practice, because, as long as you move in slowly, you can get pretty close before it gets fed up and scurries to another location: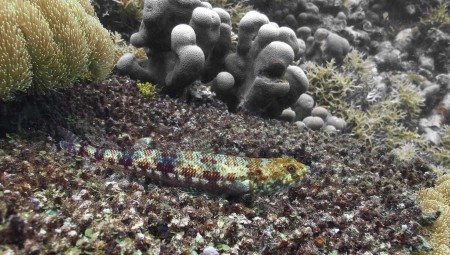 Still life shots such as these Palm Tree Coral (Calvularia species) polyps also make easy shots: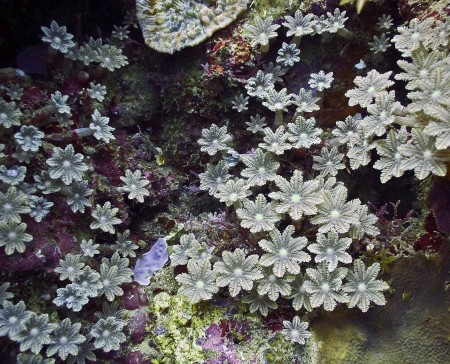 I took this one. I wanted to show KP how, with good bracing and a two-hand hold, I could get a crisp shot at 1/6 second: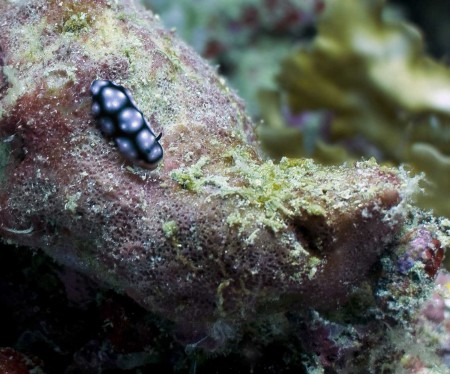 The image stabilization in the camera is not supposed to be much good at such slow shutter speeds. However, if you can get braced firmly enough, it yields perfectly good images. The little critter is a Phyllidiella pustulosa nudibranch sliding downhill as fast as he can.
We switched to flash for a while to give KP a little practice. Here is a terrific shot of a Phyllidia varicosa nudibranch: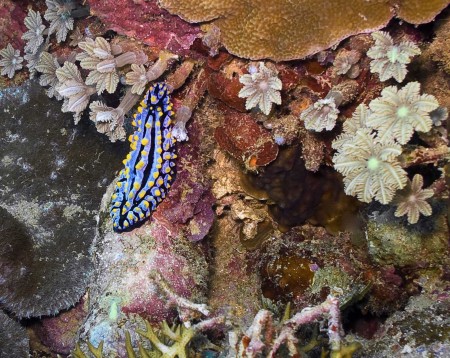 I can't remember looking as bad as this in any photograph. But it's not KP's fault: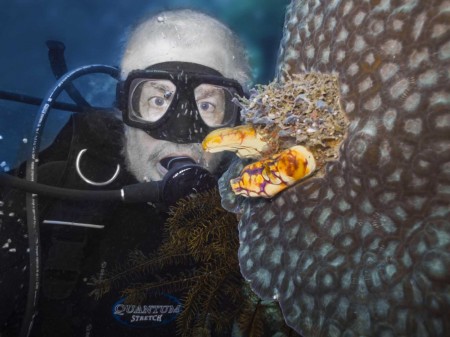 I wish I could think of something funny to say about it.
Here's a tidy little reef scene with the Palm Tree coral, a Seriatopora hystrix (the golden one) coral and a couple of little yellow fish which I can't seem to identify at the moment: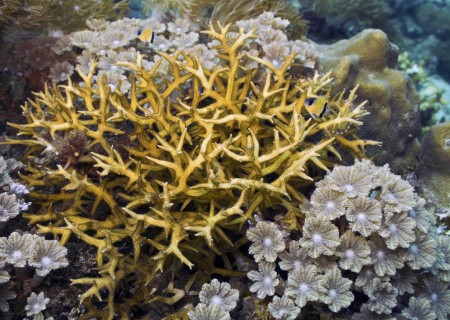 KP is a very quick study, as you can see. A couple of hours of Photoshop work after the dive and she already has the beginnings of a respectable portfolio.
This only feeds my desire to to underwater photography courses in the best diving spots on the planet.
Any takers?
Tags:
calvularia
,
catfish
,
coral
,
eel garden
,
kp perkins
,
maddog
,
nudibranch
,
Palm Coral
,
phyllidia varicosa
,
phyllidiella pustulosa
,
pig island
,
plotosus lineatus
,
Polycarpa aurata
,
Reef Lizardfish
,
sea squirt
,
Seriatopora hystrix
,
Synodus variegatus