Posted in
Mixed Nuts
on October 23rd, 2009 by MadDog
I have an image of my own today, but I'd first like to show you some images of friends who have responded to my pleas for treasure.
The first two come from Facebook friend and regular correspondent on Madang – Ples Bilong Mi, Steven Goodheart of Berkeley, California. Steven is a science writer. Since he was formerly an editor for a large textbook publisher, he has a vast storehouse of information concerning where to find what, something that has already helped me to provide more interesting and accurate information.
The first shot really grabs me. I'd call the composition excellent. It makes good use of the Rule of Thirds. The smaller, gnarly tree and its shadow pierce the space and take it over like Atilla the Hun: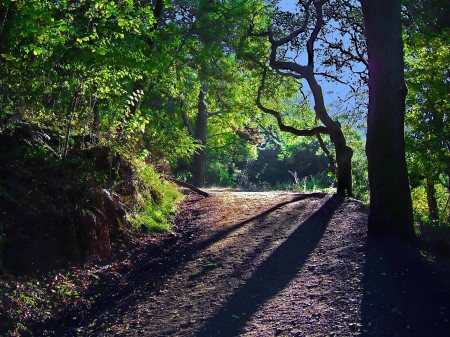 That one is a calendar shot if I ever saw one. Some images remind me of others. This one recalls an image that I showed you from Central Park in New York City.
Stepping from grandeur to minutia, here is a huge mob of my favourite insect, the Lady Bug: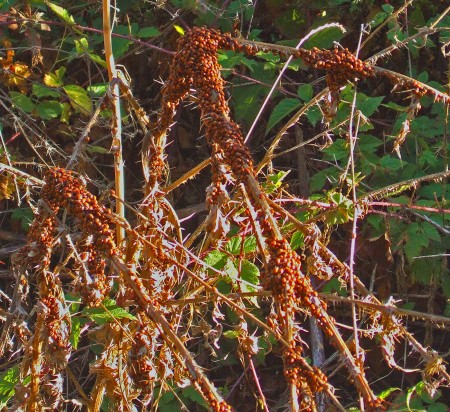 I have no idea why Lady Bugs do this. Steven said it was immediately following a heavy rain. Thanks, Steven, for these shots. Keep them coming. I've shown you some Lady Bugs here and here.
My friend and dive buddy, Dr. Pascal Michon (our naughty resident Frenchman) sent me an image of this very nice little project he did for his nephew who was inquiring of his uncle about Hermit Crabs. It was clever of Pascal to use the images from my journal: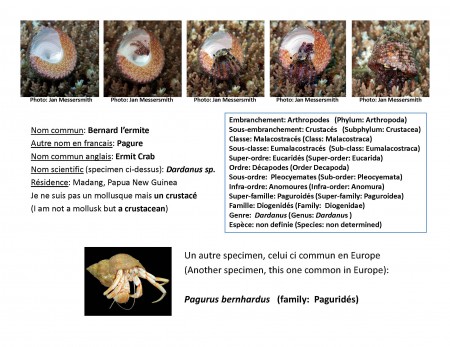 I can't read much of it, but it tickles me, nonetheless. People often ask me about using my images. If you look at the bottom of the journal you will see that everything is covered by a Creative Commons copyright. The terms of the copyright allow free use of any text or images as long as you state clearly that it came from me. I prefer my attribution to be my email address, but my name will suffice. The only restriction is that, if you want to use it in any way that could be considered commercial, you have to ask my permission. I usually don't ask for payment, but I always ask for the end product, for instance, a book, t-shirt, URL of a website and so forth.
I was disappointed by this image when I first saw it on the screen. It wasn't what I'd hoped it would be. So, I spent a half hour or so 'artifying' it: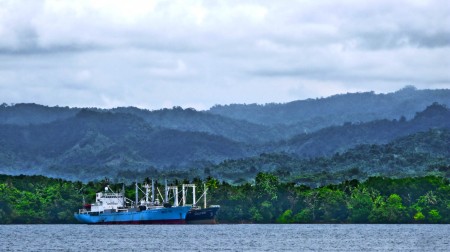 I'm calling it Steamy Jungle and Ship.
Tags:
berkely
,
lady bug
,
Pascal Michon
,
ship
,
steamy jungle
,
steven goodheart