Posted in
Humor
,
Mixed Nuts
on November 6th, 2008 by MadDog
What miniscule political leanings that I exhibit are, admittedly, to the left. For me, however, this has a biological cause. I have an excuse, as it were, from the doctor. Let me explain.
When I was a small child I got all tangled up in a bush (ironic, eh?) while attempting to jump over it. I broke my left femur. When it healed, my left leg was shorter by about 2 cm than my right.
So, it's not surprising that I'm celebrating the victory of President Elect Obama. I just love saying that name. Obama, Obama, Obama, Obama, Obama . . .
If I could vote, I would have only one criterion for selecting a president. He must be the coolest of the candidates. There was no contest.
In celebration of the victory of downtrodden workers everywhere, I'll photographically reminisce about our last visit to Budapest.
Here's an amusing panorama of the city on a grey day:
If you'd like to see a more detailed version, it's here.
Budapest is home to some of the scariest escalators in the world. Here's one of them: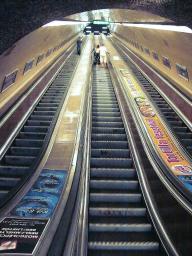 The only one that scared me more was in Prague. I'll show it to you someday.
People gather everywhere in eclectic mobs. It's as if they're waiting for the next revolution to begin:
One extremely charming place to visit is the "Statue Park" where they put all of the old Communist era statues.
Here's Eunie demonstrating the colossal scale of this patriot:
I think that a lot of wisdom was demonstrated by the decision to gather them all together in one place where they could be admired, cursed, ignored, spat upon, or saved for a rainy day. One never knows.
Look carefully and you will see your host peering through the star-shaped hole:
I reckon that this one is the largest in the park. That's teensy-weensy Eunie down by his left foot:
And now, it's just me and Lenin:
What a cool place.
They have a kiosk where you can purchase all sorts of old Communist paraphernalia. They also had t-shirts featuring the Trabant, possibly one of most horrible cars ever built. We wanted to purchase a Trabant t-shirt for our son. Shirts showing a red Trabant were on display, but the clerk absolutely refused to sell us one. It seemed to be an emotional issue.
The Hungarians were never very enthusiastic about Communism, to say the least.
I wonder what they do with all those t-shirts with red Trabants on them?
I'll leave you with two of my favourite images of the Trabant:  (both ripped from the web)
WORKERS OF THE WORLD – UNITE!

Tags:
budapest
,
communist
,
escalator
,
lenin
,
revolution
,
statue park
,
trabant
,
workers of the world