Posted in
Mixed Nuts
,
Under the Sea
on October 7th, 2010 by MadDog
I do not intend for Madang – Ples Bilong Mi to indefinitely remain a place where I forever keep going back to the events of the last few months. I need to move on at some point. However, this is a (more or less) daily journal. I think of it as an open diary. I cannot escape the present. If I am to continue to be open and honest, I must put down here my thoughts, fears, challenges and successes. This allows me to take these things out of my head and examine them as I write. It allows me to record them as waypoints on my journey. It helps me to gauge my progress and someday, it will allow me to remember the events with the fresh perspective of one who is healed and able to look back with less pain.
So, having said that, I'll tell you that the plans for the Memorial Service for Eunie at the Chapel at Divine Word University are progressing smoothly. Yesterday, I burned a CD full of Neil Diamond songs to play before and after the service. Later today, I will organise photographs on a flash drive to be displayed on the big LCD screen in the Chapel. These are small tasks which were assigned to me by the little "committee" of friends who are carrying the main load of organising the event. I was glad to have something to do which I probably could not mess up.
Tomorrow will mark one month since Eunie's death. I think that that is the first time that I've used the word – death. Possibly this marks the end of my daily walk with denial.
This is the first sunrise which I have captured since before leaving for Australia:

The mornings have been mostly cloudy. Starting at about 05:30, when the sky begins to lighten, I can tell, by looking out the bedroom window, whether there will be a decent sunrise or not. Though I'm looking west, I can see the general colour of the sky and judge the brightness. If it looks promising, I'll get out of bed and look out the front of the house. Yesterday, it was worth getting up.
Here is a particularly good image of a Red and Black Anemonefish (Amphiprion melanopus):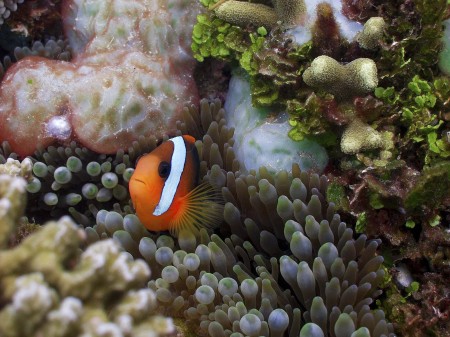 Its wholesome goodness comes from its very accurate colours. The conditions were perfect for a good shot. It was taken in about seven metres of fairly clear water with a bright, thin neutral white cloud cover which provided flat and untinted light. I'm quite happy with this one.
While our little troop of was back in Gympie at the home of Val Jerram preparing to scatter back to our own places we found this very amusing lizard under Val's veranda: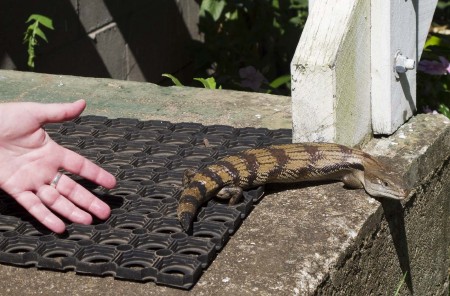 That's Carol Dover's hand in the shot to give some scale. It's not huge by Australian lizard standards, but it does look as if it might inflict some damage if it bit. Dr. Robert Sprackland sent a copy of his new book, Guide to Lizards, because it has one of my images in it. I could not find this lizard in it. I don't know what that means. Maybe it's rare? Seems unlikely.
UPDATE: Reader Madcap Maven left a comment identifying the lizard as a Tiliqua scincoides scincoides, the Eastern Blue-tongued Lizard. Her ID checks out. I consulted the Ultimate Resource, Wikipedia. You can read her message in the Comments at the end of this post.
Since I'm just rambling here I'll throw in this interesting image by Lindsay Smith: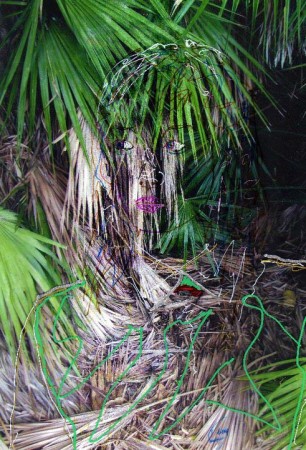 It's a strange, moody piece.
Last, but not least, here is a beautiful shot by Alison Raynor titled Toogoolawah Sunset: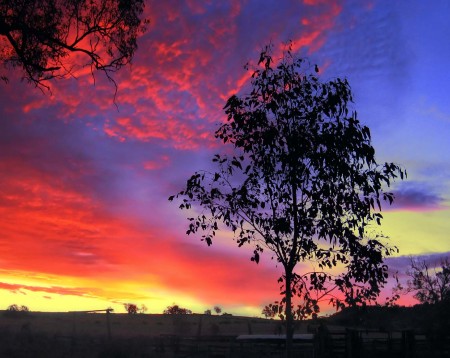 Someday I hope to visit Toogoolawah. It seems a peaceful place.
Tags:
alison raynor
,
Amphiprion melanopus
,
gympie
,
lindsay smith
,
lizard
,
Red and Black Anemonefish
,
sunrise
,
sunset