Posted in
Mixed Nuts
on November 22nd, 2008 by MadDog
I used to love to sleep in on weekends. It doesn't appeal to me much now. I wake up early on Saturday and think, "Hey, I don't have to go to work today; I can write instead." So, from 5:30 or 6:00 until about 9:30 I can take time to look over my folder of "potential blog photos" (about 250 now, and counting) to see what inspiration the Muse may lend me.
This particular Saturday morning delivered a smidgeon of serendipity in the form of a sleepy fellow paddling lethargically in the brassy glow of the rising sun: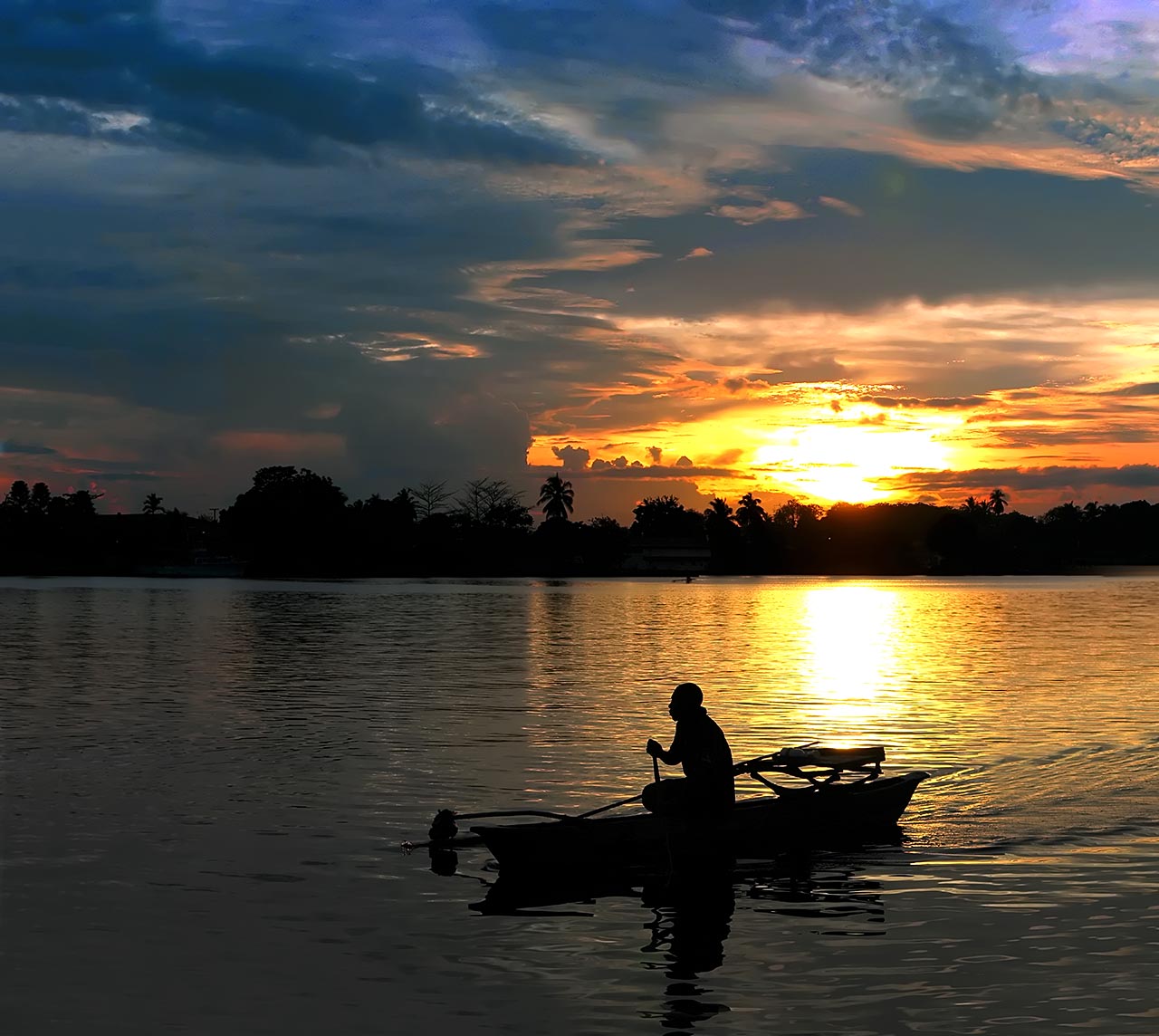 Sometimes I'm so focused on the camera and the lining up of the panorama shots (this is four exposures stitched together) that I forget to note what else might be going on. However, this time I did notice the canoe coming and I got the timing very close. I was missing just a bit of the trailing edge of the canoe wake. I had to clone that in, but it doesn't look too faked. I'm going to try to sell this one to Our Way as a cover shot. Maybe I'll get lucky.
Sheba was out in the yard following me around and whining. She was longing desperately for her breakfast. I wanted to get a good shot of her in the warm glow of the sunrise. She's such a mongrel – like me. She's part Doberman and part Rottweiler with a healthy dose of German Shepherd tossed in at the last moment for good measure. She is a pup of Greg O'Keefe's bitch and was owned briefly by Swami Monty and Meri, his luscious consort.
Here I was commanding "STAY!" about every five seconds while she fretted, "Why doesn't the stupid biped feed me?" One can easily see the concerned expression on her pretty face: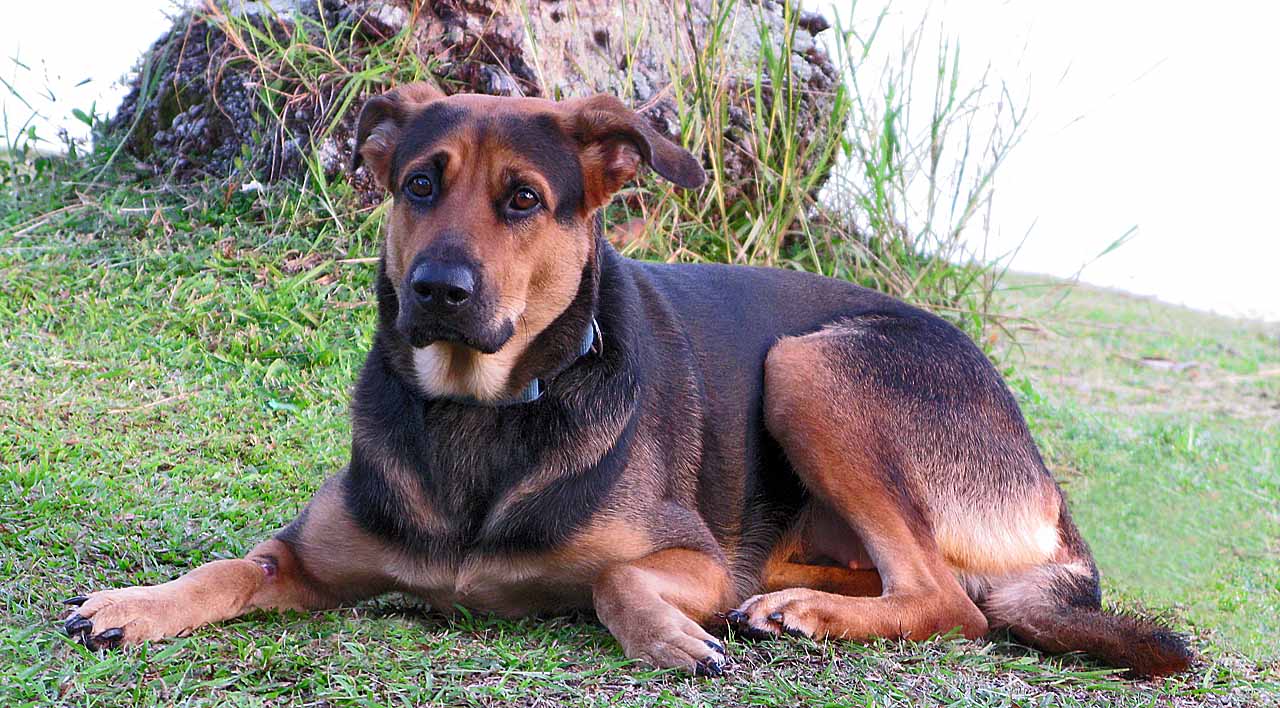 I try to avoid taking hundreds of photos of Sheba and then forcing innocent captives to look at them. They are like baby photos. "Oh, here's Junior spiting up, and here he is making kaka in the back yard, and, Oh look, here he is holding the dog by its ears. Doesn't he remind you of Lyndon Johnson?" You have to be an aging Yank to get that reference.
This next shot seems a little out of place. As I looked through frames that I liked and had spent some time to make them just so, this one evoked some pleasant memories of Miss Rankin and all the good times we've enjoyed on her decks and under her hull. Here's Carol seeming pensive as she watched the sunset on our way out of Tab Anchorage: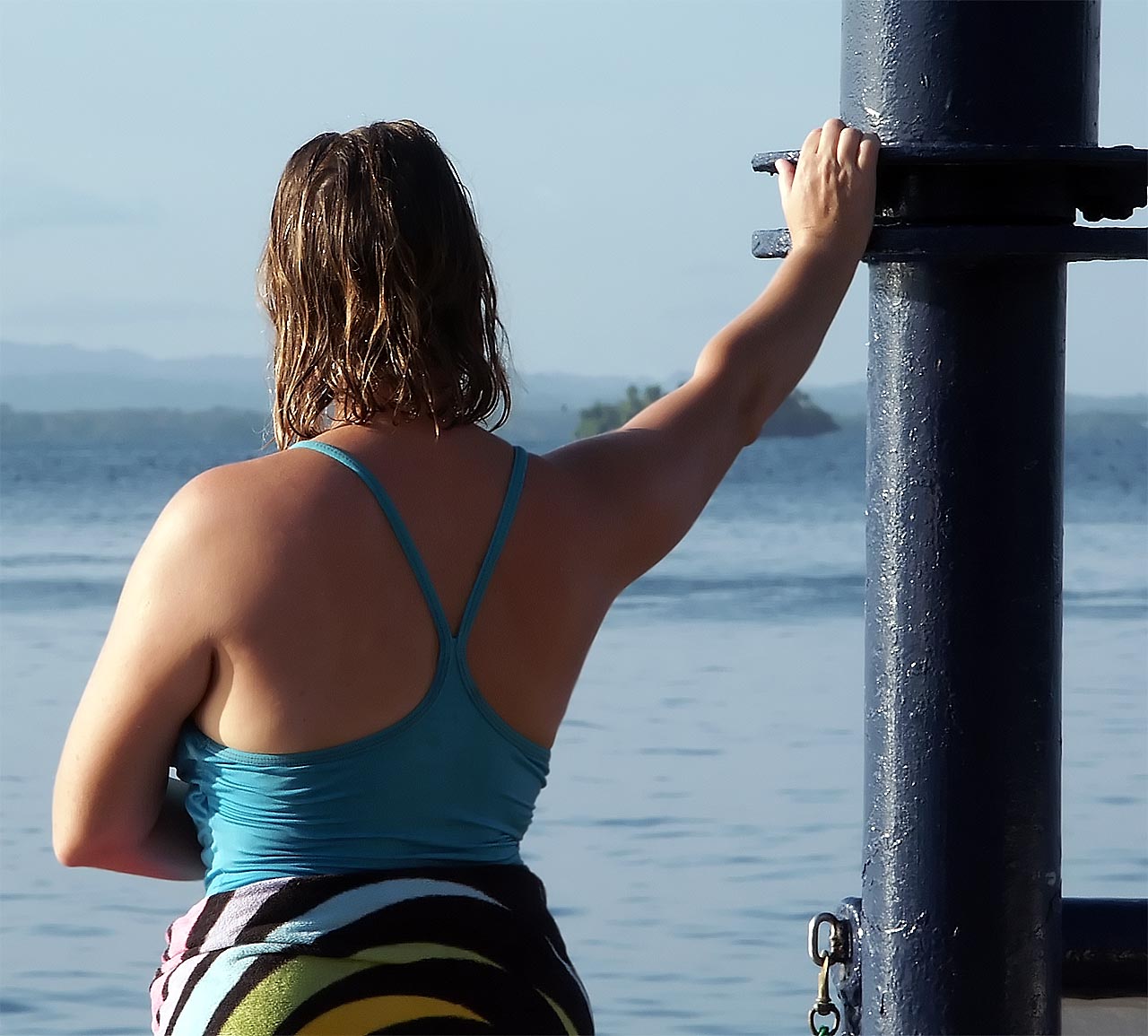 So, that's my Saturday so far.
I hope my readers like the new look of the site. I'll get the URL problems settled down eventually and hope I haven't lost too many of you along the way. I'll also clean up the messiness in the sidebar and fix the garish colours of the fonts.
For those of you with eyes like mine, I'm also going to increase the size of the body text and make it brighter so that it's more easily readable. Generally speaking, I hate the black background sites because of the readability problem. But I can't give it up now that I've seen how much better the photos look.
Tags:
canoe
,
Carol Dover
,
greg o'keefe
,
lyndon johnson
,
miss rankin
,
sheba
,
sun
,
sunrise
,
swami monty
,
tab anchorage