Posted in
Mixed Nuts
,
Under the Sea
on March 19th, 2010 by MadDog
I get a lot of enjoyment from writing daily, though it is sometimes very difficult to find the time. However, I do sometimes question myself as to why I do it. Getting away from the TV is a good enough excuse. Also, since it looks as if writing, editing and photography are going to be  a major part of my work from now on, I need the discipline of writing every day, whether I really feel like doing it or not. So, I've got plenty of good reasons to keep cranking it out.
Then, I ask myself why I have so many readers – ten times the highest number that I ever hoped for and growing month-by-month. What do I provide that people seek? What is is about the content of Madang – Ples Bilong Mi that draws an audience that dwarfs my wildest aspirations?
Well, I can think of some things that it is probably not. It's hardly great literature. It's certainly not deep thinking. In fact, frivolity, sarcasm and whimsy are my favourite seasonings. The photography is so-so, but there is much more spectacular stuff available at the click of a link. The subject matter is pretty tightly focused, being mostly about me, me, me, so, unless you're stalking me, that's not it. Hmmm . . . subject matter – content . . . maybe that has something to do with it.
Truthfully, I think that what I may provide is distraction. No matter who or where you are, what you are doing or what your current state of mind may be, whatever you find here each day is likely to distract you, maybe rattle your cage a little. I know that I have to rattle my cage pretty hard just to get my fingers moving to write it. My hope is not to make you think or impress you with great ideas or even make you gaga over the pretty pictures. It is simply to provide you with a little break. Whatever you see here is almost bound to be a different kettle of fish than whatever presently occupies your mind.
So, with that in mind, I'll present you with a small assemblage of  images which signify nothing. I found them handy on my camera card from the last week or so. Make of it what you will.
When I see our boat, Faded Glory in my dreams, this is how she looks: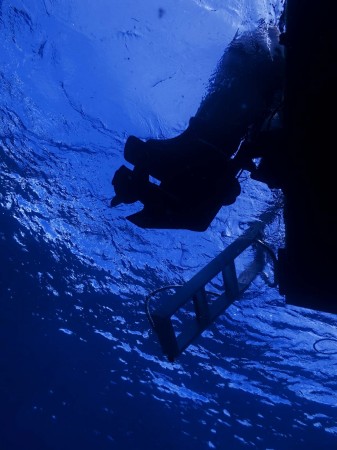 Not that I dream of her often. I have many more amusing subjects. I dream much more often now than I did a few years ago. And the colour has returned!
I bet that you have never seen a nudibranch playground: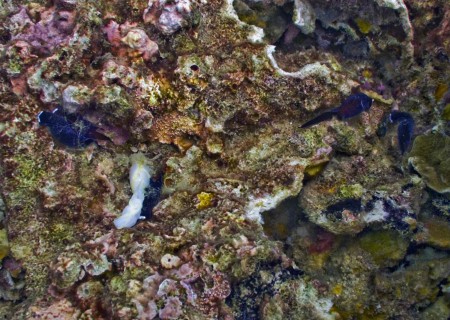 I can see seven nudibranchs here of two different species. There is one potential courtship and a possible mixed-species ménage à trois, if you care to examine the scene closely. I'll make no moral judgements. They quite literally don't know what they are doing.
Okay, if you're settled down from that, maybe you're ready for this: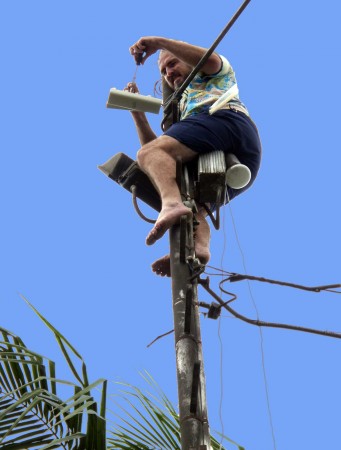 This is our guru IT  advisor and general "get me out of this mess" guy, Mark Bleyerveld. He is up a pole, as you can see. What is not obvious is that it is a very tall and springy pole. I took this shot at 5x telephoto. The leaves are the top of a rather tall coconut tree. If you've seen big coconut trees, you get the idea. Mark is not only smart, he's brave. No, make that crazy. By the way, the pole is the same one that you saw in yesterday's telephoto shot. You can find the image in the link in the next pargraph.
Mark is installing the final links in our Free From TELIKOM crusade. By this evening I expect to be cruising the web at 54MBS in my home without having passed through a single wire belonging to TELIKOM. Hurrah!
While I was over at the coconut oil refinery where pole-climbing Mark was sweating away in the sun, I snapped this shot of the giant machines that grind out the skin-softening ingredient that many of the ladies adore: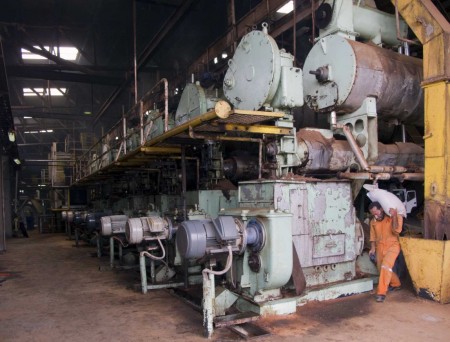 Let me tell you that it is very loud in there and it stinks! The smell is like a million burnt coconut macaroons stuffed up your nose and pounded in solidly with a jackhammer. Even with my severely retarded olfactory capability (sinus infection still with me), I had to hold my breath.
Stay with me. I'm about to wrap it up with a little colour. You've seen the Nudibranch Pteraeolidia ianthina here before, but not this particular one whose name is Fred, or maybe Frederica: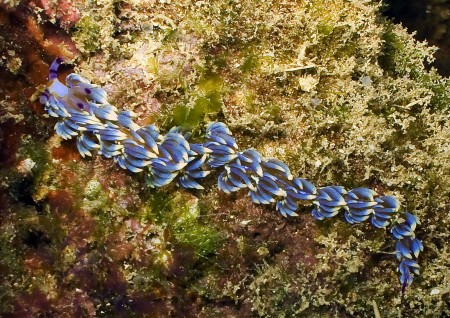 We know where a bunch of them hang out, so I'm working on getting the perfect shot.
You've also seen the Chelidonura inornata before, but this is my best shot so far: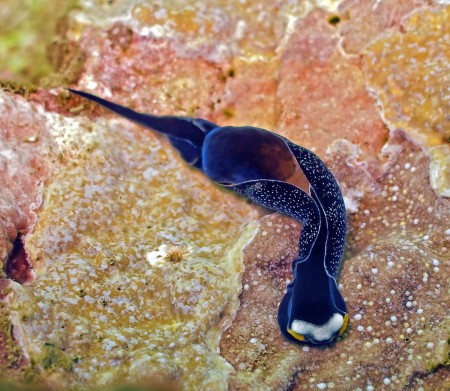 You can see some of them in the playground shot above.
Tomorrow is dive day. I still have the pesky sinus infection, but tomorrow morning I'm supposed to get a definitive diagnosis and a prescription. That's always an iffy thing here.
We'll see how it goes.
Tags:
chelidonura inornata
,
coconut oil
,
faded glory
,
mark bleyerveld
,
nudibranch
,
pteraeolidia ianthina
,
telikom
,
wireless