Posted in
Mixed Nuts
on February 18th, 2009 by MadDog
I've been keeping amused by sorting through the old issues of Paradise Magazine that Maureen Hill gave to me. There are many articles of interest to old-timers, but the advertisements are so funky and dated that I have to show you a few of them. I'll get around to the articles later.
These ads came from Issue 2: October 1976, Issue 5: May 1977, and Issue 6: July 1977.
In hindsight, I suppose that old cigarette ads are not so funny. I can remember when "Nine out of ten Doctors Recommend . . ." They can 't get away that that now. Here's an old Peter Stuyvesant ad from Paradise: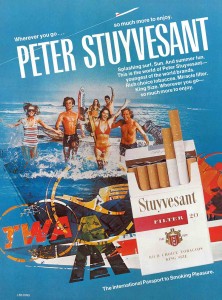 It would have been more honest to say, "We hired this clown to dress up in a doctor suit and lie to you.", but I don't think they would have sold as many coffin nails. I was curious about who the dude was or if it was a fake name. Turns out he was real:
Peter Stuyvesant (circa 1600 – August 1672) served as the last Dutch Director-General of the colony of New Netherland from 1647 until it was ceded provisionally to the English in 1664. He was a major figure in the early history of New York City. Stuyvesant's accomplishment as director-general included a great expansion for the settlement of New Amsterdam (later renamed New York) beyond the southern tip of Manhattan. Among the projects built by Stuyvesant's administration were the protective wall on Wall Street, the canal which became Broad Street, and Broadway.
Here's one that's a laugh. Who in the world thought this up: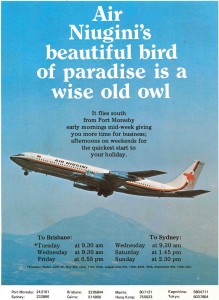 Air Niugini – A Wise Old Owl? Maybe way back then.
The Avis car hire gang was around then and have managed to hang in there: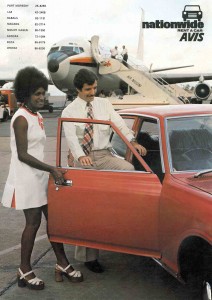 Although I don't think anybody dresses like that anymore. (Hey, wait a minute. I DO know some guys who still dress that way!)
Ela Motors is still pumping out the iron, though I seriously doubt if the car shown in the ad is more than a rusting hulk: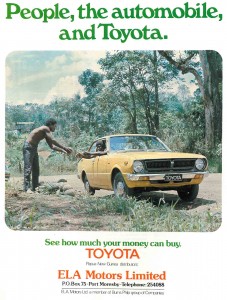 South Pacific Brewery is still faithfully insuring that nobody goes to school (ably assisted by British American Tobacco).
*
However, with the quality of the flint bottle longnecks (SP Export Lager) that we've been seeing lately I think a lot of people would switch if there was anything in the same price range. Every other bottle spews about a third of its contents out as soon as you open it: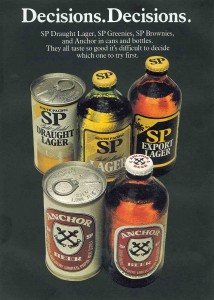 I saved the best for last.
Burns Philp
used to be a very big deal here. I can remember a huge warehouse store just around the corner from my office. It burned down. Burns Philp is now a shell company owned by New Zealand businessman
Graeme Hart
: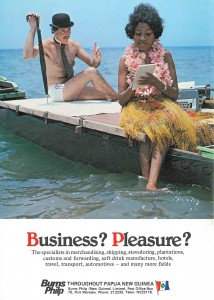 I wonder if its demise had anything to do with its ludicrous advertisements.
Fair is fair – it is cute in a demented sort of way.
* Okay, okay, I know it's not fair to blame the brewers and ciggie makers for the irresponsibility and neglect of the slugs who choose to consume the products in such quantities that they can't afford to send their kids to school. It's like blaming the arms industry for all the people who die in wars. But, hey, we gotta blame somebody!
Tags:
air niugini
,
avis
,
burns philp
,
coffin nails
,
ela motors
,
graeme hart
,
maureen hill
,
paradise magazine
,
peter stuyvesant
,
south pacific brewery
,
sp beer
,
toyota
,
wise old owl