Posted in
Mixed Nuts
,
Under the Sea
on May 26th, 2010 by MadDog
Regular readers will note that I have been off the air since Sunday. I was working on Madang – Ples Bilong Mi when suddenly I found myself locked out. I could not even get the login page to load. I got this strange message:
Not Found

The requested URL /wordpress/wp-login.php was not found on this server.

You are receiving this error because there was reason to believe you may have violated the system's security protocols. If you think this was an error, please submit details about your activity through the form below and you may be unblocked. Providing your email address will speed up this process.
Thoroughly disgusted and believing that I had been hacked, I gave up for the day and laid around feeling sorry for myself. On Monday I got in contact with a WordPress Specialist, Michael VanDeMar, who began to examine my server for any evidence of foul play. By mid-Tuesday he had me back up and running. If you ever get in a jam with your blog, he's your man. I give him ten out of ten.
As it turned out (GEEKSPEAK ALERT! – Geeky stuff in this paragraph.), it was not a hack, or at least it wasn't the direct result of a hack. I was using a product called SecurePress to shield me against hackers. It seemed to do a pretty good job and notified me each time a hack occurred (several times a day, usually). I am also using a WordPress plugin called WP Super Cache which makes my pages load much faster on your computer. As a result of a previous attack which was interpreted as coming from my own IP address WP Super Cache began directing users to the message above which is doled out to suspected hackers. I should have picked up on this, but I did not make the connection. That's what experts are for. So, if you are using SecurePress, pay attention to the part in the instructions which cautions you that you could get locked out of your own site.
But, now I have this big hole in my calendar. It irks me, but it would be obsessive to go back and fill it up. I'll just have to live with it.
Okay, with all that mess now disposed, let's have a nice, cheery sunrise:

That is the brightest red one that I've seen since the last dry season.
Here is another sky shot which shows an interesting effect which you will probably not want: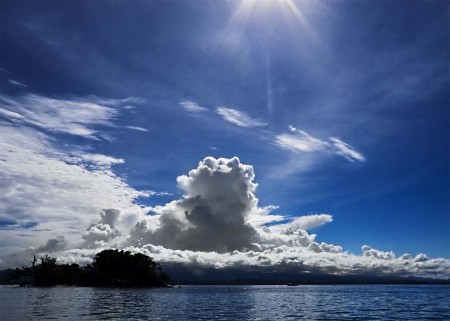 I saw the beautiful towering cumulus over the mainland and wanted to get a shot of it. However, my camera was still in its underwater case. I wiped the face-plate as well as I could with my towel, but it left some streaks. The diffraction that you see in the top of the image is caused by the bright sunlight being scattered by the nearly invisible streaks on the faceplate of the housing only an inch or so in front of the lens of the camera. It's an interesting effect and could be useful. Back in the old days we used to smear a very thin layer of Vaseline on a clear filter and screw it on in front of a lens. Different patterns of smear created different diffusion effects. It was especially nice for that soft-focus look when photographing the ladies.
Since I've been off the air for a few days, I have a craving for fish.
Here is a nice Barrel Sponge at Barracuda Point near Pig Island with some Antheas and a few Dascyllus swimming around it: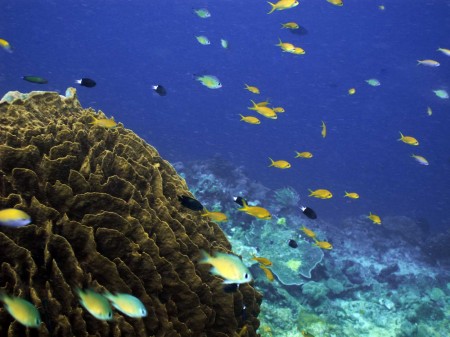 The water was not very nice that day. The visibility was only about eight or ten metres.
I did manage this reasonably nice shot of some Midnight Snappers (Macolor macularis):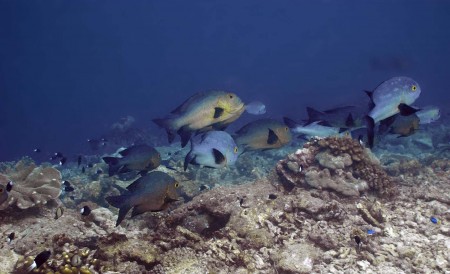 You can see some sub-adults in the shot. They are the ones which still have traces of the juvenile black with white spots pattern. The golden coloured one in the middle is an adult, as are the darker ones to the left. The one on the right with the faint white spots is a sub-adult.
Finally, here is an absolute storm of baby fish: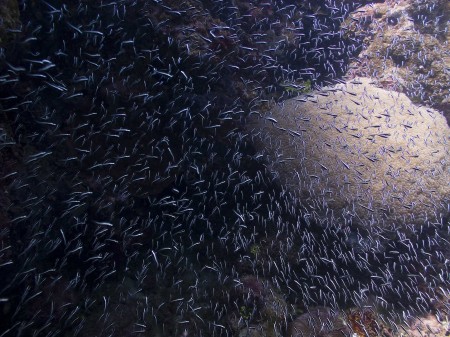 I've put this one up on the server at extra high resolution – 4,000 pixels. It's worth a click and a wait to see it close up.
The Good Lord willing and the creek don't rise, I'll be back to regular daily posting from now until the next hiccup.
Tags:
hack
,
macolor macularis
,
midnight snapper
,
securepress
,
sunrise
,
wp super cache
,
wp-supercache
,
wpsecure