Posted in
Mixed Nuts
on February 5th, 2011 by MadDog
How do you eulogise a loved one in three or four lines of text? It's impossible. A few months ago I fretted over the words for a couple of days and finally sat down and wrote them in ten minutes. On the black granite slab the size of a large coffee tray I had only three lines to tell of her. The words flow from her priorities – God, her man and everyone else. She had enough love to serve us all a healthy portion.
So, finally, I have assembled everything I need to fulfil my promise to her. She wanted to be buried on Kranket Island in the little cemetery full of the last remains of decades of missionaries and Kranket residents. The small field sits next to the island's Lutheran Church only a hundred steps from the quiet harbour.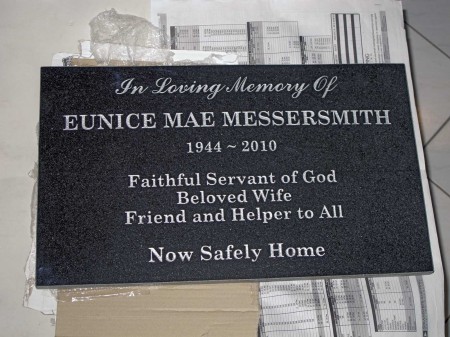 A couple of days ago, my friend Mike Cassell took me to Kranket Island to inspect the site and make final arrangements with the head man. As it turned out, Bill Koi, the fellow we went to see, had just left for Madang to see Mike. Crossed paths! Mike is a lot like Eunie was. He knows everybody and can get anything done. If it's at all doable, he can make it happen. Friends like him you need. I asked him if he would handle the negotiations for space in the cemetery and smooth the way for me. It was absolutely painless.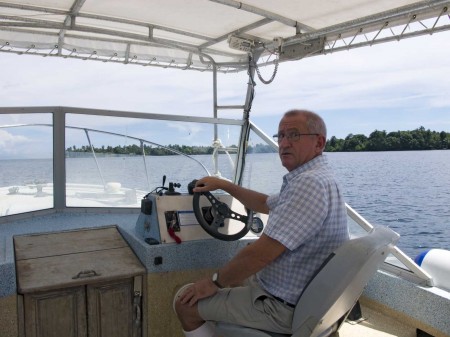 Here is a shot of the approach to the long defunct docks at the harbour's edge: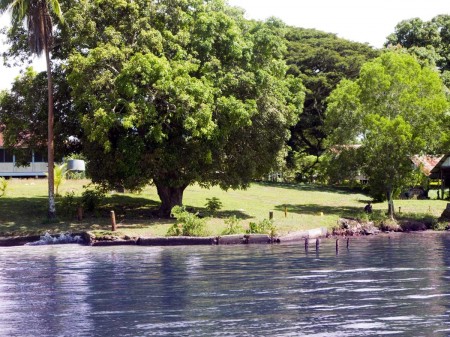 This is a familiar sight to any resident of Madang.
Since the docks are no longer functional, Mike left some kids to tend the boat while we walked inland: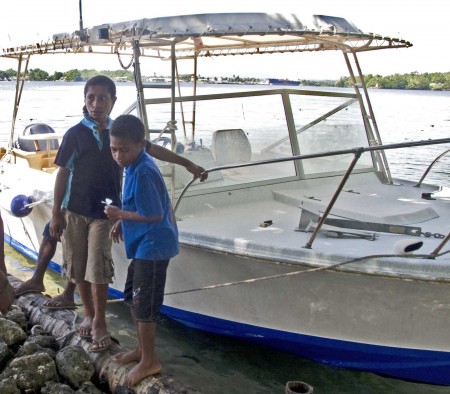 We soon found what we were looking for, the last resting place of Bob Peaker: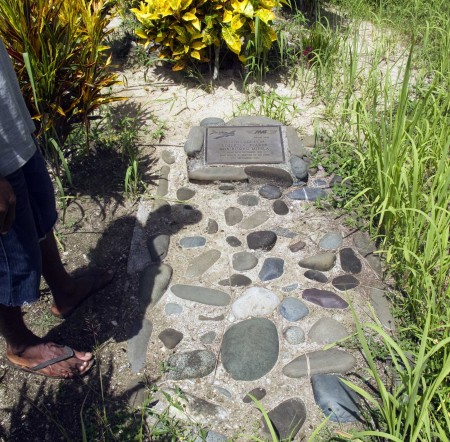 Bob was a pilot for Missionary Aviation Fellowship, a world-wide organisation of Christian workers who provide aviation services to churches and missionaries. Bush flying is dangerous business. Bob lived with his family next door to us. Over the years we lost two next-door neighbours to bush flying incidents. Eunie was very specific. I don't know how many times we talked of it. I had elaborate plans for my cremation and the subsequent spreading of my ashes over the quite waters of Madang. Eunie was less demanding, "Bury me next to Bob." It was that simple.
Another friend, Gary McGowan of Lae Builders and Construction, is working on the marker stone. The engraved granite slab is shown here in its place before the cement is poured. The slab of concrete will be covered by ceramic tile: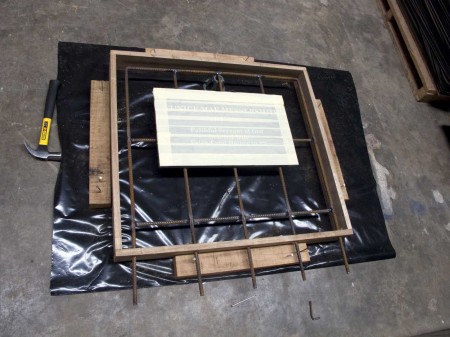 When the marker is finished it will be carried to Kranket and set into a hole which will then be filled with concrete to hold it in place.
If everything goes as planned I will be accompanied by a small band of friends to the island on the twelfth of March (UPDATE:  Whoops! That's the twelfth of FEBRUARY.) to put Eunie's ashes in the ground in front of the marker.
I don't know how long I'll last. I don't know how long I will remain in Madang. Much of it is not up to me. Much of my future is going to be determined by others. It seems that is the way it must be for now. All that I know is that if I leave Madang alive it will be very strange for me to leave Eunie behind and never be able to visit her resting place. I agonised over this for weeks. Take her ashes back to Illinois? Keep them with me? How can I deal with that final parting?
In the end it was the promise which led me to decide. Only the past speaks for her now.
A promise is a promise.
Tags:
felmara
,
kranket island
,
mike cassell