Posted in
Under the Sea
on November 30th, 2009 by MadDog
Saturday at the South end of Leper Island was a good day for nudibranch hunting. There's not much challenge to hunting nudibranchs, except to find them in the beginning. Sometimes there are a lot of them and sometimes none. I don't know where they go. The slide around slower than land snails, so motion capture is not a problem. Most of them, however are teensy-weensy. This Chromodoris geometrica was about 1.5 cm long: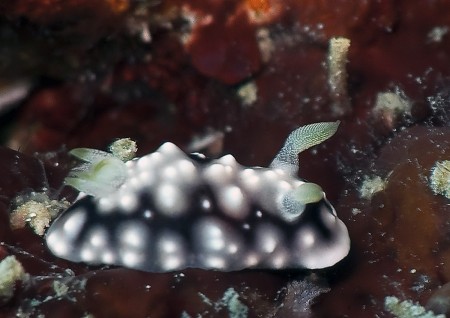 You have to get your camera lens practically right up against the critter to get a shot like this. That means that, with the Canon G10 rig, you can't use the flash; it's blocked by the housing.
I was frankly surprised that these shots came out so pretty. The colours are very accurate and I got enough depth of field to get good focus from edge to edge. Here's another shot of the little fellow going downhill: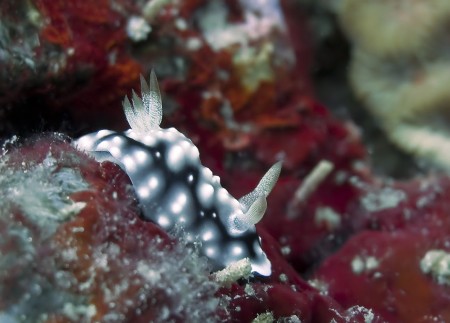 The breathing organ (branch) is the feathery thing at the back. The antlers at the front are, I imagine, sensory organs. I'm very happy with these shots, especially since this is the first time that I've seen this species.
Here's something that you don't see every day, nudibranch eggs: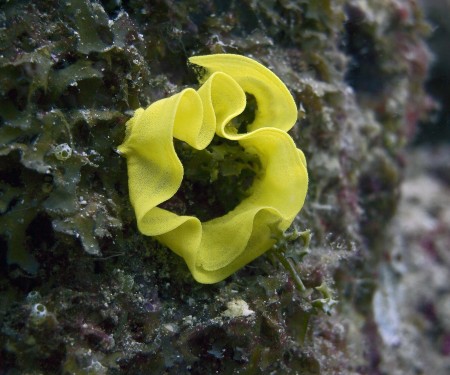 The cluster is about as big around as a golf ball. If you click to enlarge you will see that is is very lacy. The individual eggs are stuck together and come out in a ribbon. They are always laid out in a circle or spiral shape.
Here's another nudi for you. This one is a Phyllidiella pustulosa: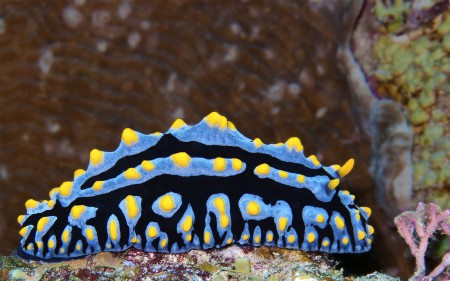 I can't say that I'm fond of the taxonomic name. Anything that starts with 'pust' doesn't appeal to me. The shot above was taken with the flash turned on. For a flash shot, it's not too bad, though the colours are just a bit off.
Here's the same critter with the flash turned off. I like this much better: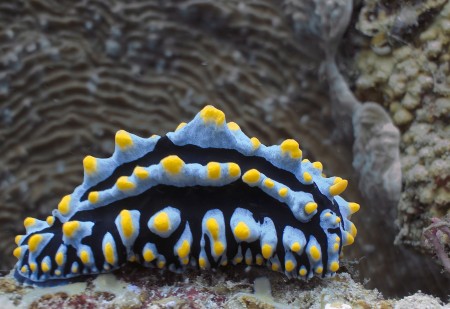 It is much closer to what I actually saw. To me it appears more natural. I sometimes wonder of non-divers ever notice the difference. I suppose that most people just assume that everything is gaudy-bright the way the popular press shows most underwater images. It's not really that way.
The clown shot of the day is provided by these cute little Striped Catfish (Plotosus lineatus):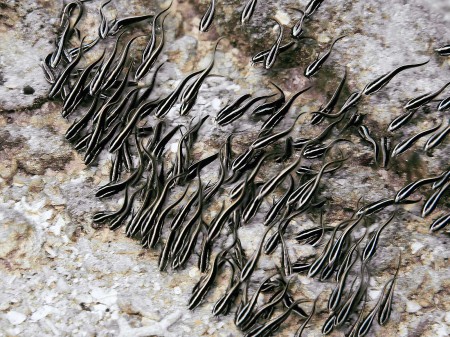 They travel around in schools and usually line up along a front edge of travel while they pick up tasty bits from the bottom. It's comical to watch them marching on their whiskery little noses. Ones at the front will break away and move to the back so that their buddies can get to the fresh stuff. Or maybe they just need time to chew. I'm not convinced that fish are altruistic.
Here's an image that I shot a few years ago up at Mililat Passage of a river of Striped Catfish: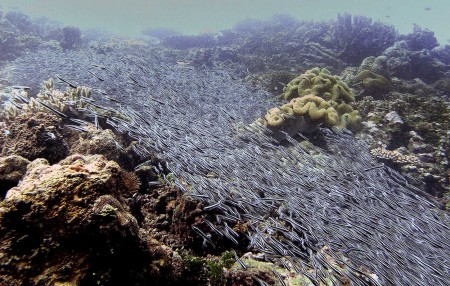 Cool, eh?
Tags:
chromodoris geometrica
,
egg
,
eggs
,
mililat passage
,
nudibranch
,
nudibranch eggs
,
phyllidiella pustulosa
,
plotosus lineatus
,
striped catfish