Posted in
Under the Sea
on January 25th, 2010 by MadDog
Ah, the pictures are here, but the words, they don't flow today. If you suffer from writer's block, it's handy to have a camera and a wet suit. Let's jump right in and see if I can loosen my tongue a bit. I have a few recent amusing photos of lowly invertebrates to get us going, including a couple of puzzles. I'll begin with something that's not supposed to be here, assuming that I have correctly identified it.
This is what appears to me to be the Red Encrusting Sponge (Monanchora barbadensis):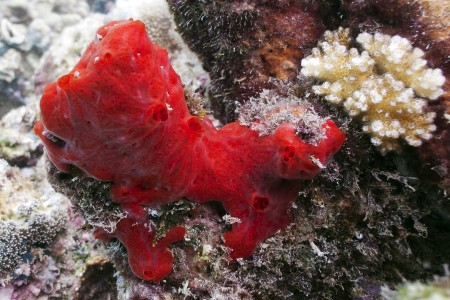 There is no denying that is simultaneously beautiful and spectacular, a combination of attributes not achieved since the days of the likes of Sophia Loren and Elke Sommer. The problem with it being:  it's not supposed to be here. I can only assume that either I have misidentified it (most likely) or it has begun to wander dramatically from its home waters in the Caribbean. It is even more stunning in person, as I am certain were Sophia and Elke, though I missed my chance to verify this.
Switching colours and approaching certainty we have here the Blue Encrusting Sponge (Haliclona sp):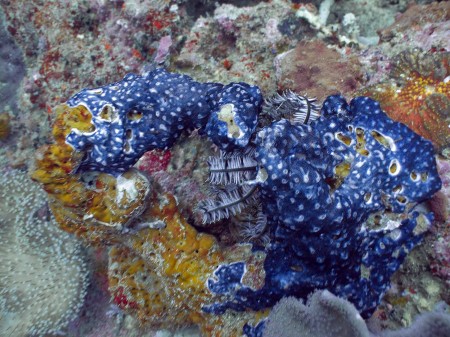 It's equally spectacular in colour, but a little more messy in form.
Moving back to a warmer colour, if not improving the shape, we have this rather lumpy orange sponge which I can't identify at all: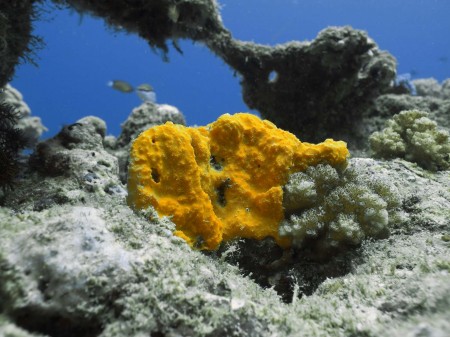 I can find plenty of orange sponges on the web, but none of them fit the profile of this blob. It is incredibly bright. You can see it from a great distance. Apparently the colour is particularly good at penetrating sea water. Why anything that can't move quickly would want to be so flashy, I can't imagine. It's like wearing a sign that says, "Eat me!"
This is a particularly neat, round Acropora hyacinthus coral: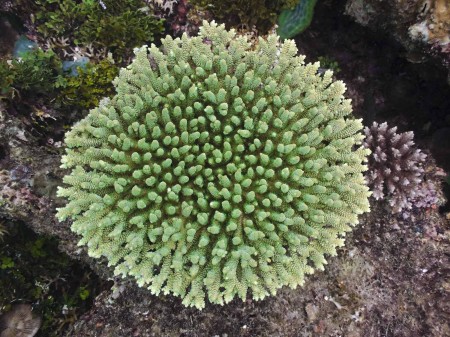 This colony was particularly green, which caught my eye.
As I was working with the image, I noted that I had caught more detail than I imagined. Here is a close-up of the center of the colony showing the individual polyps: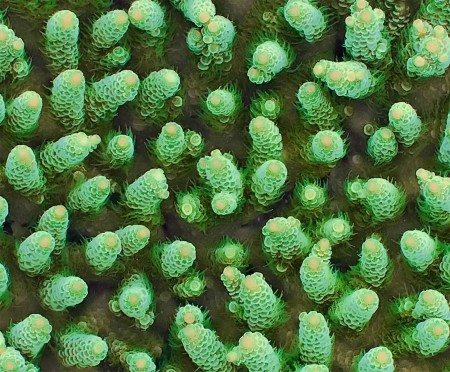 Quite a lot going on down deep inside there.
You've seen images of this Sea Squirt (Polycarpa aurata) here before, but I'm showing you this one because it's the best specimen image that I've managed yet. It shows all of the features needed to make a positive identification: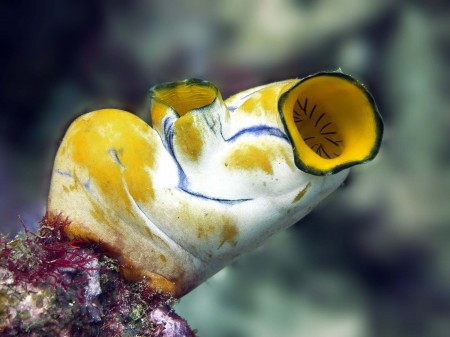 Not that that's critical in this case. There's simply nothing else that looks anything like it.
Finally, here's an image that features not one but two Sea Squirt species in one frame: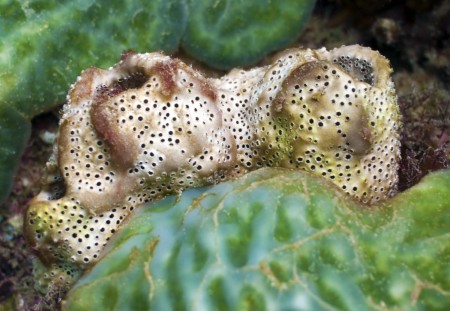 The green slimy looking stuff is a Sea Squirt (Lissoclinum patellum) which I only recently came to the realisation of what it is. I've been looking at them for years, wondering what the heck they were. They look for all the world like blobs of moldy mint jelly. The tan thingie in the middle I am less sure about. I previously thought that these were some kind of sponge. Now I've changed my mind (easy enough). I now think that this also is a Sea Squirt of the genus Botryllus.
Did the earth shake for you?
Never mind. Just do as I do. Look at the pretty pictures. I can't remember the last time that I actually read National Geographic.
Tags:
Acropora hyacinthus
,
blue encrusting sponge
,
botryllus
,
haliclona
,
lissoclinum patellum
,
monanchora barbadensis
,
orange sponge
,
Polycarpa aurata
,
red encrusting sponge
,
sea squirt