Posted in
Guest Shots
,
Mixed Nuts
on December 30th, 2009 by MadDog
Counting the years as they whiz past seems less fun than it did at twenty. And, whizzing past they are. It's a pity that life speeds by so quickly as you get close to whatever is at the end. It feels as if I've had the pedal to the metal since I was thirteen and now I'm running flat-out in the fog at night with my hair on fire. The thought, "Pretty soon I'll be dead." intrudes daily into my otherwise manageable world.
Well, there is no sense in crying over milk that has yet to be spilt. It's not that death frightens me. I made peace with death a long time ago. Accepting The Big Sleep as something that is as natural as life itself, indeed, defining life, has removed the heebie-jeebie factor from the death equation for me. There's some kind of Big Plan. My death is simply a part of that. I've been inches or seconds from death so many times that I've lost count. I've lost interest in counting. Death is the biggest tease of all. How close can you get?
No, I'm not going to off myself. I'm having way too much fun for that. I've been sitting here listening to Pink Floyd for about three hours now. That's enough to make anybody ponder darkly the meaning of life.
Today I'm feeding you a stew of images that don't fit anywhere else. Butter up some bread and have a seat: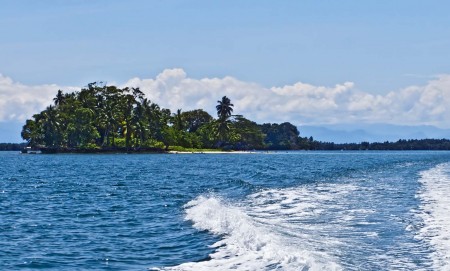 That was Wongat Island which just flew past and is left in the wake of Mike Cassell's boat, Felmara, on our way up to Blueblood on Christmas Day. It has a very nice beach and is the only place that I know of where you can pick up magnificent specimens of weathered blue coral. I'll have to do a post on it someday.
This is a much prettier island image. I think that it is Sinub Island; the outline looks right. I wasn't really paying much attention to navigation, since I wasn't driving: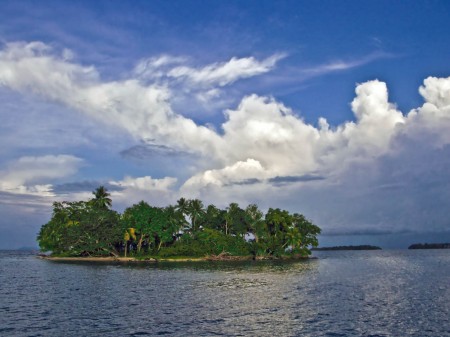 The sun lit it up nicely and a polarising filter over the lens darkened up the sky just as it is supposed to do. The big Cumulonimbus cloud is casting a lovely reflection on the sea.
Here is an example of how to blow out your whites. The little sensor in my Canon G9 simply can't handle the dynamic range of brightness levels in this shot: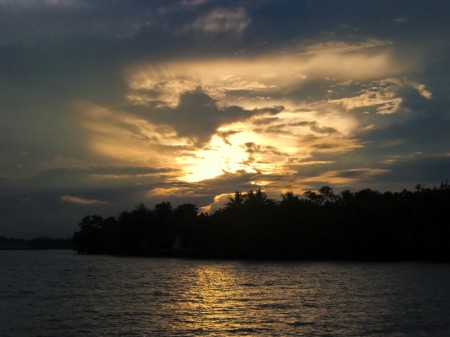 The rest of the image was recoverable, except for the blocked blacks which I can live with in this image. However the bright area in the centre was blown out to pure white. I couldn't get any detail out of it. This is where a US$5,000 camera comes in handy, if you have the moolah for it. I had to fake something in there, so Photoshop saved the day with the Selective Colour tool set on Absolute. Choosing Whites as the colour, I tweaked up the Yellow slider and added just a touch of Red. It looks a little fakey, but hey, what do you expect for a tenth of the price?
This shot fits my mood today like a glove. It's raining and cold outside; Eunie would say that it's winter today in Madang. The Finnisterre Mountains are glowering in the distance as rain tumbles down from the gravid clouds: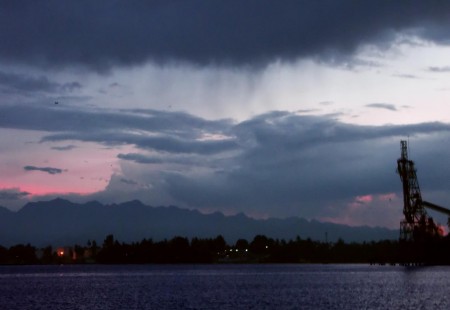 Mind, when we say 'cold' were talking maybe 24°C (75°F). I never sweat any more. My body has fallen deeply in love with tropical weather. In Indiana, at this time of year, I'd be dead in a month – I'm sure of it!
I gave you a frame of this series of sunrise over Astrolabe Bay in another post. I like this one better: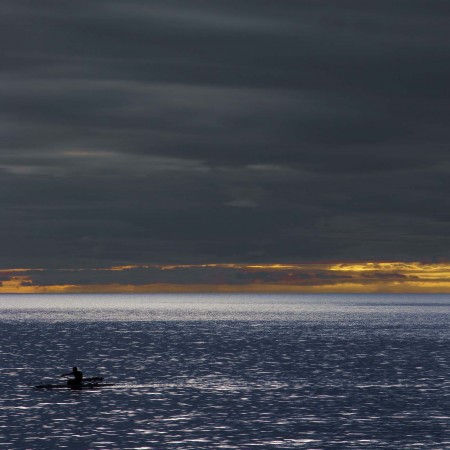 The canoe man is more clearly visible here. I also used a different mood for the colours. You can compare them, if you like.
Since I seem to be wallowing in the ephemeral nature of life today, here is a perfect image with which to illustrate the principle: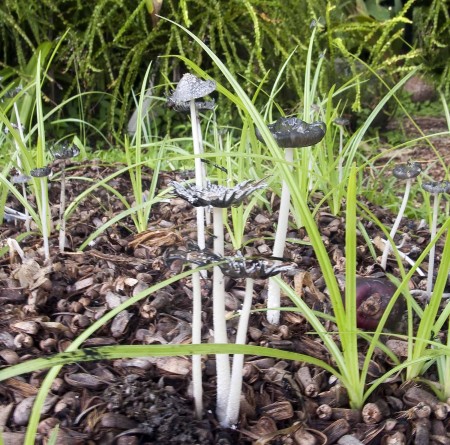 When I named this image Ephemeral Mushrooms, I thought that I was being very cute and trippy. Then I Googled the phrase and got 731 hits. So much for originality. Among other scholarly titles was, The Predictability of Ephemeral Mushrooms and Implications for Mycophagous Fly Communities. That will give you the gist of the subject. I didn't even know that mycophagus flies had communities. I thought they were like wandering hunter-gatherers.
Okay, okay, I'll wrap up this orgy of self-pity and random fluctuations with a Guest Shot by our fine friend and enthusiastic fellow photographer, Ron Barrons of Hamilton, Ontario. Ron, like myself, is a waterfalls buff. Here is his latest shot of Princess Falls.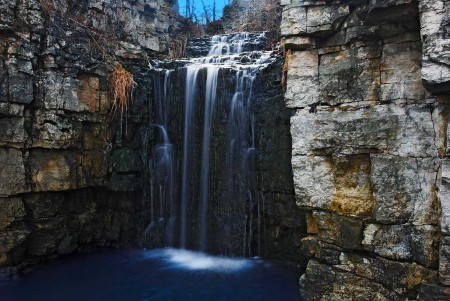 I call the image above Princess Falls Mugged. That's because it's my interpretation of the image that Ron sent to me. As I do, Ron struggles with 'flat light'. He emailed the image to me with the remark that the lighting that day was very flat. My addition of a blue sky at the top seems to contradict this, but it's fake. Punching up the contrast and increasing the γ of the image did wonders for it. Lightening only the shadows and changing the water in the pool from sickly green to deep blue put on the finishing touches. Actually, I liked the shot the way Ron sent it to me.
By the way, Ron said that Princess Falls only works when it rains. Otherwise it is dry. A dry waterfall. Hmmm . . . Is it a waterfall, when it's dry? Anyway, Ron said that he was going out to try again, but it will have to wait until all the ice is gone. Thank heavens I don't have to deal with that!
I simply couldn't resist "improving" it.
Ron is a forgiving guy.
Tags:
astrolabe bay
,
canoe
,
ephemeral mushrooms
,
mycophagous fly
,
pink floyd
,
ron barrons
,
sinub island
,
sunrise
,
sunset
,
wongat island