Posted in
Under the Sea
on July 20th, 2010 by MadDog
Dont' try to figure out the title of the post yet. It's so stupid that you will simply waste your time. I'll get to it.
Busy, busy, busy. When I went out this morning I was wondering how I was going to cram in all the things that I "had to do" before clocking out. One of them was to take this picture of a sunrise, a very peculiar one: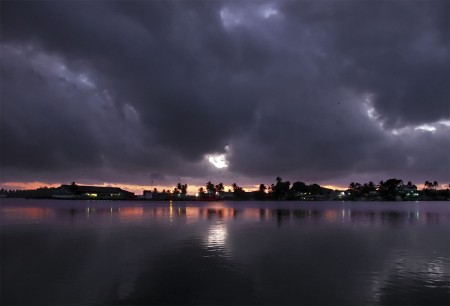 Frustrated with the violet hue (which, by the way, I saw with my own eyes, but can't explain), I spent far too much time trying to get rid of it and then decided to leave it, because that's the way it was. It is not a very good idea to fool with Mother Nature, even when she seems to be fooling with you.
But, getting back to "things I have to get done today", I really need an attitude adjustment. There are categories:
That which must be done to maintain life (eat, get a little exercise, don't offend any mobsters, etc.)
That which one must do to keep one's job or jobs (should be obvious to you unless you are about to be sacked)
That which you would like to do just to show that you're pulling your load (help with the housework, wash the car, mow the lawn, etc.)
That which you need to do in order to maintain some level of personal satisfaction (this too, you probably already have figured out)
The problem is putting them all into some kind of balance. I still haven't gotten a handle on that. I probably never will.
So, since this is something which I do to maintain some level of personal satisfaction, I'm going to blow off some of the more essential tasks and show you the source of the ridiculous title of this post. It is a nudibranch, specifically a Phyllidia varicosa, of which you have seen many specimens before: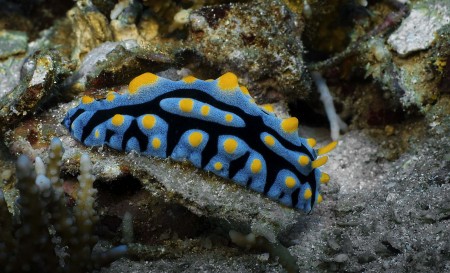 The title is a stupid pun combining the species name, varicosa, and vain, which we all understand ("You're so vain – da da da da da da da.") with varicose veins and don't ask me why that popped into my mind. So having established what kind of a day it's going to be, let's get on with the rest of it.
By the way, I am calling that P. varicosa image a perfect specimen shot. If anybody wants to argue that, then put up your dukes and show that you did better. I'm laying the matter to rest until I get (or I am challenged with) a better one. That's another brag down for the day. How many do I have left? I've lost count already.
Here's a nice, symmetrical shot of  a Fan Coral and a Feather star: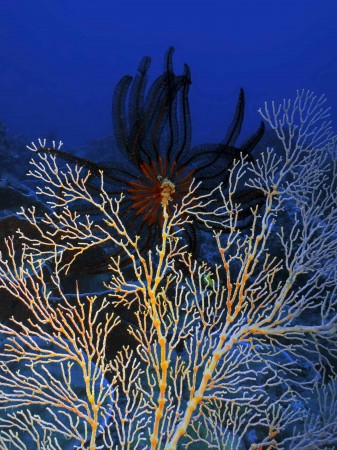 No, I'm not going to say a lot about it. It' speaks for itself. Let it talk for a few seconds. Pop it up and have a look. Hear anything?
Me neither.
A little gaggle of Shadowfin Soldierfish (Myripristis adusta) were swimming through the notch leading to the catamaran. Having plenty of air and not much else to do, I took a picture of them: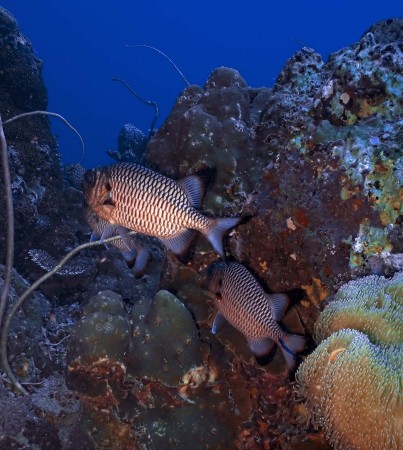 Think of that shot as part of my continuing efforts to demonstrate that not everything under the sea is as exciting and beautiful as you see it on TV.
This is a bit better. These little devils are usually almost impossible to shoot well. The Blackspotted Puffer (Arothron nigropunctatus) is a shy, shy fish: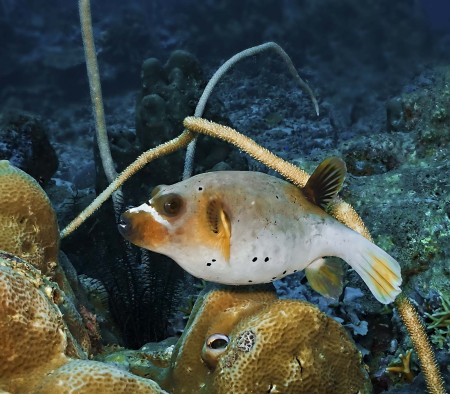 This is probably the best shot which I have ever gotten of the fat little puppy-like swimmers.
Then, a few metres away, I found another one ducking in and out of a hole: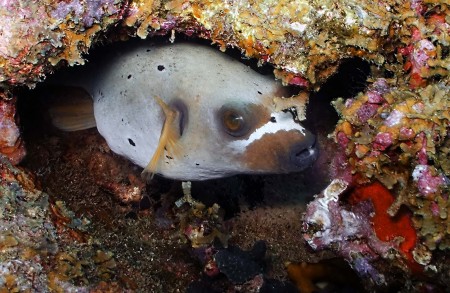 Another good puffer shot. When you're hot, you're hot!
Looking back up at that list, I think that I have to get to work now.
Tags:
arothron nigropunctatus
,
blackspotted puffer
,
Feather Star
,
Myripristis adusta
,
nudibranch
,
phyllidia varicosa
,
sea fan
,
Shadowfin Soldierfish
,
sunrise