Posted in
On Tthe Road
on May 21st, 2011 by MadDog
A curious combination of laziness and furious activity has once again kept me off the air for a few days. The brief stay in Janesville, Wisconsin did not produce any interesting images. Now that I'm in Hamilton, Ontario I have either been freezing in my room or venturing outside occasionally when the weather permitted. Nothing happening, nothing to take pictures of, nothing to report. I've decided to escape from Canada a week early for my journey to Sedona, Arizona. When there I will probably complain of being too hot. Never mind . . .
A couple of days ago I did go out in the bleak countryside with my friend, Ron Barrons, to try to grab some waterfall shots. The images are miserable. The sky was a uniform bright grey. Maybe some photographers can make pretty pictures with that light, but I am not in that club. On top of that there was way too much water coming over the falls. While it may seem that is a good thing, it is not. Too much water does not make a nice picture of a waterfall.
Ron got this shot of me in the woods on the Bruce Trail with his Nikon: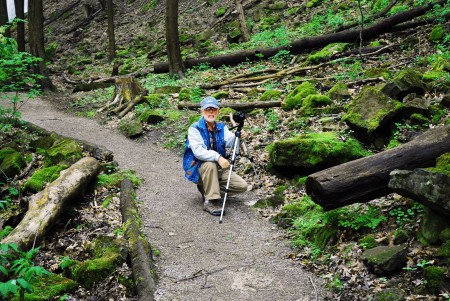 I'm not as unhappy as I appear to be.
Here is my shot of Webster's Falls. After working with it for much more time than I usually spend on an image I finally gave up in disgust. I can't think of anything to do with the flat lighting which makes it any better. The only good thing I can say about it is that it does look pretty much the way my eyes saw it – listless, desultory: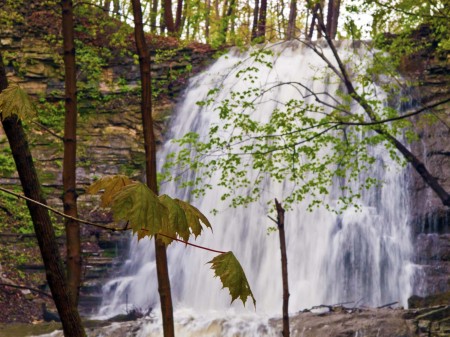 This is Tiffany Falls. It is no better: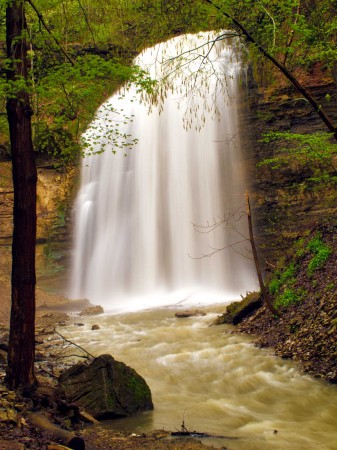 The Niagara Escarpment gives rise to the huge number of waterfalls in the area, including Niagara Falls. In this shot you can see a tiny sample of the kind of cliffs which are characteristic of the area.: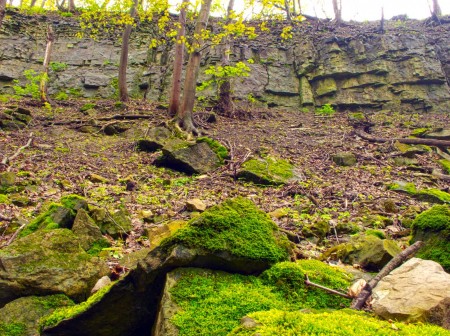 The area is relatively undisturbed. Canada always seems so clean to me. Canadians are very reluctant to make a mess. I saw absolutely no litter: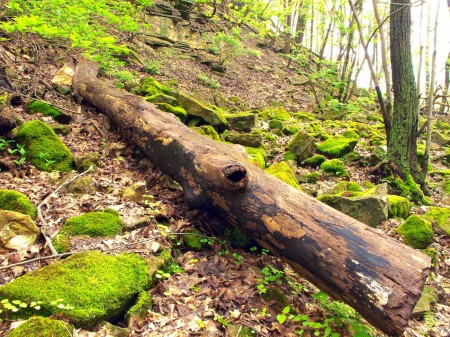 Always on the lookout for the visually stimulating, I found several of these hairy infant plants sprouting up from the rocky soil: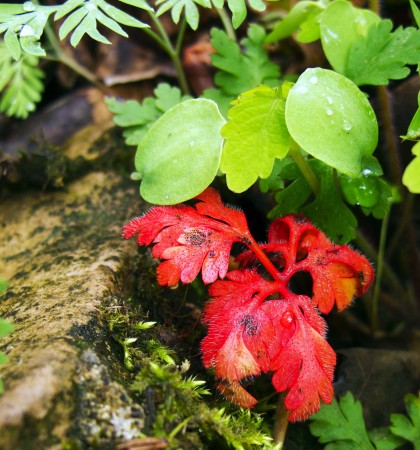 For some strange reason they are bright red and covered by fuzz when they are youngsters. Later on they turn green and lose their fur. You can see a more mature specimen in the upper left corner.
In this shot I used the aperture priority mode and set the opening at ƒ8 to get the maximum depth of field. The scene is in focus from a few inches to nearly infinity. This allows the red footbridge in the distance to be seen clearly: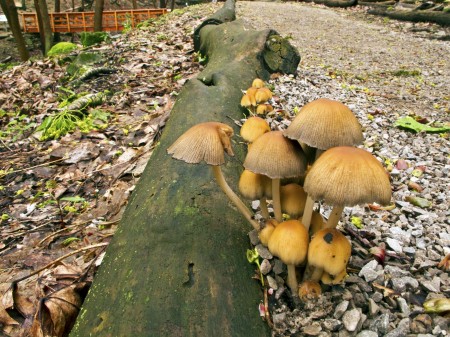 Here is a macro shot of a millipede: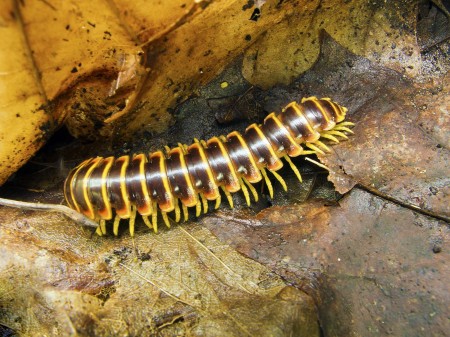 This is a Jack in the Pulpit (Arisaema triphyllum):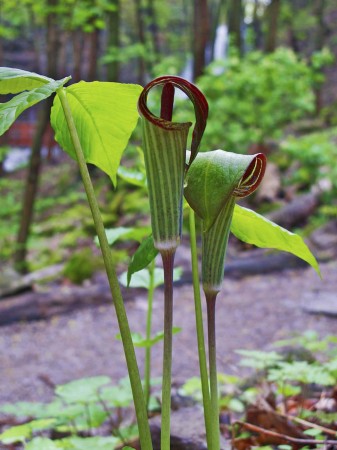 It is a very common plant in the area. In this shot you can see the blurry image of the waterfall in the background.
These images were taken a couple of days ago. Yesterday I trekked into Toronto for a day-trip. I had a bit of an adventure. I'll be telling about it later. Today the sun is out for the first time since I came to North America.
Today I'm going to Niagara Falls. I hope the sun continues to shine.
Tags:
arisaema triphyllum
,
hamilton
,
hamilton ontario
,
jack in the pulpit
,
mushroom
,
niagara escarpment
,
ontario
,
ron barrons
,
waterfall