Posted in
Under the Sea
on May 10th, 2010 by MadDog
Saturday was  a beautiful day on Astrolabe Bay north of Madang at Wongat Island. The sun was shining fiercely, the sea was flat and mirrored and the fish were jumpin' and the cotton was high. Whoops, that's a little of George Gershwin's Porgy and Bess slipping in there. I must have listened to that operetta a thousand times as a child. The line is from Summertime sung by Porgy. I can still sing it from memory.
Here are the first couple of verses:
Summertime,
And the livin' is easy
Fish are jumpin'
And the cotton is high

Your daddy's rich
And your mamma's good lookin'
So hush little baby
Don't you cry
I always loved Gershwin. Rhapsody in Blue is my very favourite.
Well, I'm rambling already, but it's Monday morning, so I may as well get an early start on the week.
How about this very cute French Canadian, Genevieve, sitting in the cockpit of the B-25 bomber The Green Dragon: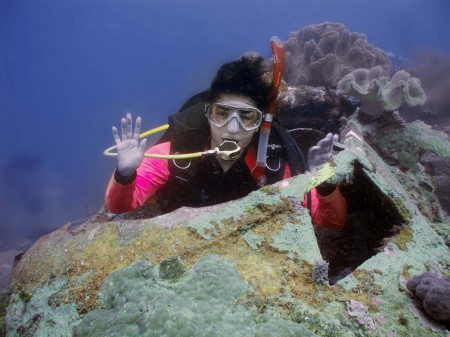 Now, that is a very fetching sight. However, it's not funny. I'm in the mood for funny.
And funny I give you: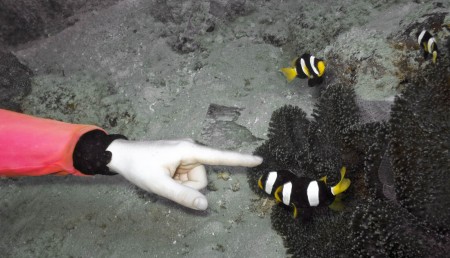 Just forward of the starboard wing is an anemone inhabited by a very feisty little group of Clark's Anemonefish (Amphiprion clarkii). That's not the funny part. Here you can see Genevieve's darling hand stretched out to play with the cute little fishies. They dart about and brush against your fingertips as if they are enjoying it. Do not believe it. It is a ploy to lure you within range of their teensy-weensy little teeth. A couple of seconds after I took this shot I heard a piercing scream. I looked at Genevieve. She had a startled look on her face and was shaking and rubbing her hand. I knew, of course, what had happened and I began to laugh into my regulator, an experience which itself is comical.
After doing the Bomber, we attempted The Henry Leith from the beach. It was a mistake. I couldn't find a 34 metre wreck only about 100 metres off the beach. I will excuse my poor navigation by mentioning that the visibility was less than ten metres. Back up on top of the reef, we spent the rest of a seventy minute dive snapping whatever looked promising, such as this ridiculously orange sponge: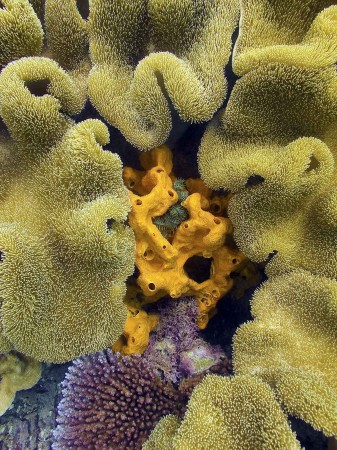 What's
that
all about?
I did manage a nice one of a couple of Clown Anemonefish (Amphiprion percula) in an absurdly green anemone: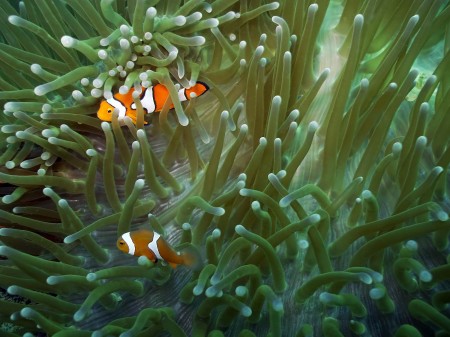 Yes, those are Nemo's cousins.
Here is a typical coral bomie in the range of depth between one an about seven metres. They are covered with Christmas Tree Worms (Spirobranchus giganteus):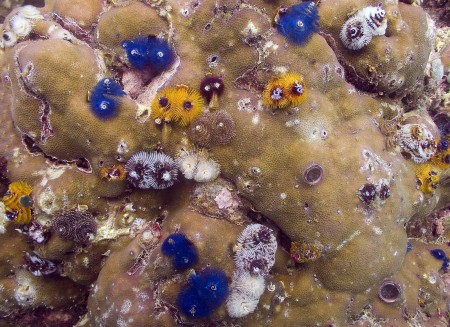 Last Christmas I gave my faithful readers Christmas Tree Worms for Christmas, complete with Christmas presents.
I'm such a cheapskate.
Tags:
Amphiprion clarkii
,
Amphiprion percula
,
b-25
,
b-25 bomber
,
Ccarks anemonefish
,
christmas tree worms
,
Clown Anemonefish
,
genevieve
,
orange sponge
,
Spirobranchus giganteus
,
the green dragon
,
wongat island