Posted in
Mixed Nuts
on November 13th, 2009 by MadDog
I like to start off every day with a sunrise. Considering my proclivity for this, I must be the luckiest guy in the world. During most of the year, at least one day out of two will provide fodder for my famished camera. Some days are better than others, but every day is different. This is part of my thinking time for the day. I usually get fifteen to thirty minutes to contemplate the newness of the day and what it might bring: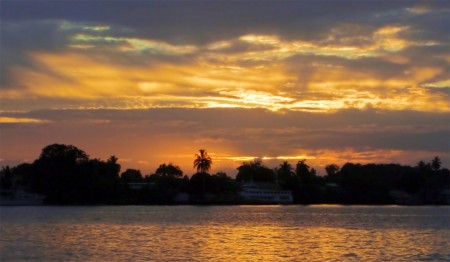 Then I have a little walk around my garden to see who's awake and what they're doing.
In the same bush in which I found a beautiful green lizard the other day, I spotted this tiny bug hiding under a leaf. The sun was shining through the leaf and making the little fellow glow. I tried to get the shot without flash, but there simply wasn't enough light: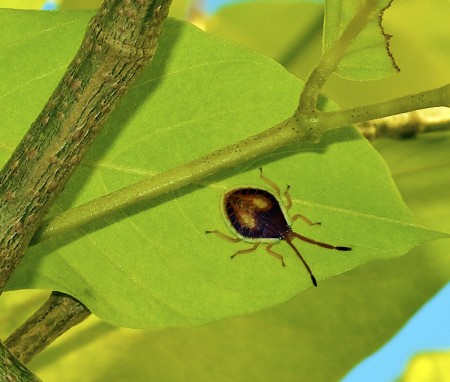 The little guy is only about a centimetre long.
Over at the Bird of Paradise plants I found a similar sized spider. It kept trying to move around on the other side of the curled-up leaf to hide, but finally tired of that and submitted to my photographic zeal: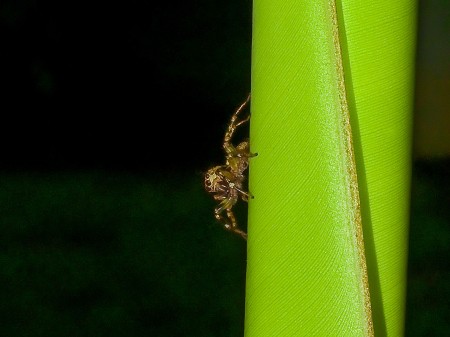 The shot really appeals to me compositionally. Its simplicity is powerful. Getting one or two shots a day such as this one, which really pleases me, lifts me right off the ground. Photography is a powerful emotional stimulant for me. I must be neurotic. No, wait. Of course I'm neurotic!
This spider is vainly attempting to hide from me. He nearly pulled it off, except that I saw it moving down from the flower on which it was waiting for a meal. You'll see more of this little spider tomorrow: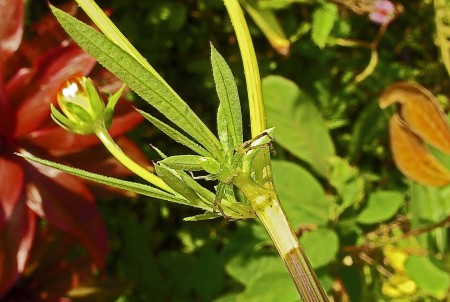 I've featured this lovely green spider before here.
I never know which orchids in the garden are going to bloom next. The blooms last for an incredibly long time compared to most flowers, sometimes for a couple of weeks. I know absolutely nothing about orchids and I'm happy to allow them to be a mystery to me. I overanalyze the underwater world and pretend to be an expert. I think that it's nice to appreciate some things without knowing everything about them. It leaves room for awe and wonder: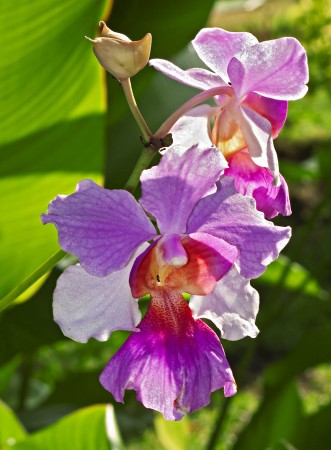 The sun was coming in from the back of these blossoms. I turned my flash on to give a little fill light in the dark areas to punch up the colour. I'm quite happy with the shot.
The best thing about walking around in my garden with my camera is that, if I wake up the next morning, I know that something like this will be waiting for me.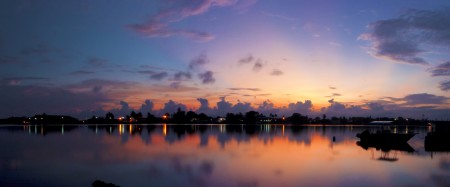 Lucky? Blessed?
You choose.
Tags:
bug
,
garden
,
orchid
,
spider
,
sunrise