Posted in
On Tthe Road
,
Sedona
on August 8th, 2011 by MadDog
Today the subject is pretty much photography, because I've got so many other things on my mind that I cannot concentrate on writing. I've been trying to gather some images which convey the near-mystical beauty of this part of Arizona. It's no wonder that Sedona has become a magnet for new age folk. I have to admit that I'm running up against the limitations of my Canon G11. I'm looking for a new camera. It will definitely be a Canon, because I think the brand delivers the biggest bang for the buck in each category.
Anyway, until I get some new gear, I'm still squeezing every bit of lemon juice out of my G11. Here is a High Dynamic Range shot of some red rock: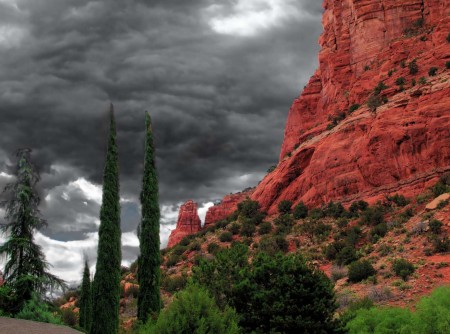 We've had some very blustery weather lately. These late summer storms are referred to locally as monsoons. I find that amusing. A big dust storm is now called a haboob. That term is mildly controversial, considering its origins. The sky has often been dramatic. Here the late afternoon sun strokes the top of one of the huge red rock formations with wine light: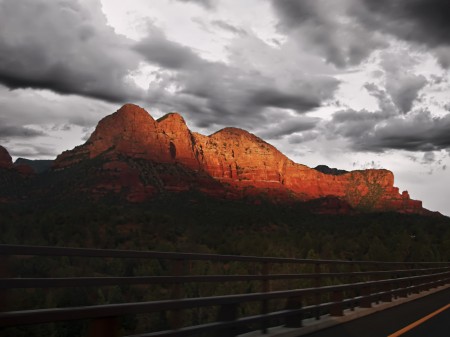 I took that shot from Grace's car as we were returning from Sedona to Oak Creek Village, a distance of about six miles.
At a family gathering at Red Rock Crossing I snapped this shot of lovely little Tana with a very famous red rock in the background: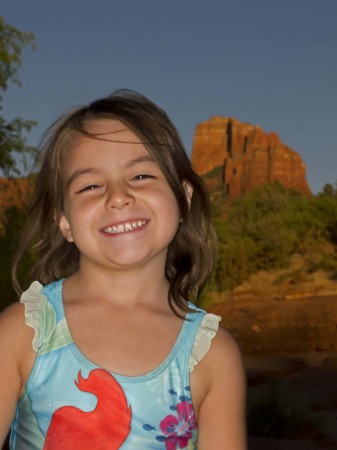 Red Rock Crossing has appeared in many western films. You can find a very interesting list of them here.
Did I mention that the weather has been frisky? Here is an image of a huge Cumulonimbus Incus which we drove right through on the way back from a shopping trip to Cottonwood, Arizona: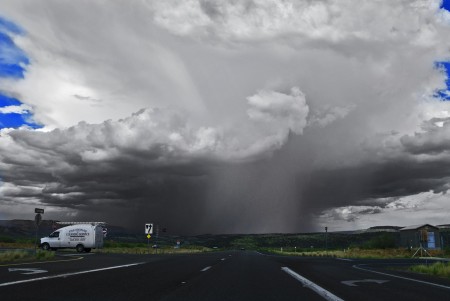 It seems that Grace's hobby is power shopping. I find it disconcerting. Shuffling around The Dress Barn for two hours does not thrill me. Next time I'm taking a book.
The weather is presenting me with some radical photo opportunities. Back in Oak Creek Village the late afternoon sun was valiantly drilling its way through the cloud cover: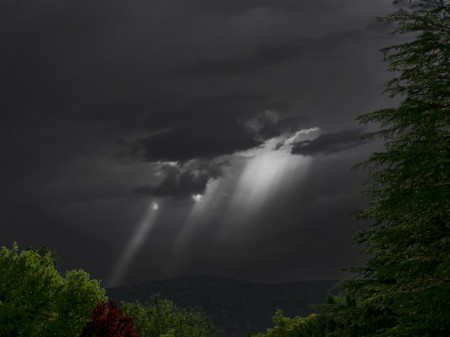 The next evening presented a different sky from the same location: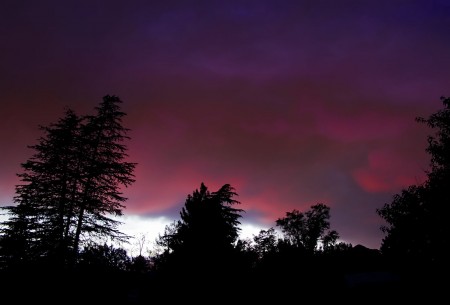 Once in a great while I find a scene which makes me very glad that I travel always with my camera. If I had left it at home, I would have missed this seventeen frame panorama of the magnificent display of nature on the highway between West Sedona and Oak Creek Village:

The rainbow is real. I did have to increase the saturation to make it show up better. I've uploaded this to my server at 3000 pixels, but the original is over 18000 pixels wide. So, to give you a better view, I created a Microsoft Photosynth Panorama of the scene:

Being critical of my own work, I can see where my camera is letting me down. You can expect only so much from a camera in the less-than-five-hundred dollar price range. Maybe that is going to be fixed soon. It depends on how other things work out.
Life is about to become very interesting . . .
Tags:
bell rock
,
panorama
,
photosynth
,
red rock
,
sedona
,
tana