Posted in
Photography Tricks
on August 18th, 2009 by MadDog
It was a magnificent day up at Blueblood on Sunday. The sea was flat, the sky as blue as a cornflower and the sun was shining with all its might. The beer was cold and friends were all in their Blueblood Spirit. I took three cameras with me and a tripod. This created a rich resource for humorous remarks from some who are photographically impaired, but others were interested to see what I was doing. It made no never mind to me, as I was happy with the joking, a cold brew, a cheap cigar and my cameras. The scenery was cooperating beautifully also: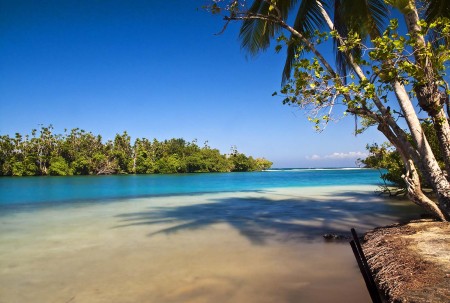 I had to combine every darkening device that I had (neutral density, crossed polarisers, etc.) to make the exposure long enough to get the "smooth water" shot above. Even with all that, I managed only a two second exposure on the Olympus SP-590 on the tripod. That's not long enough to get the glassy water effect. Sorry for the technical gobbledygook, but some out there might be interested.
Switching to the Canon G10 braced on the railing, I got this nice three-frame panorama that went together very slickly in Photoshop's photomerge feature:

Mike Cassell and Pascal Michon did a little fishing off of the beach. Mike caught a small cod of some kind, but it wasn't big enough to grease a skillet, so it went back into the sea.
Trevor Hattersley pointed out a butterfly feeding hungrily on the red hibiscus that surround the beach house. I grabbed the Olympus because of its excellent zoom and good image stabilisation. As I was taking the shots I kept thinking that it was a waste of time. I could see that the shutter speed that I was getting was way too slow. I could have used flash, but I hate it. It always spoils the natural colours of outdoor images.
However, when I got the shots up on the screen in Photoshop, I began to see some prospect of turning them into art: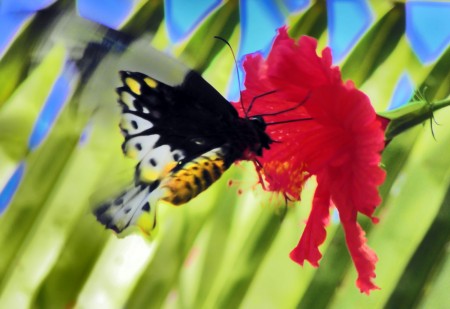 Taking a technically spoiled shot which otherwise has an interesting subject and good composition and making it into a beautiful image is one of the things that I love best about image programs such as Photoshop. In the shot above, the colours are exciting and surreal. Part of the butterfly is reasonably well focused and suffers not too much motion blur. The primary wings are completely blurred, but you get the impression of them and it lends to the feeling of motion, which was fast and furious. I was very happy with this shot when I was finished.
This one is even better. At first I despaired. Then I noticed that I could actually see a faint image of the butterfly's primary wings as a sort of blurred shadow. I worked on the rest of the image, over saturating the colours until I got the right fantasy feel and then I darkened the faint outline of the primary wings. Again, I was pleased: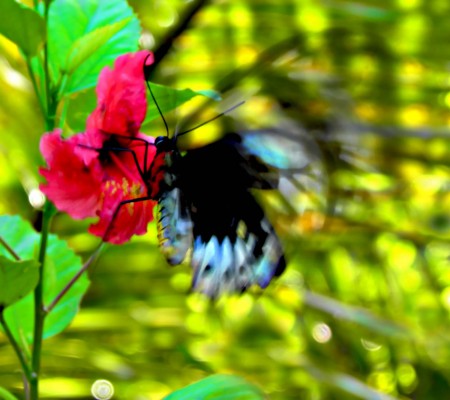 I also got a couple of nice shots of the red hibiscus flowers. This is a shot of the back side of a blossom with interesting dark under saturated leaves in the background and a little greenery for contrast: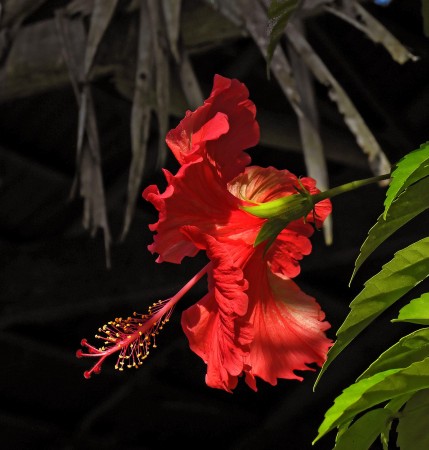 I think that this one is my favourite flower shot of the day. I really like images of sunlight filtering through the petals of flowers. It's something that I try to capture whenever I can get into position to do it. This blossom was hanging in just the right spot at the right angle and had the right background for sweetening up my day even more: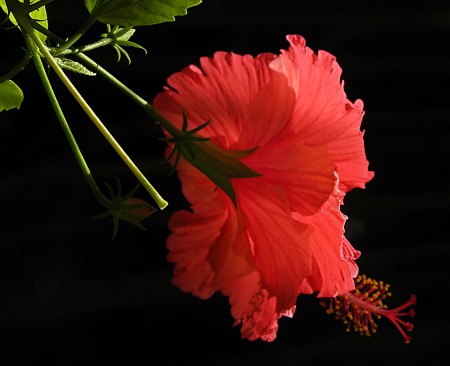 What a beautiful place in which I live. Blessings rain down on me every day like a warm summer shower.
Tags:
blueblood
,
hibiscus butterfly
,
mike cassell
,
Pascal Michon
,
trevor hattersley