Posted in
Under the Sea
on February 24th, 2010 by MadDog
Man, I'm just freakin' out! Good things are popping up like Jack-in-the-boxes all over the place. I'm hoping to be able to make some highly amusing announcements over the next couple of weeks. Eunie and I will have several bits of news that will surprise a lot of people. (No, we're not having a baby!)
None of these involve web connectivity, unfortunately, as the MadDog/TELIKOM war continues. Today's dispatch from the front:  A spy informs me that several major cables, affecting hundreds of customers, are full of water and the equipment used to clear them out is not being employed. This is a problem that can be fixed and someone has simply not fixed it. I talked to the manager this morning and he said that he has instructed the crews to use the equipment to blow the moisture out of all of the cables. We'll see how that goes. It should improve service for many customers. He also informed me that the long-awaited USB dongles for Internet connections should be available shortly. Let's see what the definition of "shortly" turns out to be.
Wow, I'm in a good mood today. I'm going to make the most of it. If it doesn't rain this afternoon I'm going to give myself the PM off and take a Harley ride with a friend. I hope to have some photos tomorrow. I got this schmaltzy picture of the sunrise this morning: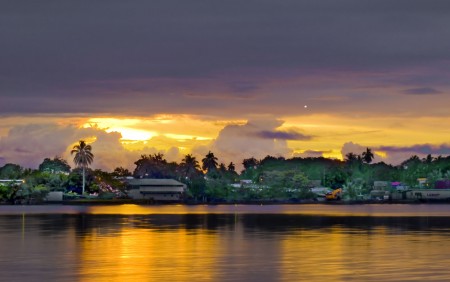 I saw a remake of Hair the other night and the tune of Good Morning Starshine has been tickling my neurons at odd moments. It was generating extremely strong vibes this morning. So strong, in fact, that I added a fake star to the image above.
Good morning starshine
The earth says hello
You twinkle above us
We twinkle below
Good morning starshine
You lead us along
My love and me as we sing
Our early morning singing song
Gliddy gloop gloopy
Nibby nobby nooby
La la la lo lo
Sabba sibby sabba
Nooby abba dabba
Le le lo lo
Dooby ooby walla
Dooby abba dabba
Early morning singing song
Well, that certainly made me feel better. I hope you know the melody so that you could sing along as I did. It took me several tries to get the words right. It was a pleasant little task, requiring a nimbling of the tongue that I haven't practiced since my acting classes. (What a waste of time that was.)
I am presently listening to a lovely female artist by the name of Bebel Gilberto. She was born in America of Brazilian descent. She sings bossa nova as it was born to be sung – very smooth and sensual.
Before I start stinking the place up with more fishy stuff, here's a nice panorama of Madang across the harbour from my house:

I got the shot yesterday afternoon. It's a stitch-up of nine frames.
First, I'll show you the cute little chubby nudibranch with the disgusting name (Phyllidiella pustulosa):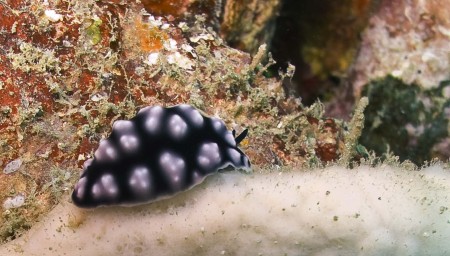 It's hustling along at top speed along a white sponge.
Now, here is a coral of the Lobophylia persuasion: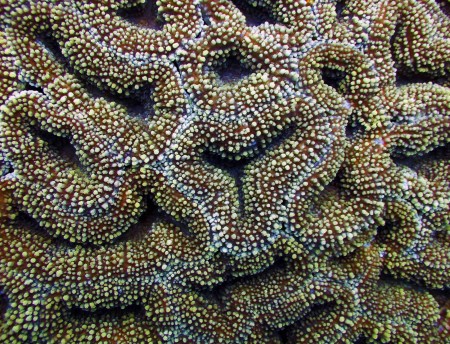 Might make an interesting desktop background or screen saver if you're in the mood for a little day-tripping.
Ah, and now on to the reef scenes. The two are quite similar, but with amusing differences in detail, showing how, in a few seconds the scene changes: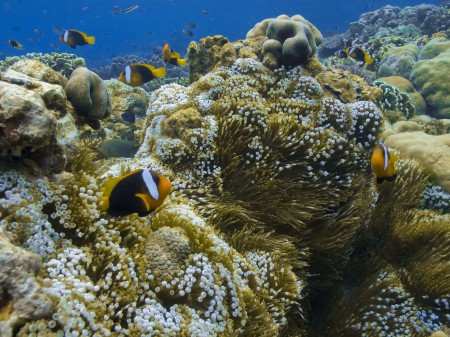 You'll probably by now recognise the Ornage Finned Anemonefish (Amphiprion chrysopterus):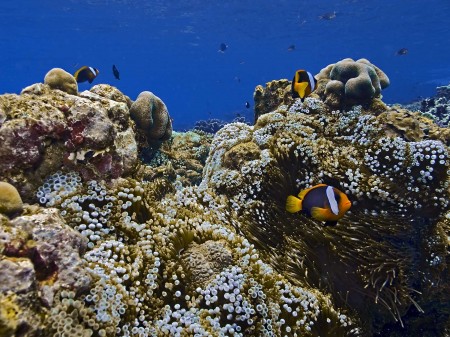 I suppose that I've annoyed you sufficiently for today, so I'll say adios until tomorrow.
Adios.
Tags:
amphiprion chrysopterus
,
coral
,
lobophyllia
,
nudibranch
,
orange finned anemonefish
,
phyllidiella pustulosa
,
sunrise