Posted in
Under the Sea
on March 4th, 2009 by MadDog
When I get up early on a Saturday morning and it looks like this:

I feel as if the world is grinning at me. I grin back.
Here's some images from a recent Saturday Dive.
If the name on your Birth Certificate was Plagiotremus rhinorrhynchos, I'd feel empathy for you. If you can imagine the sad story of a boy growing up in a very tough neighbourhood with the name of Jan Messersmith, maybe you could appreciate my empathy. I still have scars on my knuckles to attest to the agony. I've never forgiven my mother for it. It's even worse for this little fellow. His nickname is Bluestripped Fangblenny. No wonder that he's hiding in a hole: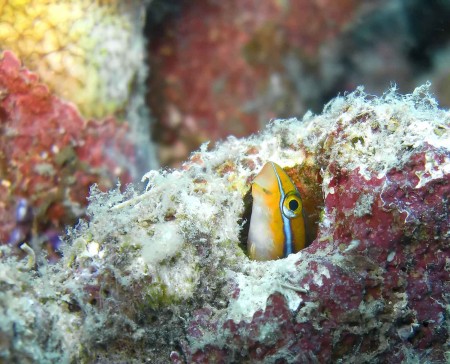 I've shown Blennies on Madang – Ples Bilong Mi  here, here, here, and here.
I made it worse for myself when I reached the age of sixty. I decided enough is enough. I'm old enough to decide what I want to be called. So I changed the pronunciation of my given name. Instead of the much-maligned Jan (rhyming with can) I decided I wanted to be called Jan (rhyming with yon – as in "By yon bonnie banks and by yon bonnie braes"). As you can imagine, this caused much consternation and no little laughter among my friends. I felt like a clown. I still do. I don't mind. Speaking of clowns, here's a Clown Anemonefish (Amphiprion percula):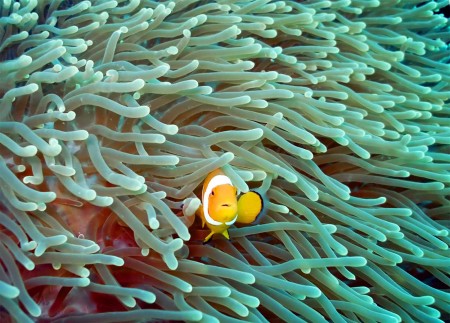 I showed you another Clown Anemonefish here.
While we're on Anemonefish, let's have a couple of more. Try these Clark's Anemonefish (Amphiprion clarkii):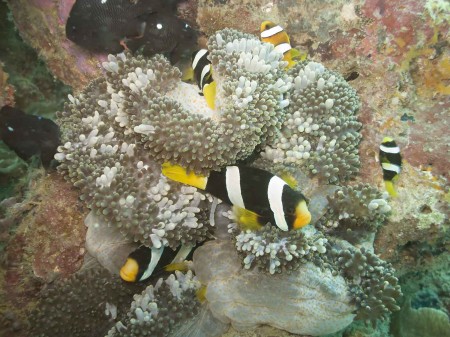 I have no idea who Clark is. I can only assume it is not Clark Kent. He doesn't seem the type to have a fish named for him. However, his alter-ego might be proud to have an Amphiprion supermanii.
Hmmm . . . I appear to be drifting. I'm like a teensy-weensy tectonic plate drifting on a molten globe of magmatic thought. I'd better get out of here.
But, before I leave for the day, I'll show you my favourite of the day. Here's the darling, shiny, all-too-brilliant Spinecheek Anemonefish (Premnas biaculeatus): (you can find another Spinecheek here.)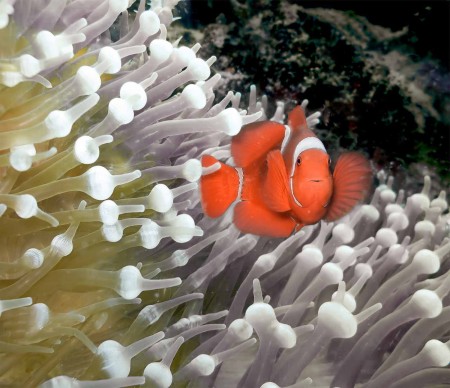 Would that I were so handsome, but ça ne fait rien.
Tags:
Amphiprion clarkii
,
Amphiprion percula
,
Amphiprion supermanii
,
bird
,
Bluestripped Fangblenny
,
canoe
,
clark's anemonefish
,
Clown Anemonefish
,
panorama
,
Plagiotremus rhinorrhynchos
,
Premnas biaculeatus
,
spinecheek anemonefish
,
sunrise