Posted in
Mixed Nuts
on November 6th, 2009 by MadDog
Last Tuesday evening a small group of Trevor Hattersley's friends gathered at the Madang Club to celebrate his impending marriage to Karen Simmons. The event started with the usual Stag Party nonsense. I should mention, however, that it was remarkably constrained. I've been to a few of these before. This was tame by comparison. A few beers were consumed, a few cigars smoked and a smattering of mildly off-colour jokes were offered.
Then occurred the tragedy. Someone, who shall remain nameless (as shall all of the participants) decided, in a moment of dementia, that we should all play pool at one table. Then commenced a game of pool the rules of which were so arcane and complex that I had already lost K50 by the time that I figured out by osmosis when it was my turn to shoot.
About half-way through the game, the rules were changed once again. Anyone who dropped the cue ball had to down a shot. Fortunately I had already switched to soda water as my beverage. I dropped the cue four times and dutifully downed four shots of Cointreau. When I woke up in the morning clear headed I could still taste oranges.
This is the man responsible for this debacle: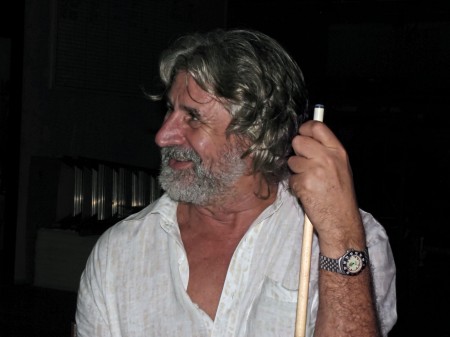 An now, for your amazement, I present a large gallery of those who could arguably be named the "World's Worst Pool Shots":
It will be a while before I do this again.
Tags:
karen simmons
,
pool
,
stag party
,
trevor hattersley