Posted in
Dangerous
,
Mixed Nuts
on July 14th, 2009 by MadDog
Good buddy and Madang- Ples Bilong Mi reader Rich Jones shot me an email this morning with photos of the Burns Philp fire in Port Moresby.
This from Rich Jones:
We were sitting on the balcony drinking wine and saw a huge plume of smoke from downtown. Like any good PNGer we immediately raced towards the disaster and saw the final moments of the famous yet flammable Burns Philip building, once home of the excellent Tribal Den nightclub and currently under, um, renovation. There were vast and knowledgeable crowds who were remarkably close to the action and a few brave firemen trying to save Westpac with some very leaky hoses.

Check out Jenn's chairs in the heart of the fire.

It was quite a communal affair. Well ordered and quite solemn at times.
Rich sent some shots of the fire along with the email. The Sunday night fire, which rated a short blurb in the Post Courier's online rag, was apparently spectacular and a great crowd pleaser: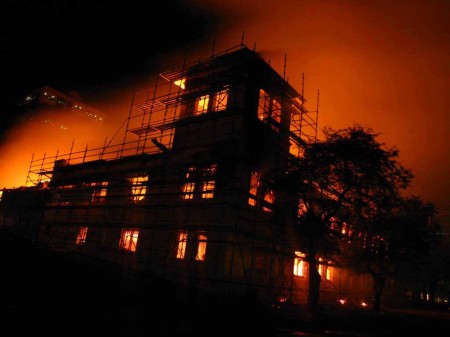 The building was under renovation at the time of the fire. You can plainly see the scaffolding.
Here it is getting well and truly under way: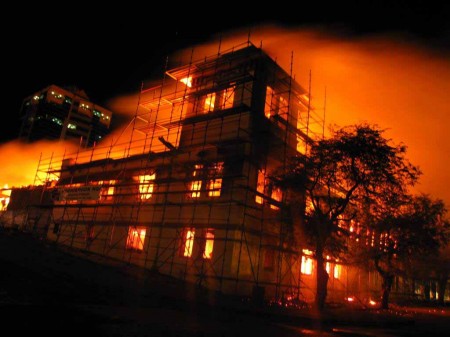 I'm not familiar with Port Moresby (and I can't say that I'm a big fan either), so I don't know what we're looking at in this shot: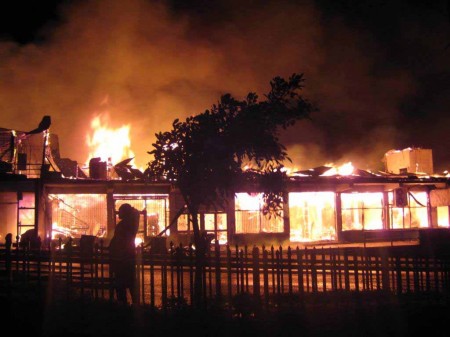 A lot of money burning up, I'd say. Rich explained to me on the phone that the firemen did manage to save the bank next to the blazing building, but doesn't give huge credit for that, since the wind was blowing the other direction quite strongly.
Here is a shot showing the mystery chairs, which were, by all accounts, amazingly fire resistant. Sounds like a handy thing to save your home in case someone spontaneously combusts while napping in front of the tellie: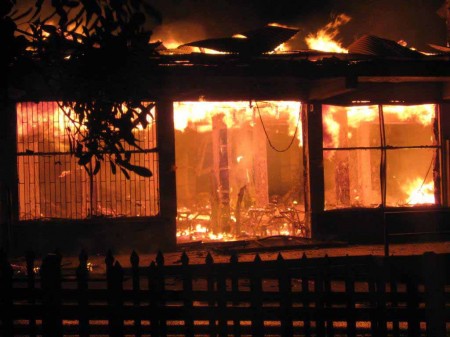 I recall several huge fires here in Madang. The first that I remember, strangely enough, was the Burns Philp warehouse fire way back when. Then Binnen Bakery burned down, followed soon by the Lutheran Shipping Fibreglass shop. That one was very spectacular. There were 200 litre drums popping like bombs and rocketing many tens of metres into the air trailing orange flames. A terrific show which we could easily watch from our house.
Probably the most well remembered fire in Madang is the old Chemcare shop. Here's our old buddy Greg O'Keeffe looking a little bewildered as his shop burns to the ground behind him.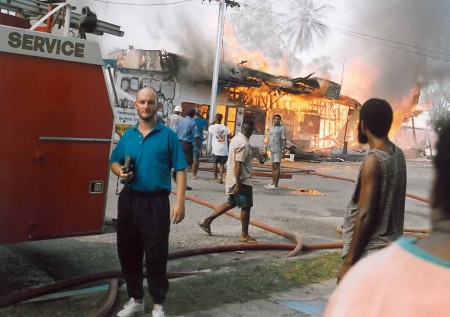 The Fire Service makes an easy target, since the equipment is laughable, and the record of success rather thin. I can't recall a single fire in Madang at which the Fire Service made much impression on the fire. Maybe it's just my poor memory.
Lest we pick on the poor Fire Service fellows, let's remember that they are about as effective as any other government operation. Let's not single them out for abuse. There's enough to go around to everybody.
Tags:
burns philp
,
fire
,
port moresby
,
rich jones