Posted in
On Tthe Road
on March 24th, 2011 by MadDog
"Been crook, mate." is how an Australian might put it. It doesn't refer to criminal activity. It means I've been sick. What seemed to be a waning viral chesty thing suddenly regained its foothold on my aging carcass and discovered a new and vigorous life in my tortured sinuses. I call this extremely poor timing. This is the first day in a week when I've felt like doing much other than laying in bed moaning about my face which felt as if it had been in intimate contact with the massive bumper of a speeding truck. This explains my absence from MPBM for a week.
Other than that, I'm having a pleasant, if surreal, time. The trip to Teewah was fun and refreshing. It took my mind off things for a while, a welcome interlude, indeed. I'm trying to retrain my mind to leave aside things best not thought of. Possibly you know what I mean. It's those pesky themes which plague your thoughts, forcing you to go around and around trying to think of solutions to puzzles which have none. I had just about banished this kind of pointless mental exercise from my life. Recently it has returned with reinforcements. Now I have to subdue it again. The change of scenery is helping.
I'll return to Teewah in my head this morning before I have to get to work and catch up on ten days worth of ignored urgencies. As the title implies, reflections are on my mind – not the moody kind – I disposed of that already. The watery places around Lake Cootharaba abound with captivating counter-images. Here are a few: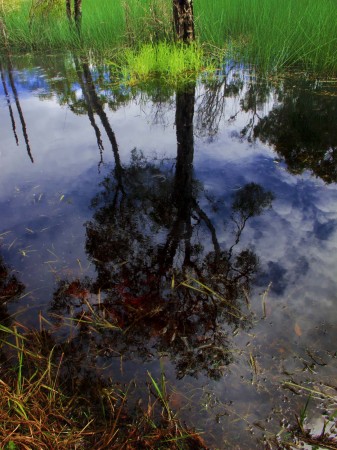 The phantom tree is far more, ummm . . . spiritual than its hardwood doppelganger.
The water here is deeply stained with tannin from the rotting vegetation: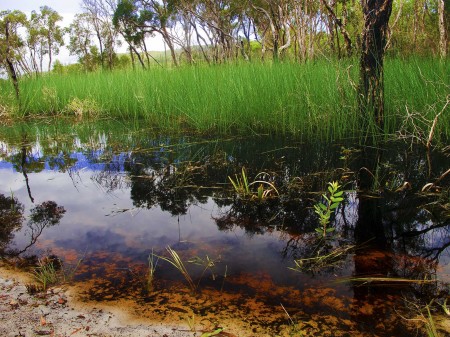 The ground all around reminds one constantly that the path follows the contours of a giant sand dune.
Reflections create amusing symmetries everywhere: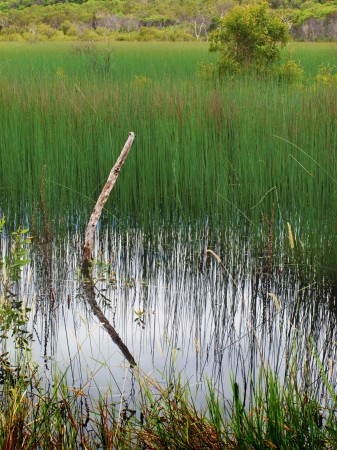 There are great seas of magenta-tinged reeds. Nearly all of the vegetation in this area does not appear truly green to me. I find myself constantly removing magenta from green shades to make them look more natural to my eyes. That's really a cheat. I shouldn't be doing it. Coming from Madang, everything here looks dried out and sickly. I admit to freshening up the greens in these shots.
Huge swaths of scraggly forest show fresh evidence of bush fires. Two years ago an enormous portion of this area was burned out. Strangely, in these habitats, fires are not only untroublesome (to the vegetation, anyway), but absolutely vital the very survival of many species: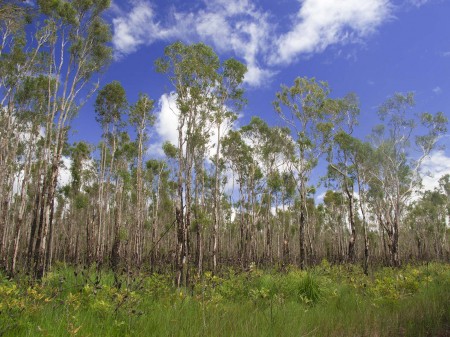 Many Australian plants cannot propagate without fire. The heat allows the seeds to escape from the protective pods. I'll be talking about that in a post soon.
This burt-out Banksia tree is a good example. Though it finally succumbed to the last fire, its final crop of seeds was released to regenerate when things cooled off.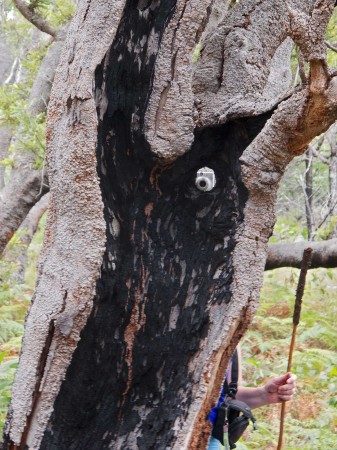 Here you see Ali Raynor cleverly taking my picture through the hole. No, that is not a spear she is holding.
What it is is the central spike of this plant. This is what is commonly (but politically incorrectly now, as I hear) called a "blackboy". They are quite impressive and can live for hundreds of years. The proper name is Xanthorrhoea: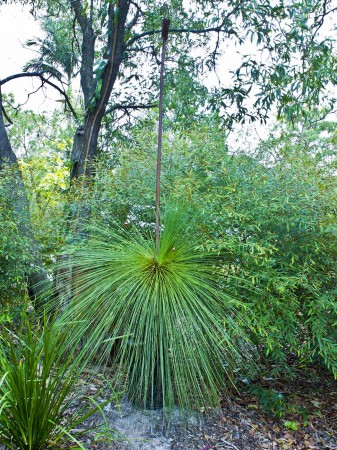 The reason for the political incorrectness of the common name is rather obvious, but seems just a little, uh . . . unnecessarily sensitive to me. Here's the explanation which I casually ripped from Wikipedia:
"The best known common name for the Xanthorrhoea is blackboy. This name refers to the purported similarity in appearance of the trunked species to an Aboriginal boy holding an upright spear. Some people now consider this name to be offensive, or at least belonging to the past, preferring instead grasstree."
Okay, enough of that. I'd rather let them explain it.
As soon as we started up the path to the lake and encountered the wetlands further up the dune, we were surrounded by millions of toads ranging in size from a pencil eraser to a tennis ball. Did I mention that there were millions of them? Mind you, I didn't count them. Apparently, they all come from these: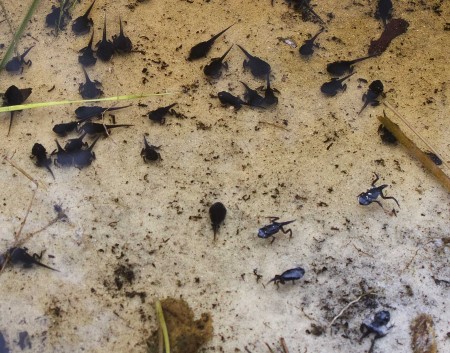 Yes, Virginia, those are tadpoles, some of them sprouting legs already. There were millions of them also. They seem to have no predators here. I suppose that their number is limited only by the size of the edible insect population available to feed the adults.
It seems that they grow up to be these: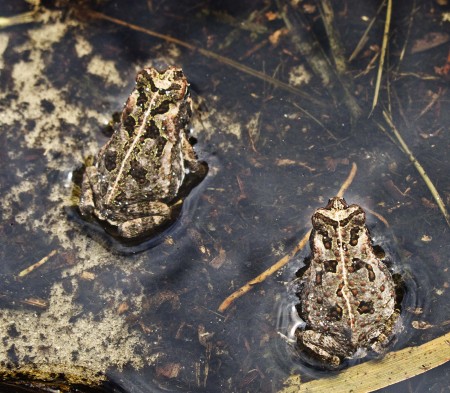 I, being ignorant, of course, believed these to be cane toads – a menace if there ever was one. Discussing this with the ladies accompanying me proved to be useless. None of these Queenslanders could state with conviction that these were or were not cane toads. Possibly that is because none of them have engaged in the popuplar sport involving a doomed cane toad and a hefty golf club. This morning I perused Google Images for cane toad pictures. It's my judgment that these are something else. These are nowhere near ugly enough. Comments are welcome.
Tomorrow I am off to Toogoolawah for a few days with Ali Raynor. I have absolutely no idea what is in store for me, but I hope it includes some spectacular images of skydiving, kangaroos, koalas and whatever else I can manage to get stuck into. I'll have a dial-up connection there, so my postings may be sparse.
If I can shake off this disease, I'm going to have some fun.
Tags:
alison raynor
,
banksia
,
blackboy
,
bush fires
,
cane toad
,
lake cootharaba
,
queensland
,
reflection
,
tadpole
,
teewah
,
xanthorrhoea