Posted in
Arizona Images
on October 28th, 2011 by MadDog
I invested considerable effort while I lived in Papua New Guinea to learn as much as I could about my environment and its flora and fauna. There are thousands of images here in my journal, which shall soon need a name change, of many hundreds of mostly accurately identified species. I don't claim that as any kind of accomplishment, no more than a model railroad geek might brag about the scope of his layout. Hey, it was a hobby. The hobby now continues, except that I'm starting from scratch. I can identify nearly nothing. Oh well, it is just a hobby.
I intended to write this post a week ago, but a "cooking incident" made typing painful. Last Friday night, with the aid of one of my fancy new ultra-sharp knives that I told Gracie that I must have if I were to be the primary chef, I neatly sliced off the tip of my left pinkie finger. Let me tell you, that knife was exquisitely sharp. I could tell. I felt it glide effortlessly through my tender flesh a full second before there was any pain. Fortunately, I withdrew the dripping appendage before the neatly sliced pile of hard, stinky Italian cheese was contaminated. It's been an adventure the last few days to learn how to neatly bandage a fingertip. I don't think it's possible.
The subject today is a phenomenon which is entirely new to me. Spring has always been my favorite season. The cold weather I hate so much has abated and everything gets a fresh new start. It's a time for rapid growth and replenishment. All things which appeared dead are resurrected. What I certainly did not expect to see was a spring renewal in the autumn. That appears to be exactly what happens here in the high dessert.
Flowers are everywhere. I have not yet experienced a true spring in Arizona, but I can't imagine that it would be much more verdant that what I'm observing now. The predominant color is very obviously yellow. In some places entire hillsides take on a sunny hue. A couple of weeks ago plants such as this seemed to have gone dormant after the blazing heat, waiting for the frosts which will probably start tonight, if the forecast holds: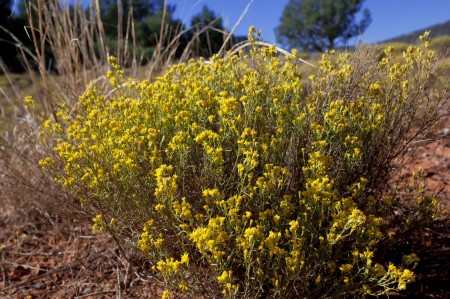 Here is a species which I have seen in the highlands of Papua New Guinea, but I've already forgotten the name. The color in PNG is red: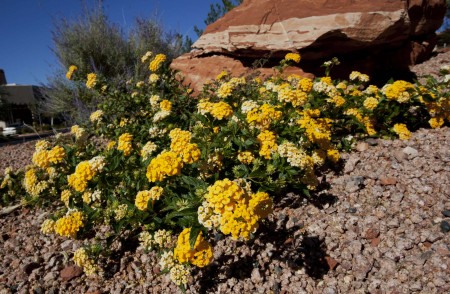 Of course, not everything is yellow: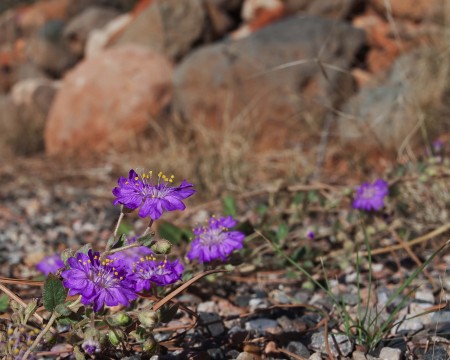 And, not everything is a flower: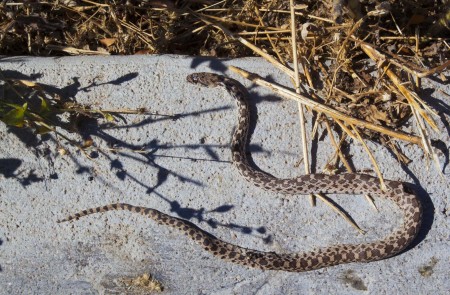 I got this shot from a resort named Enchantment. I can think of only a few places in all my travels where I enjoyed such a scenic lunch. I wondered where the airliner was going. It couldn't be any place better than where I was: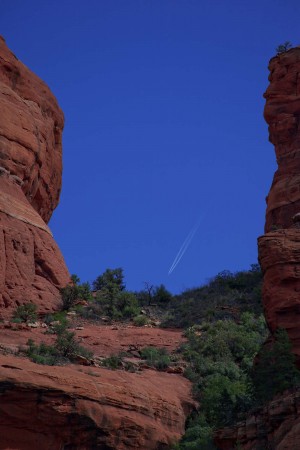 I was pleasantly surprised the our lunch there cost little more than any decent restaurant in the area. The splendid view was virtually free.
Here are some more yellow flowers: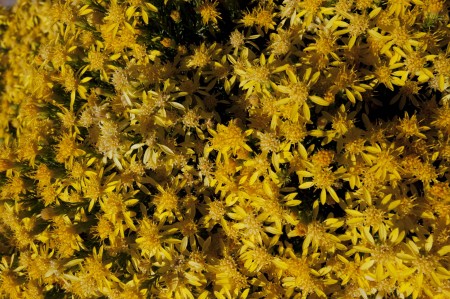 The roses all around the neighborhood are in a frenzy to produce blossoms which seem impossible for the end of October: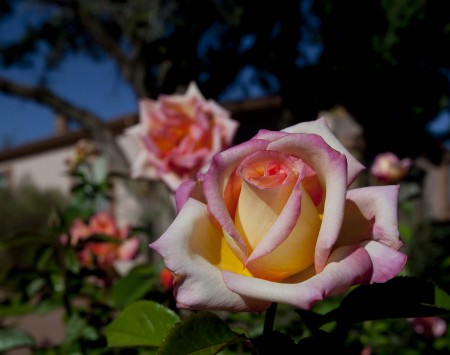 There are a dozen varieties of rose blooming now, as frost nears, along the streets of our neighborhood on the way to the local grocery store: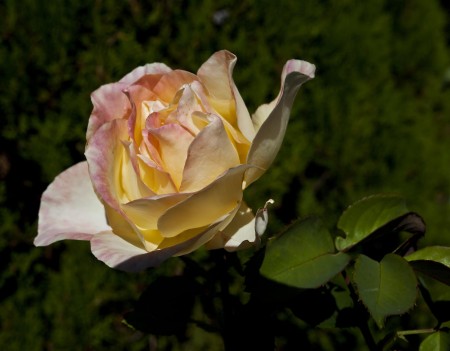 Milder temperatures probably contribute to the second spring effect, but I suppose the biggest factor is the increase in rainfall. We have had nighttime showers recently and the occasional stormy day. A couple of days ago, on the way back from Cottonwood, we followed this rainbow for about twenty minutes. It was wonderful to watch it move along with us: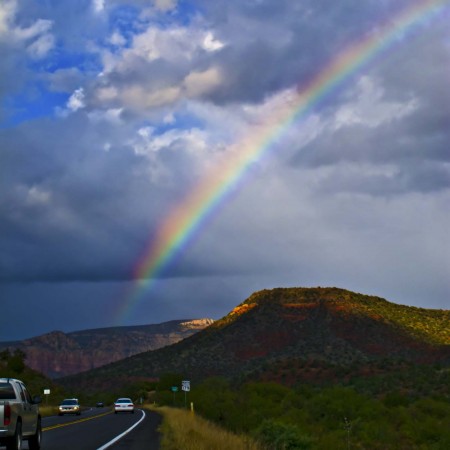 In the image above it is hovering over our home. We wondererd if there might be a pot of gold waiting for us.
The roller-coaster of life that I've been riding for the last two years has followed some spectacular paths. I feel genuine hope that it might now be settling down for a less thrilling ride. I've had to make some pretty difficult decisions on my own. It is very comforting now to once again have a beloved partner with me. Grace and I have set a multitude of wheels turning. All of them now seem to be rolling in a positive direction. Our meager investment accounts are even starting to move upward again after a much too long bankers' holiday. After the breathtaking ride, I can't avoid seeing many things as metaphors. The poetry of life is coming back. Arizona, my new home, is experiencing a Second Spring even as I myself am being refreshed and regenerated by the blessings raining down on me.
As corny metaphors go, that's not too bad.
Tags:
flowers
,
rainbow
,
roses
,
sedona
,
snake
,
spring