Posted in
On Tthe Road
on July 17th, 2011 by MadDog
Nobody, not even residents of Sedona, could deny that it is an eminently quirky community. In fact, that is its primary claim to fame. We have been exploring some of the local attractions. Grace has lived here for seventeen years, so she knows the lay of the land pretty well. One place which attracted my attention from the beginning is the Red Planet Diner on Route 89A, the main drag through Oak Creek Village.
It's not all that impressive from the outside. It defies the sensibilities of the Sedona Color Police, who insist that desert tones are the only suitable shades for architecture. Sedona is the only place in the world where the golden arches of McDonalds are teal. Aside from the flashy neon sign in front, there is not much to attract the attention of passersby.
Oh, wait. There is one other little thing.  Just off the road in front of the parking lot is a captured flying saucer. As I have heard, the proper term is Unidentified Flying Object. This, however, does not seem to fit, as this object has been clearly identified. It is an Unreasonably Funny Object: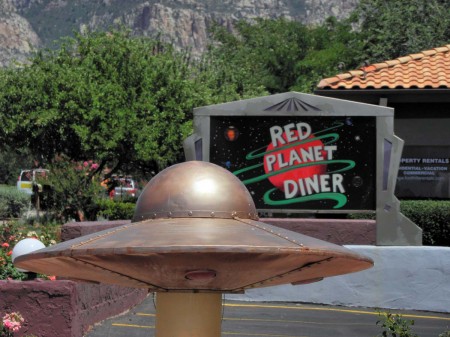 I won't show you images of the food. I've had to many complaints about ugly food here at MPBM. I will, however, say that the menu is typically diner-style. There are plenty of choices and the meal we had was very tasty. They have a decent bar. The service is cheerful and amusing. All of the staff wear t-shirts bearing the greeting, "Welcome Earthlings.":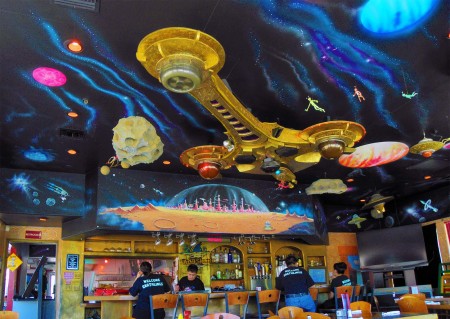 It probably the only establishment on the planet featuring an alien restroom attendant: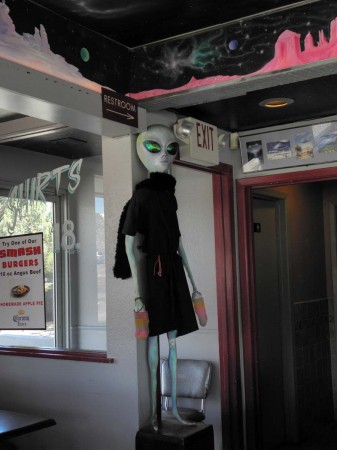 Alas, there is no jukebox. The selection boxes at the tables have long been colonized by tiny aliens: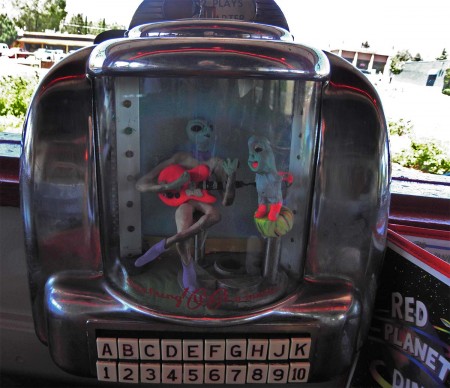 Other small aliens float ghostlike around the ceiling while their scout ship hovers silently: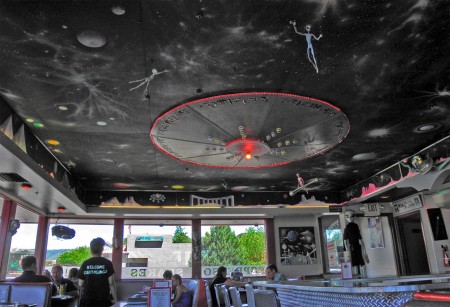 A more robust alien serves as maître d':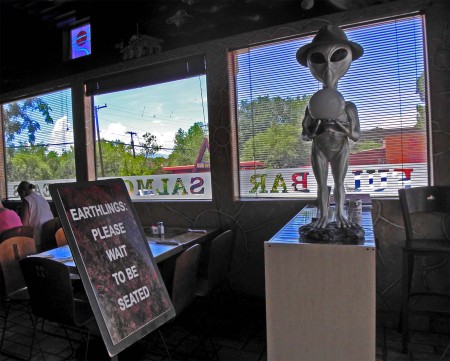 The usual "Please wait to be seated" placard is replace by a more amusing version.
I couldn't resist posing Grace at the door. Really, someone should talk to these aliens about clothing: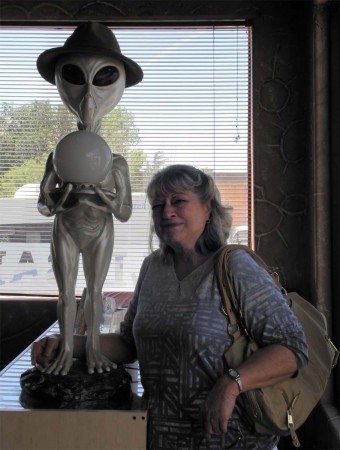 Grace was visibly discomfited by the proximity of a naturalist alien.
I find myself in a place where being far out on the fringes of the bell curve is perfectly acceptable. The presence of many long-haired, freaky people is very comforting. It's not unlike a warmer Hamilton, Ontario, except for the pervasive woo-woo factor. It will be interesting to see what happens to Sedona when the New Age becomes passé, as it surely will.
Nothing lasts forever.
Tags:
aliens
,
flying saucer
,
red planet diner
,
sedona
,
ufo