Posted in
Humor
on May 6th, 2008 by MadDog
Words a husband should never, NEVER utter to his wife when hiring a car:
"The insurance is just a rip-off. It's how they make their profit."
"I've hardly scratched a car in forty years. I don't need the insurance."
"No, we're NOT going to get the damage waiver. [sarcastically] I don't intend to damage the car."
"I know what I'm doing. Please just let me get on with it."
These are the sad, sad phrases emitted from the mouth of a man setting himself up for unreserved humiliation.
When we arrived at [city name withheld] to rent a car from [car hire company name withheld] for a month, I didn't even want to know how much it would cost to 'load it up' with bulletproof insurance. I thought to myself, "That's for the galahs in Trains, Planes & Automobiles." Experience reminded me that it would nearly double the cost. And then, I uttered that fatal word over and over as the litany of protective options was delivered: no, no, no, no [skeptical eyebrow lift from hire agent], NO.
Yes, patient reader, you're way ahead of me. Behold the grisly result of my folly: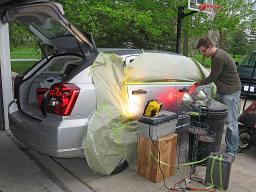 Had I made the investment, I could have returned the car with a polite, "Sorry."
To my great good fortune, it turns out that the husband of my niece Bethany is a whiz-bang panel beater (that's a body & paint man for Yanks). Zack was agreeable to repairing the car in his garage. He called his brother, Eric, to come down from Chicago to do the painting. The fellows did an excellent job of making the damage disappear despite a little problem with the paint caused by the wildly uncontrollable conditions of an Illinois Spring.
Here's Eric putting the final polish to the job: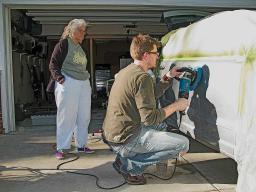 I must give kudos to my longsuffering wife for not loading it onto me. She displayed remarkable restraint. I kept waiting for the chagrin to be heaped upon my head, but it was kept in check. I may have been saved partially by what I promoted as 'extenuating circumstances'.
Virtually everything we still owned in Indiana except the Harley (you read about that one, I suppose) was crammed in every tiny crevice of the interior of the car. The rear seats were flopped forward and the front seats were pushed up as near the dash as their rails would allow. I honestly do not believe one could have found room for a dead cat.
Eunie could wedge herself into the driver's seat and operate the car safely with her diminutive arms and legs. On the day I was forced to drive the car alone for a while, all the Army vernacular came back to me in a verbal storm. I had the wheel up against my chest and my knees spread wide to accommodate it. Only the tips of my boots could operate the throttle and brake. I made a sharp turn, misjudged fatally, jumped the curb, and scraped a green painted iron pole (useless buggar – why was it there anyway?) down the side of the car from the front wheel to the rear. It was a horrifying crunch.
Family played a huge part in our whirlwind success in Illinois bidding adieu to America as far as worldly possessions are concerned. Without Jim and Mary we could not have possibly finished the packing in time to catch our flights to Canada. Without Zack and Eric (and Bethany, who, I'm sure 'suggested' that Zack could bail us out), we could have faced an incalculable repair bill from the hire agency which would have had us literally at its mercy. Hire agencies are not known for their mercy.
Sometimes family is a very good thing to have.
Tags:
car crash
,
rental cars