Posted in
Under the Sea
on March 7th, 2010 by MadDog
I may as well continue feeding you a steady diet of fish for a couple of more days, at least until I run out of images from our dive on Planet Rock yesterday. Richard Jones, (A. K. A. "Eagle Eyes") has been spotting for me. It's like having an experienced tracker along on a safari. We're not shooting big game, but I bet Rich could spot a lion's ears peeking above the savanna grass at 200 metres.
Here's Rich doing his thing: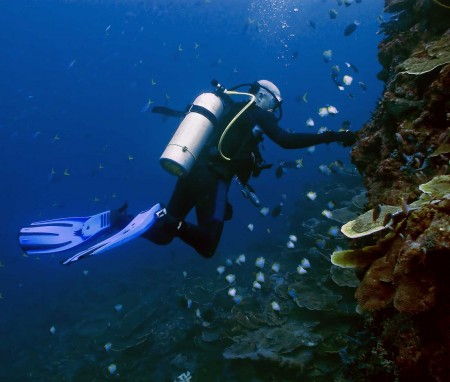 Not a single nook or cranny escapes his attention.
However, while Rich is poking around looking for treasure, I'm usually takin' in the scene, man. When you first start diving you're looking for the big, flashy stuff. After the shine wears off you can begin to appreciate the simple beauty of a starfish: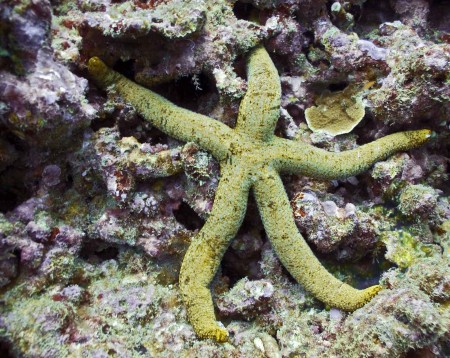 It looks as if it's strolling along the bottom, which, in fact, it is – though very slowly. I admire the starfish's lack of urgency. When you pass, there's always a little whisper, "Hey, man. Stay cool."
You look for the odd juxtapositions. There's no shortage of them. Here two species of Solitary Coral seem to be cuddling: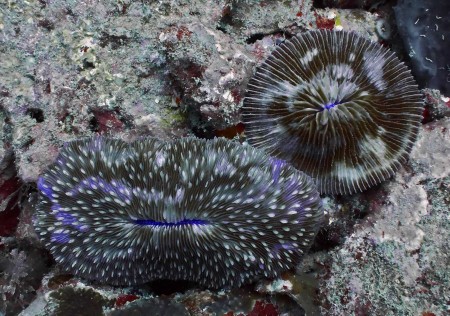 Nobody told them that it's wrong. It's blissful ignorance. Life is simple in the sea. You only have three things to think about. You eat. You reproduce. You are eventually eaten or otherwise return to Mama Ocean's storehouse of building materials.
You can never swim far without encountering a bit of magic. Here little jewels of amber hover over a plate coral.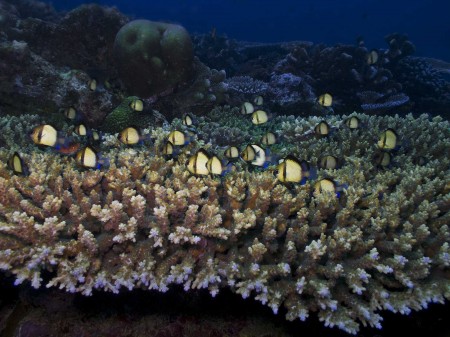 They are Reticulated Dascyllus, but that matters not a bit when the magic overcomes you. Everything is alive and a part of the whole. Identity merges into the gestalt. Are the Dascullus Reticulatus and the coral inseparable – needful of one another? Technically, no. However, the sense that you get is that it is all meant to fit together just as it is. Everything is copacetic.
Here and there passes a Unicorn . . . no, not really. Nevertheless, what it is is no less magical: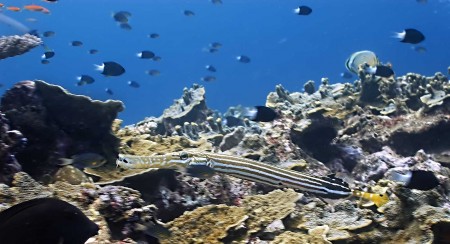 A Trumpetfish hurries to escape the camera. It's no less a beautiful mystery if you call it Aulostomus chinensis. The background blurs and the camera strains to follow the motion. The photographer feels a part of the daily life of the reef. I think of the Don Knotts movie, The Incredible Mr. Limpet. I feel somehow more peaceful and accepted as a fish. I move like a fish, through a three dimensional world. My breathing slows and my body relaxes. I'm in the sea. I'm of the sea. I am home.
And she rewards me for my admiration, respect and love. She sparkles for me: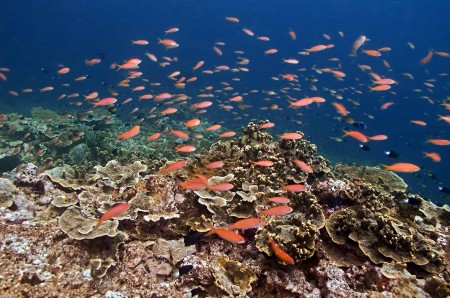 The sweet Anthea gather round me and frolic. I join their dance and music rushes through me.
We must protect our mother. If she dies, we shall all perish with her.
Tags:
anthea
,
aulostomus chinensis
,
Dascyllus reticulatus
,
fungia fungites
,
heliopora coerulea
,
planet rock
,
reticulated dascullus
,
richard jones
,
solitary coral
,
starfish
,
trumpetfish