Posted in
Under the Sea
on March 17th, 2010 by MadDog
The steam from the Saturday dive at Magic Passage has just about run cool, so tomorrow I'll have to invent something different with which to annoy you. It shouldn't be difficult, as that's one of my genuine talents.
Speaking of annoying, we had a bit of a fracas at the office yesterday. Our outside IT consultant, Mark, who has been wonderfully helpful to me as I've been rolling out a completely new network, inadvertently left a desktop computer system unit in his vehicle. We heard frantic cries from our receptionist, Ruth, that someone had stolen the computer from Mark's car. A couple of people out in the street were pointing in a general direction, so Mark and I gave chase. I'm sixty-six, but fit, so I hotfooted it around following peoples' pointings until I ended up with someone who said that the thieves gone to the bus stop near the market. Mark was on his cell phone and talking to bystanders, so he had to catch up with me.
Some people waiting for vehicles at the stop had seen the boys carrying the computer and told us what bus they had taken. Mark's call to the cops actually got some attention and they soon gave chase. We never got the afternoon's work finished, but at least Mark found out where the computer went. Now all that remains is to "extract" it from the thief.
I won't make an example of Papua New Guinea, since the same thing happens everywhere. However, I will ask why so many people witnessed what was obviously a crime and did absolutely nothing to thwart it? If I had seen kids breaking into a car and filching the contents I would have done something, though I'm not sure what. It would depend on the situation.
In fairness, I should mention that some people came to the office door immediately to tell us that the computer had grown legs.
And now, for something completely different: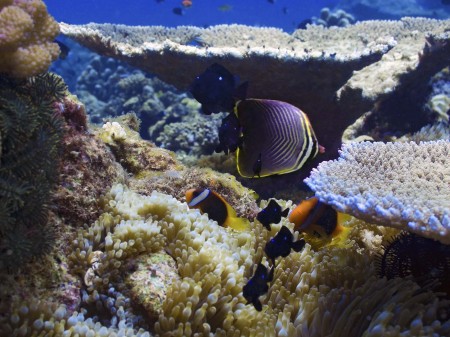 That's a nice little reef scene in which I was hoping to get a nice image of the anemonefish. Just as I was taking the shot, an Angelfish swam past. I can't identify it, but it is certainly very pretty.
Later, I was attracted to this very nice, neat round Acropora hyacinthus coral with a pretty little reef scene behind it: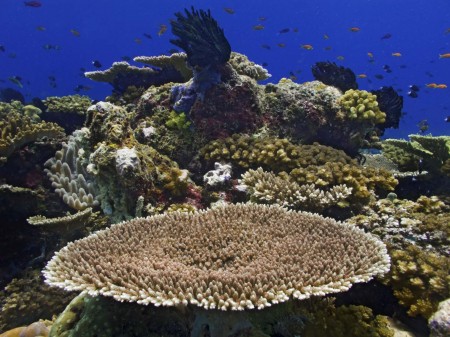 There were many feather stars waving around in the fairly strong current, so I decided to snap a few.
These are all Comantheria briareus, as near as I can tell. The taxonomy is a little confusing and many species can be identified only by counting the arms, something which I am not going to do: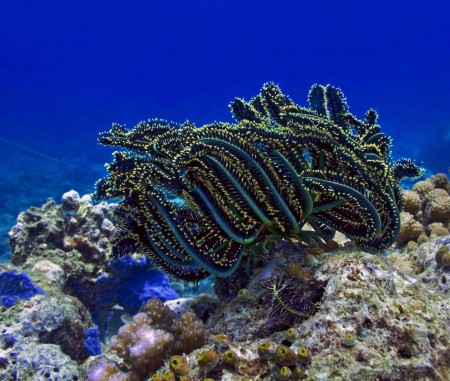 The arms are extremely sticky, being like Velcro. They will stick to anything, your hand, your wetsuit, fins, camera, etc. The arms tear off when they stick, so we try to be very careful when moving around them. It's far too easy damage a feather star by simply brushing against it.
Here's an nice shot showing how they attach themselves to the bottom by grabbing on with their "feet":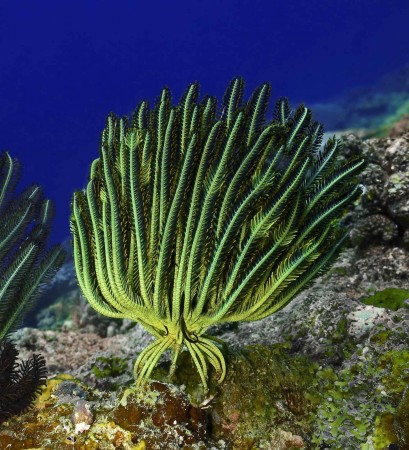 There are many subtle colours, even within the same species.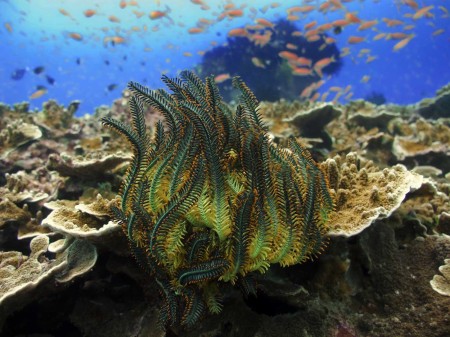 Okay, that's the feather bit. How about the Captain's Hat?
I'm not a guy to shy away from beauty, wherever I find it. Anyone who is a regular reader will know that. I found a bit of beauty on Sanguma on Saturday when Jennifer Miller was modeling her new hat. Jenn is usually found in the company of my good friend Richard Jones who, along with our mutual mate, Pascal Michon, our resident Frenchman, have purchased Sanguma from our other mutual buddy, Trevor Hattersley: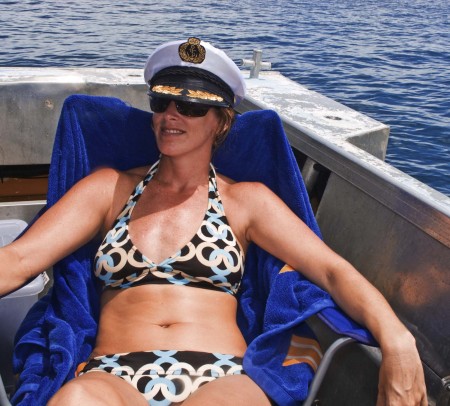 I think the Captain's Hat is donned in celebration of the recent purchase. I don't really care, because Jenn needs no further adornment. She's a lovely lady and a dear friend to all of us motley expatriate crew.
So, congratulations to Captain Jenn and shipmates Rich and Pascal. May you catch many large fish and share the occasional nice filet of Spanish Mackerel with your poor, non-fishing dive buddy.
Tags:
Acropora hyacinthus
,
angelfish
,
Comantheria briareus
,
coral
,
magic passage
,
Pascal Michon
,
richard jones
,
sanguma
,
trevor hattersley