Posted in
Madang Happenings
on June 4th, 2010 by MadDog
Today began for me at 04:30 when I loaded up Faded Glory to go out to try to find Roz Savage. The day before she had told me that she planned to ease off and arrive in Madang the next morning. It was dark, of course, but as the sky lightened I began to scan with my binoculars. At about 06:00 I decided to call home and discovered I had left my cell phone on the charger. I decided to make a quick trip back to town to get it.
As I was coming into the harbour I saw Mike Cassell in Felmara coming out. We stopped to chat. He told me that Brocade, Roz's boat, had been tied up all night next to the Kalibobo Spirit, Sir Peter Barter's boat. Much relieved that Roz wasn't still rowing her heart out to get to Madang, I went back home for a while to wait for the official entrance. As Roz tells about in It's Been Special, Sir Peter put her up on Kalibobo Spirit because it was legal for her to be on a boat at that point, but not dry land, as she had not yet cleared customs and immigration.
So, early in the morning Kalibobo Spirit towed Brocade out a short distance from the mouth of Dallmann Passage and set her adrift with Roz turning herself toward Madang once again, repeating the hundreds of strokes which brought her to safety the night before. It was a spectacle which I doubt will be surpassed in my lifetime.
And, this is the very shot which I had been thinking of since I first heard about Roz's visit to Madang: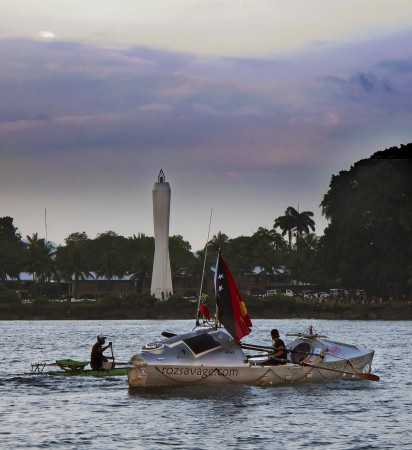 Circumstances conspired to deliver to me a perfect image. Those of you do not live in Madang won't know about our strong feelings about our Coastwatchers Monument. I've written about it so many times that it has its own tag in the Tags section of my sidebar. To catch Roz passing by and glancing over her shoulder at it is a gift.
Luck was with me again as the little flotilla of highly decorated canoes arranged so thoughtfully by Sir Peter Barter gave me once again the opportunity for an image which will always be among my favourites:
Sometimes everything just comes together.
It was very hectic in Dallmann Padssage. I tried to simply stay out of the way and shoot as the opportunities arrived.  I did most of the shooting with a mid-telephoto setting: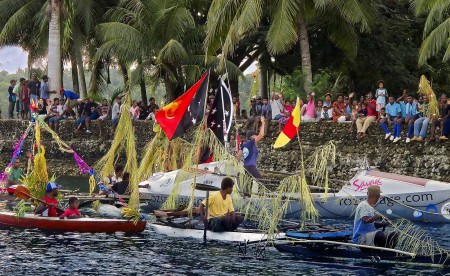 This image of Roz standing in her frail life-capsule waving joyously at the welcoming crowd will stay with me for the rest of my life. It is uplifting and inspiring.
Over at the wharf, everything was strictly business. Roz spoke to the authorities and handed over her documents: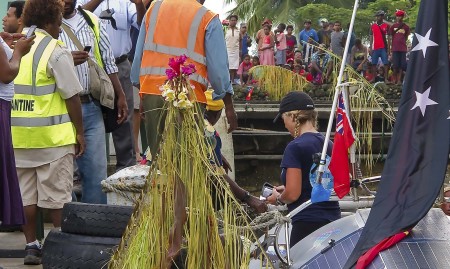 I should point out that I was surrounded by about thirty little canoes at this point. In order to get close enough to get pictures for Roz's mother, Rita, a lady I would dearly love to meet, I had to slowly work my way in, asking the canoeists, "Sori, plis mi like kisim piksa. Mama bilong Roz em i bin askim me long kisim piksa." (Sorry, I would like to get pictures. Roz's mother asked me to take pictures.) The people were very polite and guided me in among them for a few minutes so that I could get some shots.
I'll have more images and stories of Roz's adventures in The Land of Surprises over the next few weeks. I'll leave you with this one. It's a photographer's shot. Some would say, "Hey, it all blurry." But to me the motion blur speaks volumes: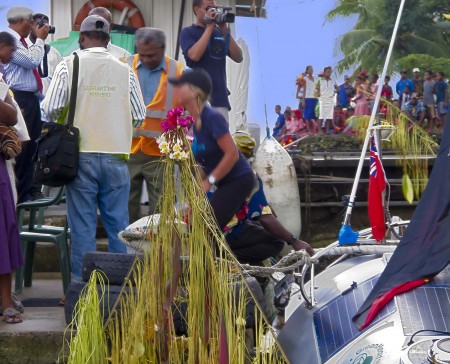 After, months of isolation and 2.5 million oar strokes, Roz, with one quick step, concludes this segment of her incredible adventure. She carries a powerful message to us. Let us hope that there are ears here who will listen.
Lest anyone mistake me for a purely sentimental observer, I'll admit to what everybody already knows. I'm am a glory hound. I have to be. We have to eat and the only thing that I have left to sell is myself. The more people who read what I write, the more doors open to Eunie and I for opportunities to make a living.
My arrangement with Roz's mother was that I would provide all images to her free of charge, considering that Roz's adventures are a non-commercial enterprise. My only request was that I receive photo credit. Roz's Public Relations man Alan Murray has been kindly sending me links to show me where my images have been popping up. I'm frankly blown away by the growing list. You can catch old MadDog's snapshots at ABC News, Roz Savage – Ocean Rower, ABC News (again!), CNET News. My fifteen minutes of fame may have finally arrived. Zowie!
I didn't get this post finished on Friday, so I'm now looking out my bedroom window on Saturday morning at bright sunshine on the cocount trees. It's Dive Day. Time to load up Faded Glory. Our own little adventures will feel larger while Roz is with us.
Tags:
roz savage