Posted in
Humor
,
Mixed Nuts
on October 3rd, 2008 by MadDog
How much fun can a kid have?
Get a box of sparklers and find out.
Ross is a precise kind of kid. He makes perfect circles over and over until they are burned into your retinas: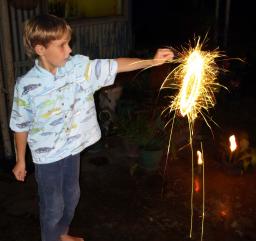 Ryan is simply spastic with a sparkler. He makes what looks vaguely to me like a Lissajou pattern. Maybe he knows what that means. I remembered it dimly from physics class: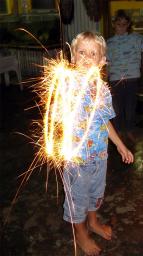 Look at his eyes. He's bordering on frenzy.
Little Holly – what a doll. Her motions were more sedate and considered. She wanted to draw with the light: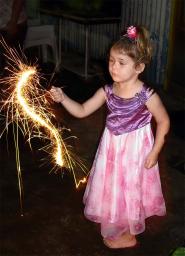 I felt as if I were too tired to go to dinner. I nearly skipped out. I'm glad that I didn't.
The Collins kids are always good for a show.
Tags:
Holly Collins
,
Lissajou pattern
,
Ross Collins
,
Ryan Collins