Posted in
Under the Sea
on April 16th, 2010 by MadDog
You're going to think that you're seeing double today. Going through my images from dives at Barracuda Point and The Eel Garden last Saturday near Pig Island, I found some vaguely amusing near-twins. Each pair has similarities, but not the same ones. Stick with me while I build a mountain out of a molehill.
The humble Tubeworm (Sabellastarte sanctijosephi) is an easy photographic subject unless you get too close. If you do, it will disappear down inside its house more quickly than the human eye can follow. Now it's there; now it's not: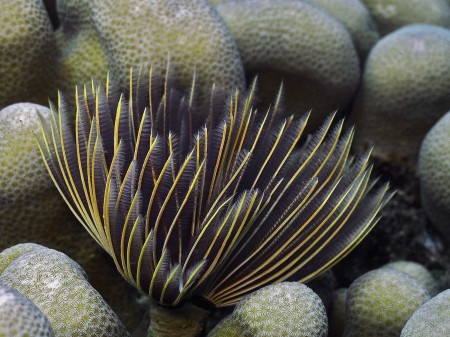 It seems like the same "now". All that's left is a puff of dust.
Here's another Tubeworm: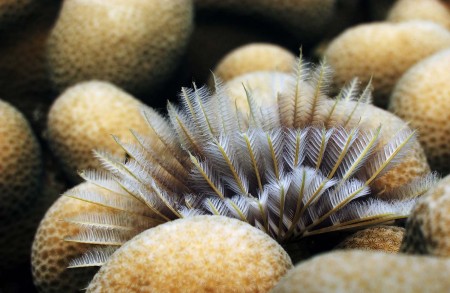 Both of these shots have nice detail if you click to enlarge. The "feathers" are incredibly complex.
The next twins are of Coral (Acropora hyacinthus). I think that both species are the same, but some corals are impossible to tell apart without examining the microsopic structure of the skeletal framework: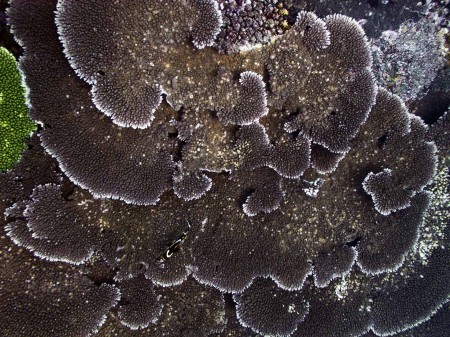 The shot above is from directly overhead. You can see a hint of the spiral growth form which is characteristic of many plate corals.
Here is another colony shown more from the side. Again, you can see vague spirals: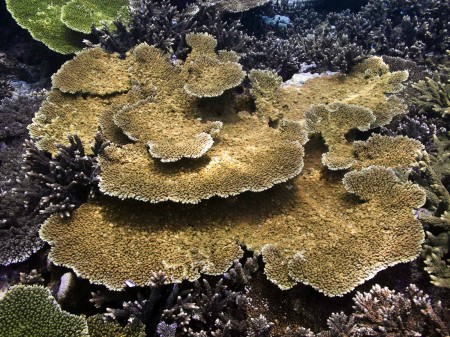 The colour of the two colonies was different, as you can see. In the second image you can see the variations of brightness caused by the refraction of sunlight through the waves at the surface of the water. When you see this live, it is constantly changing. It reminds me a little of disco lights.
Lets take a break with a prettier image. This is Kate: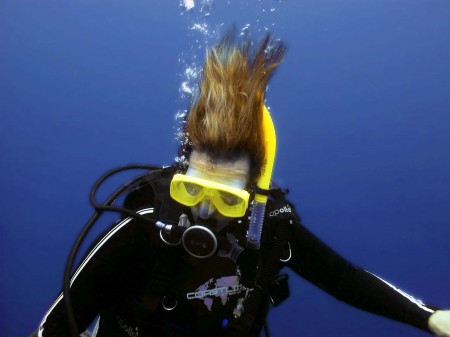 Kate lives in Madang and works with the Fred Hollows Foundation the Vision Statement of which reads, "Our vision is for a world where no one is needlessly blind, and Indigenous Australians enjoy the same health and life expectancy as other Australians." They need to work on that one, as they also do important work in other places.
One of my favourite little critters is the Dwarf Hawkfish (Cirrhitichthys falco). They are famously cute and give one good fun trying to get them to hold still long enough for a shot. This little fellow seems to be missing his fourth dorsal ray. Maybe it was bitten off. You can see it better in the shot that comes after this one: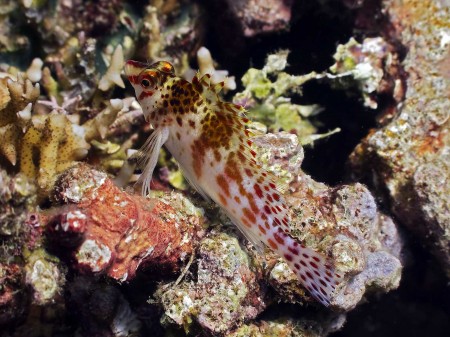 They scamper about within a small area as their google-eyes stay fixed on you. You end up anchored in the same spot, swinging the camera wildly around hoping for quick snap. The lighting in the shot above was very poor. The sun was behind a cloud and coming slightly from the other side from where I was shooting.
Here is the difference that good light makes: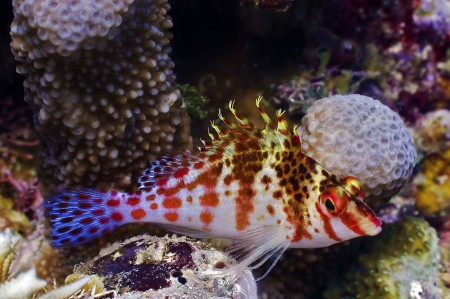 The sun was full on and coming from behind me. Good lighting makes these little jewels glow.
What a difference a ray makes.
Tags:
Acropora hyacinthus
,
cirrhitichthys falco
,
coral
,
dwarf hawkfish
,
Sabellastarte sanctijosephi
,
tubeworm