Posted in
Mixed Nuts
on September 16th, 2009 by MadDog
Today is Papua New Guinea Independence Day. We got some of the holes in our roads fixed, since the Prime Minister is allegedly showing up. Blessed be the PM.
It's also about a week past the second birthday of Madang – Ples Bilong Mi. I didn't miss it, I just didn't know what to say about it. Here is sunrise at my house this morning: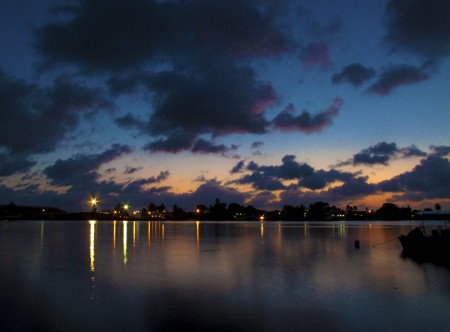 This is the 568th post. I didn't start out writing every day. Then it got to be an ego thing, because I got so much reaction to it. When a lot of people started reading, I got all puffed up and decided more was better. At the same time, I decided that, since we're getting poorer by the year as our religious supporters forget about us, then I'd try to make up a bit by writing. Of course, what you are reading now contributes nothing financially, since I refuse to allow ads on the site. Nevertheless, I rationalise that, if I'm going to call myself a writer, then I have to write daily – and try to do it as well as I might.
I like this shot from this morning of the little point of land near Smuggler's Inn (ugh!) in the sunrise: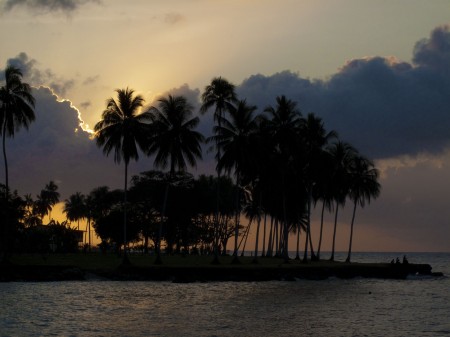 I don't know what the average length of my posts is; let's say 500 words. That comes out to roughly 284,000 words. According to Wikipedia, a novel has to be 40,000 words or more.  That means I've written the equivalent of about seven short novels in two years. Of course, nobody with a brain would read them as a novel. They are "moods". That's my own invention, by the way. My Creative Writing professor at university once asked me what in the world I was writing in my assignments. I told her, "Moods." She seemed happy with that. I got an A.
Do you like these ladies out admiring the sunrise? I do: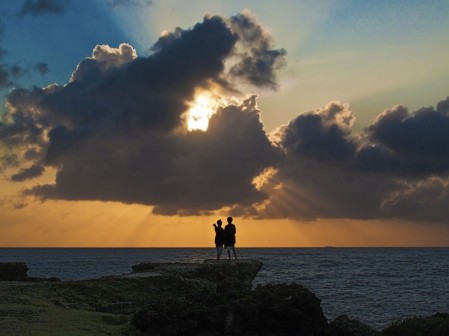 You've also seen roughly 2,000 images here. I'm vain enough to say that most of them are not "snapshots". I work far more hours on my images than I do the writing. That's because – if you've been reading for a while, you'll have noticed this – to me, the images are the stories.
I also saw a sailboat heading out into Astrolabe Bay this morning: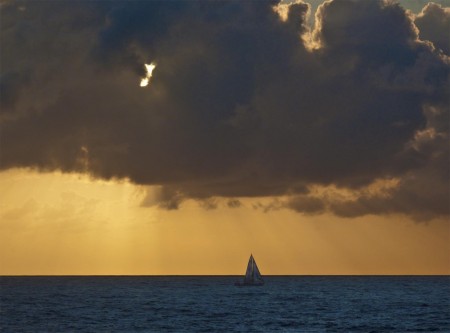 What makes me keep doing this? Well, there are a few reasons. One is obviously ego. I get a terrific feeling when someone that I've just met says, "Hey, you're the guy who does that blog!", though I don't think of it as a blog. It's difficult to calculate accurately, because I've used several different tracking methods over the two years, but I estimate that I've had about 250,000 unique visitors to Madang – Ples Bilong Mi. It's growing too. So far this month, we've had 9.560 unique visitors. I've been told by someone who is involved in tracking internet sites that this is the largest site in Papua New Guinea in terms of hits. I don't have any way to confirm that, but it amazes me, nevertheless.
Other reasons? I mentioned already the practice, practice, practice thing. In truth, the main reason I keep doing it is you. As I receive comments on the site and on my Facebook account, I can see that people enjoy the daily experience.
Once you start to give, it hurts too much to stop. That's one of the nice things about giving. Because I give this, I've got many thousands of friends around the world who would be happy to meet me and buy me a beer. That seems to me to be a very nice reward or the effort.
Tags:
astrolabe bay
,
sailboat
,
sunrise