Posted in
Humor
on April 3rd, 2009 by MadDog
The excitement in the office was palpable. An important missive has arrived from South Africa informing me that I have won US$2,500,000.00 (exactly) in the REPUBLIC OF SOUTH AFRICA 2010 WORLD CUP BID INTERNATIONAL LOTTERY AWARD. Wow, that's a mouthful.
Anyway, there was much rejoicing, as it means a much needed cash injection into the MadDog and Snaggletooth's (Eunie's HASH name) Retirement Fund. It will also allows us to be much more generous to our friends – an ability that has been noticeably lacking of late. So, there were whooopees all around.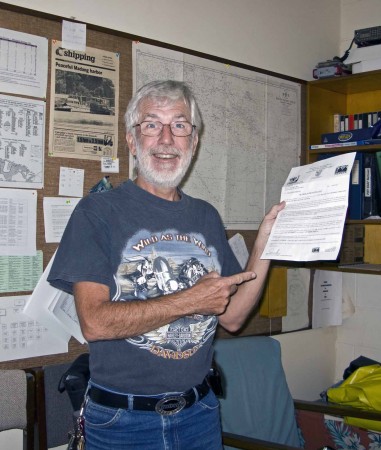 Yes, it's a fantasy, but in a perfect world it would be true; I would be rich and my many, many friends would be oh, so grateful for my humble and self-sacrificing generosity.
Sadly, closer scrutiny revealed some details that cast doubt on the reality of my seemingly fantastic good luck.
First there is the strange envelope: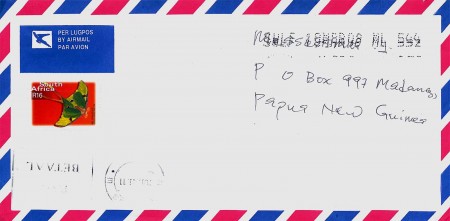 It does seem curious that an official notification of such great importance would come in an ordinary postal envelope with my address scribbled by hand. It does have a genuine South African stamp worth 16 Rands (US$1.75, A$2.45, €1.30, PNGK5.25). That's a lot of money for scammers – unless they are stealing the stamps. I wonder what the chances of that are in South Africa.
And then there is the odd letter of notification: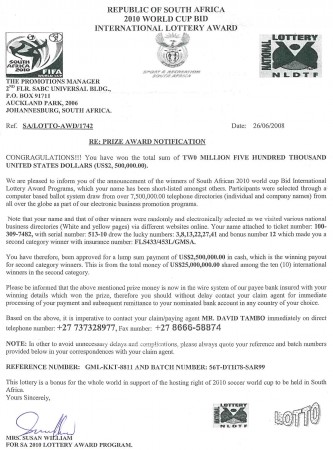 You can probably read it if you click to enlarge. There is a telephone number and a fax number. I tried calling the phone number. It was busy. There must be many winners.
There are also mysterious many-digited ticket numbers, serial numbers, reference numbers, batch numbers, what-have-you numbers . . . all very official.
To an absolute fool, this must be very tempting.
I clearly remember, many years ago, when we got the first of the "Nigerian Scam" letters at our office. We pondered it for a couple of days. It was something completely out of our experience. Some clown was offering to transfer a huge sum of money to us seemingly to make a legitimate transfer of a collossal amount more convenient for him (the first scams were much more sophisticated, I think). Could it be true? Then, of course, we discovered that everybody was getting such offers.
I remember when we got our first fax machine. We would come into the office in the morning to find a pile of paper all curled up on the floor, most of it scam offers. We turned the fax machine off unless we were sending a fax or knew we were about to receive one. Does anybody else remember those heady days? You could not  leave your fax machine on. You had to call someone to tell them that you were sending a fax or their  machine would be off.
And now, all these years later, some idiot in South Africa is starting the whole thing over.
There are people who prey on the scammers also. It's like crocodiles eating alligators. Check out this scammer who carved a Commodore 64 Computer to keep the deal alive.
Is there no end to folly?
Tags:
commodore 64
,
lottery
,
nigerian scam
,
scams
,
south africa