Posted in
On Tthe Road
,
Photography Tricks
on May 12th, 2009 by MadDog
Stinking cold again today in Hamilton. Ugh! I feel like Nanook of the North. We took a long fruitless walk to Canadian Tire only to discover that they didn't have what we wanted. Eunie walked off a small cliff (okay, it was a tall curb) and banged up her knee. She took a couple of Ibuprofens and she was okay. She's incredibly tough. I wanted to get some shots of the pigeons that one is not supposed to feed being fed at Victoria Park. I got a bonus – seagulls: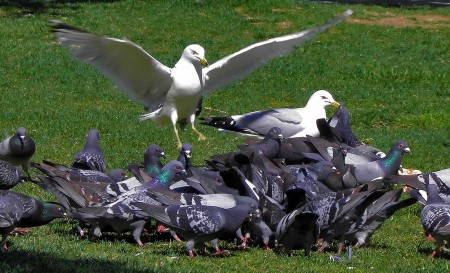 Suddenly I realized that I was observing that rarest breed of avian athletes, the amazing Seagull Juggling Pigeons: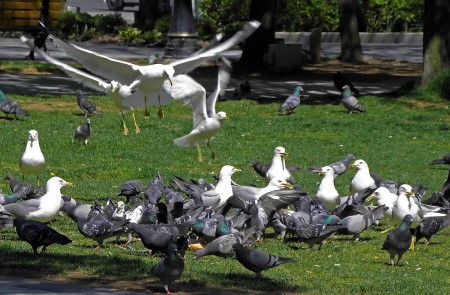 With pigeons, juggling is a team sport.
This adorable little girl was ever so slightly afraid of the pigeons. She preferred to observe them from a safe distance. I was tickled to get the image, but when I got it home, I was distracted by the too deep shadows and the ugly electrical cables on the trees: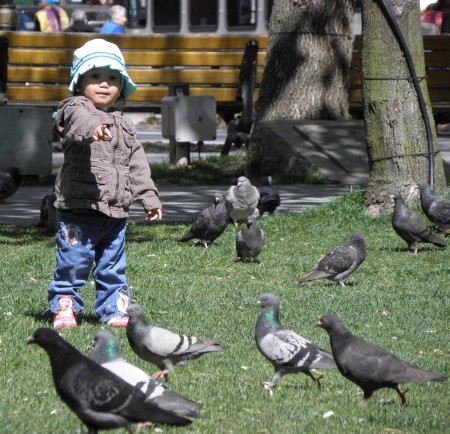 A few minutes with Photoshop soothed my image angst: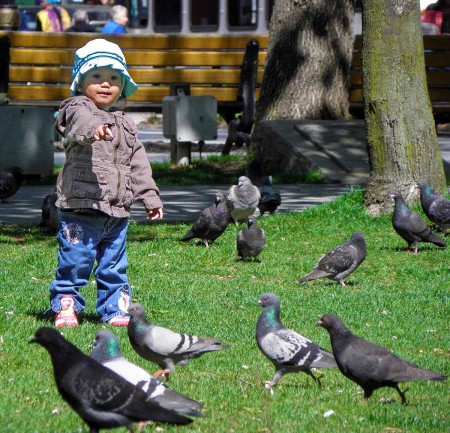 I brought up the shadows on her face and coat, obliterated the nasty wiring on the trees, and, while I was there, cleaned up the grass a bit and made it greener. Even the pigeons look happier.
Ah, satisfaction!
Tags:
pigeons
,
seagulls