Posted in
Under the Sea
on January 20th, 2010 by MadDog
I'll begin the day's foolishness with a puzzle fish. By browsing my big fish book and the web, I can usually identify nearly everything that I photograph. Sometimes it comes down to whether I have the time to search diligently. I am now overcome by hopeless despair, because I cannot identify this fish: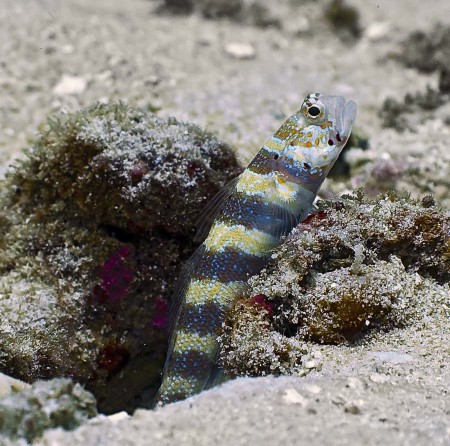 I know that it is a Shrimpgoby, but I haven't been able to find an exact match. There are a few wanna-be candidates, but with each there is some feature that does not match. I'm very happy with the image, as it is the first time that I have spotted this species. However, I'm frustrated that I can't identify it.
You've seen the Reef Lizardfish (Synodus variegatus) here many times. I often present it as a "find the fish" puzzle. It is superbly camouflaged: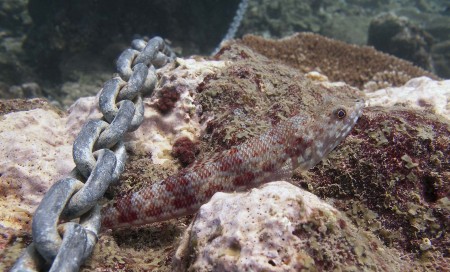 I captured the image of this one because of its stubbornness in the face of danger. They are usually quick to scoot away if you approach too closely. This one, however, was determined to occupy its favourite perch, even though I was fooling around with the anchor chain at the end of the dive and nearly dropped it right on its tail.
The Sandperches and Lizardfishes share many commonalities. You can easily see how a beginner might confuse this Latticed Sandperch [female] (Parapercis clathrata) with a Lizardfish: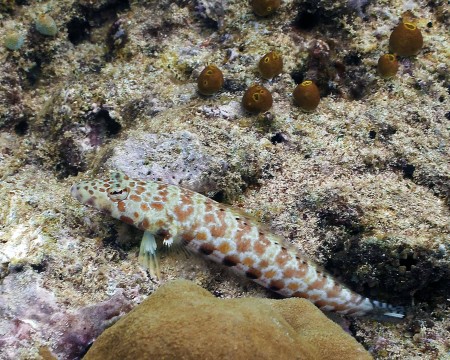 If you want to see a male of this species, you can find one here.  It looks pretty much like the female, except that it has a black spot on it's head and a big orange lower lip making him look a bit like Rachel Uchitel.
Here's an image with which I am very happy, It nearly (I said nearly ) makes up for the wretchedness demonstrated by my inability to find that cursed Shrimpgoby. This is a beautiful Humphead Wrasse (Cheilinus undulatus):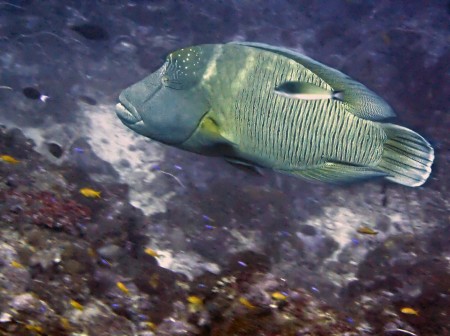 Wrasses, in general, go through dramatic changes of appearance as they progress through life. There is usually a Juvenile Phase (JP), an Initial Phase (IP – sometimes called the Intermediate Phase) and a Terminal Phase (TP). This individual is in the Initial Phase. That means that it is reproductively mature, but has not yet assumed the body form of a fully mature adult. For instance, its hump head will become much more pronounced as it ages.
The Humphead Wrasse is sometimes called the Māori wrasse, Napoleon wrasse or Napoleonfish. Japanese divers invariably call it the Naporean Fis. I should also mention that this is a huge fish, compared to the specimens which you usually see here. I guess that this individual is about 1.5 metres long and weighs a couple of hundred kilos. In some areas they have become locally extinct, because they have the unfortunate attribute of being extremely tasty.
Since I have some nudibranch lovers out there I'll throw in this (Fryeria menindie):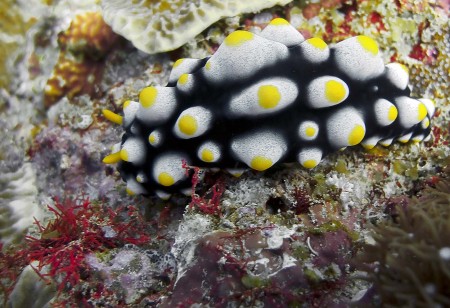 I fear my ID here may be a little shaky. If anybody cares to venture another guess, I'll surrender without a struggle.
Finally, let's retreat to a far corner of the saloon for a little giggle. Deep in the bowels of The Coral Queen, we found the sink where the beleaguered sailors could refresh themselves.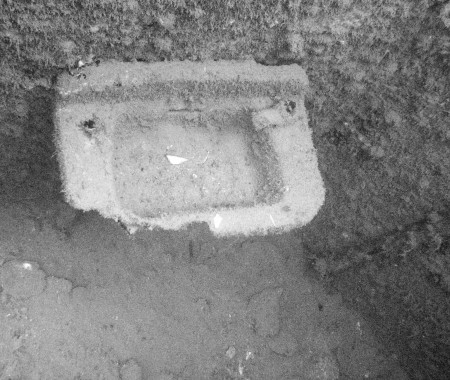 The light was so poor here that I had to resort to monochrome to get a usable image.
Now you have it. Everything and the bathroom sink.
Tags:
cheilinus undulatus
,
coral queen
,
fryeria menindie
,
humphead wrasse
,
latticed sandperch
,
nudibranch
,
parapercis clathrata
,
Reef Lizardfish
,
shrimpgoby
,
sink
,
Synodus variegatus