Posted in
Madang Happenings
on April 30th, 2010 by MadDog
If there was ever such a thing as a "Just War", then World War II was probably it. I can't imagine a sane person who would say that the world would be a better place if the Allied forces had not prevailed. Hundreds of millions of people died in the spasm of ghastly violence that accompanied this tour de force of human folly. In the wake of war the vanquished inevitably mourn and the victors celebrate. Both regret their dead and honour them for their sacrifices.
I covered the memorial service which commemorated the courage of those who protected us and finally prevailed. To me it seems quite proper that a memorial of courage should also include a celebration of life. Otherwise the sacrifice is cheapened. We did celebrate life and remember the sacrifices on Sunday at Blueblood. Here is Mike Cassell's Felmara with Group Captain Tony Behm at the helm and the appropriate array of beauties on the bow: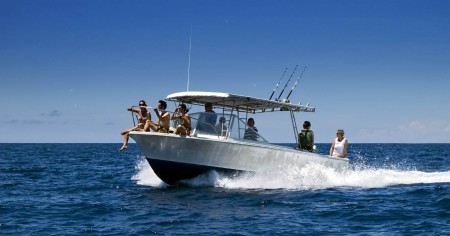 No small craft should take to sea with less exuberance.
My first task upon arrival at Blueblood is to document the beach for posterity. Future scientists will study this series of images for evidence of ancient sea levels: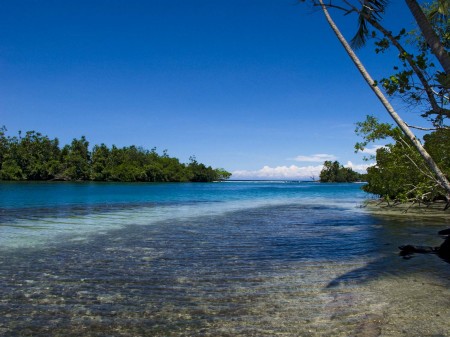 All that you see here may be submerged.
The usual suspects gathered for lunch joined by some new honoured guests: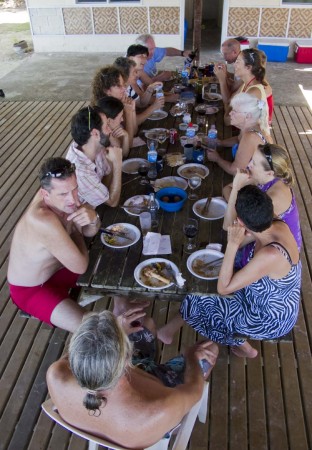 On the near end in front of Trevor Hattersley is Lt. Colonel Simon Watts on one side and his lovely wife Sue on the other. Down at the end in blue is Group Captain Tony Behm.
The usual after lunch activity is hanging in the water and drinking adequate quantities of delicious Australian red wine while laughing like a convention of comedians: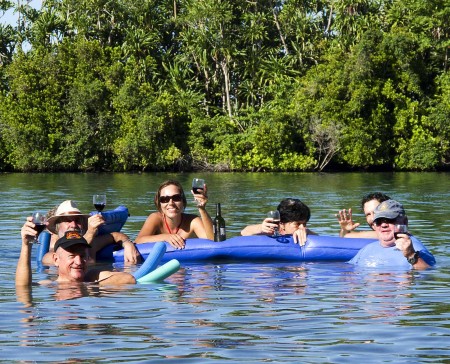 As I seldom get into the water unless I have my diving gear on – I can't swim very well – I usually end up being the photographer and wine steward. Constant demands rise up, "Bring us our wine!" I sometimes long to reply, "We haven't had that spirit here since 1969."
Between my wine runs to keep the revels going, I wander with my camera. I search for "odd shots". Here's an example: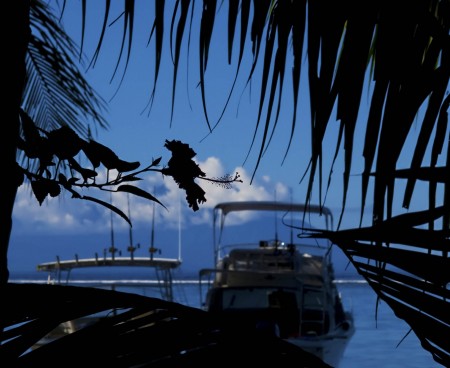 A perfect hibiscus blossom superimposed on fishing boats with the Kar Kar Island volcano in the distance.
It's a sad fact that every good party must end. Here we see Felmara cruising back to Madang with a load of happy people: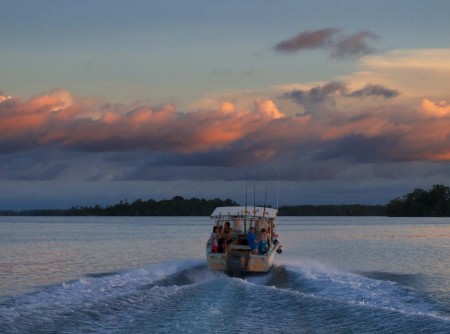 And a pensive soul: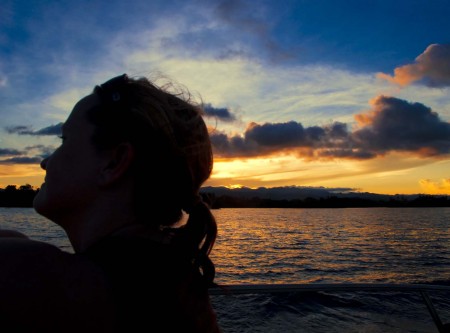 Karen silhouetted against the setting sun.
I wonder what she's thinking?
Tags:
anzac
,
anzac day
,
blueblood
,
felmara
,
karen
,
lyin dog
,
mike cassell
,
simon watts
,
tony behm
,
trevor hattersley