Posted in
Under the Sea
on October 26th, 2009 by MadDog
I woke up feeling faintly queasy this morning. Maybe a little too much partying yesterday? Who knows; there are so many bugs here that you could get sick every day of your life with a different one – no repeats! I'll play the trickster this morning and offer you a breakfast of Tube Worms, specifically, Sabellastarte sanctijosephi: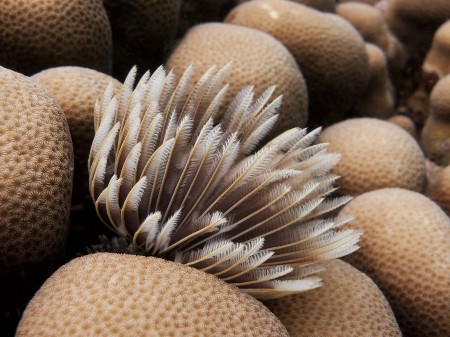 I don't know if it is named after St. Joseph (surely there is more than one St. Joseph – hmmm . . . seems there might be five others) or some person whose surname was Saintjoseph.
Here's another shot showing the beautiful double-bowl shape of these critters: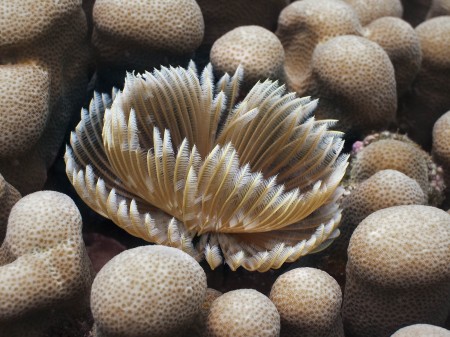 All of these images have excellent detail. Click to enlarge so that you can see the fine, featheryness of the 'arms'.
Here is another example: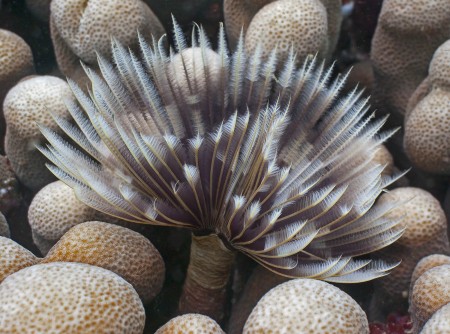 They are filter feeders, grabbing tasty bits from the water and conducting them down the pipe. In the shot above you can clearly see the tube in which the animal lives. Only the feathery feeding apparatus is exposed. If in the least disturbed, the feathers disappear into the tube faster than you can see.
Premnas biaculeatus, the Spinecheek Anemonefish is getting to be a regular sight here: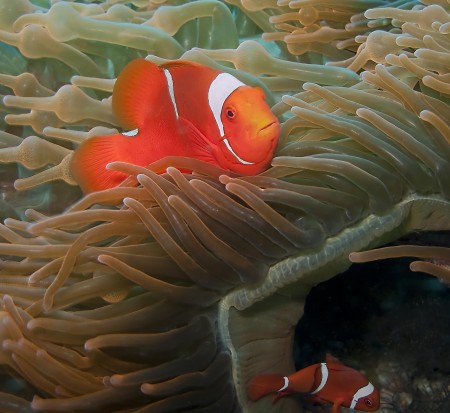 That's because I'm seeking to capture the definitive specimen shot of this beauty. My theory is that, if I take enough pictures of it, eventually I will have taken the most perfect image of it ever captured. This asssumes, of course, that I'm going to live long enough to manage that trick.
Okay, one more shot for today. This is another frame of a series of a ship coming in to Astrolabe Bay in the morning sun. I showed you a gloomy image from the series yesterday. Here's a slightly less gloomy shot: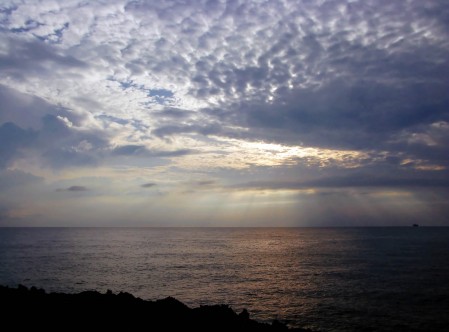 The ship look so insignificant on the vast sea. That's what I was going for in this shot. It's welcomed safely into port by the rays of the morning sun.
Hmmm . . . waxing rather too poetic this morning.
Tags:
Premnas biaculeatus
,
Sabellastarte sanctijosephi
,
ship
,
spinecheek anemonefish
,
st. joseph
,
sunrise
,
tube worm