Posted in
On Tthe Road
on July 22nd, 2011 by MadDog
Early tomorrow morning we are up for a road trip to Dallas. It's about a sixteen hour drive from here, so we'll be staying over in Amarillo, Texas, a town which I never expected to see. Life seems to be teasing me lately with constant surprises. At least none of them are bad. I can't help thinking about how miserable I was only a few months ago
Last October, only a little over a month after Eunie died, I took this self portrait of a man overcome by grief and loss: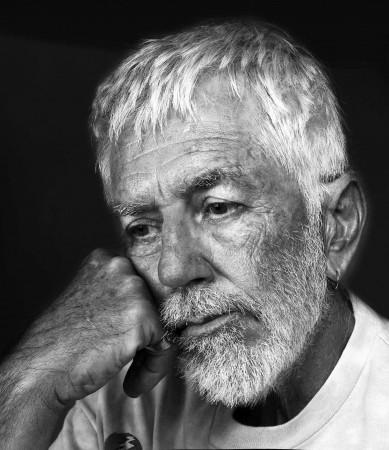 When I looked at it, I kept seeing the expression as "pensive". Now it looks terribly sad. A great deal has changed since then. Though I still grieve for Eunie every day, I've traveled half way around the world staying with wonderful friends along the way who have helped me to heal and see that there is a future for me. I'll never get over the loss of my wife and best friend of forty-seven years, but I've been given a vision of a future in which life can be good again. Whereas death once seemed a total loss, it now feels more to me as a change of condition. In my present situation, staying with Grace, Eunie's life-long best friend, She is not physically present, but nevertheless alive in our memories. She seems close to me now, whereas before I could not even unlock the treasure chest of memories.
So, as life unfolded day by day and month by month, I was guided to a place where I could find peace, comfort and healing. It feels very strange that only three years ago Eunie and I were here together visiting Grace. I remember being stunned by the incredible landscape. Nothing has changed my impressions of it. Here is Bell Rock. I see it every day when running mundane errands to buy groceries or post letters: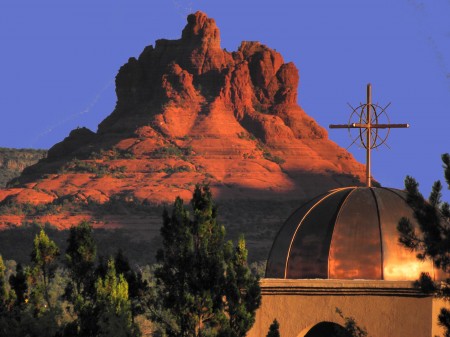 Every place you look here you find some outlandish display of handiwork. Here is the view from the parking lot of the local hardware store: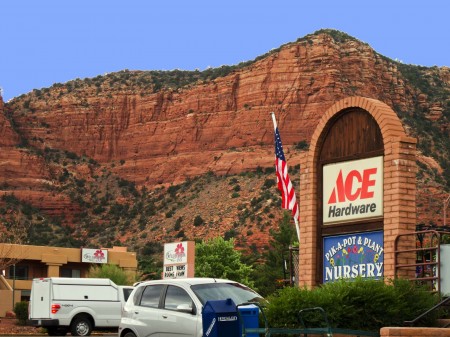 Ridiculous, eh?
Still skeptical? How about this: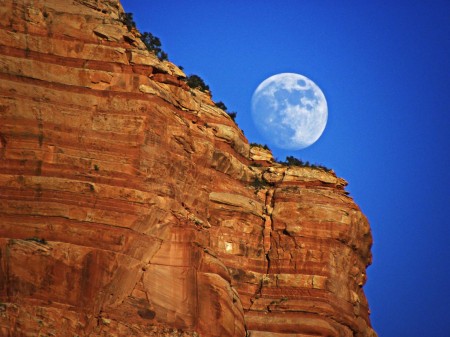 Really, it sometimes gives me the giggles.
It appears that I've traded fish for birds. There are precious few fish around here. This is a pair of European Collared Doves (Streptopelia decaocto) resting high at the top of a huge pine tree in back of Grace's house: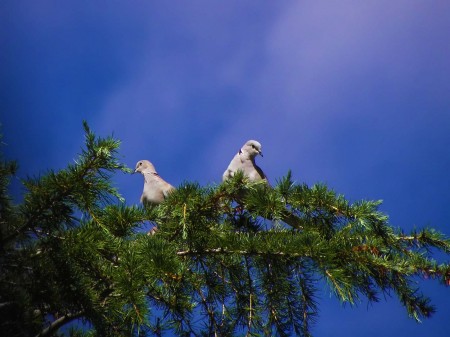 I can't account for all that's happening to me. It seems as chaotic a process as that which put me into the depths of despair less than a year ago. There is no explanation or rational for it. Grace says that the universe is being nice to me. I suppose that's as good a summary as any. I tend not to blame things on God. It's a useless notion. What I do believe is that everything of significance which "happens" is really part of some big plan, the details of which I am not privy to. Things which do happen are somehow necessary to keep the big plan on track. Being born and dying are critical events in the plan and we humans have little control over the timing. We do have a lot of control over many of the details of our lives, so it pays to live wisely, otherwise we waste what we are given.
I could not understand the plan if it were explained to me. God operates on some higher plane than my intellect can envision. I'm reminded of the old Simon and Grafunkel song, Slip Sliding Away:
God only knows
God makes his plan
The information's unavailable
To the mortal man
We work our jobs
Collect our pay
Believe we're gliding down the highway
When in fact we're slip slidin' away
All I can do is play my part with as much patience an good humor as I can muster. I think that I'm finally doing that again. I don't think I'm slip sliding away any more. I think it shows in my face: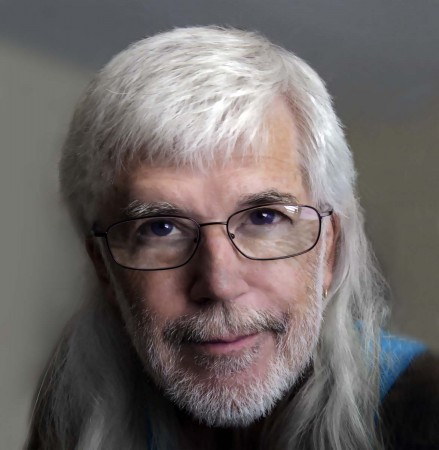 This is no longer the face of a sad man.
It's the face of a man who has stopped trying to figure things out so much and is just enjoying the ride. I'll eventually get to where I'm supposed to be.
Tags:
ace hardware
,
bell rock
,
european collared dove
,
moon
,
sedona
,
streptopelia decaocto