Posted in
Humor
on July 28th, 2009 by MadDog
It's a rainy, cold day here in Madang. The temperature is down to nearly 24°C (75°F for the Metric impaired). We're all freezing.
Since I got to work early this morning, I'll take a few minutes to have some fun. Saturday we went up to Blueblood on Mike Cassell's Big Blue. It was cloudy all day and in the afternoon the sea came up a little bumpy. Here's a shot of the wake: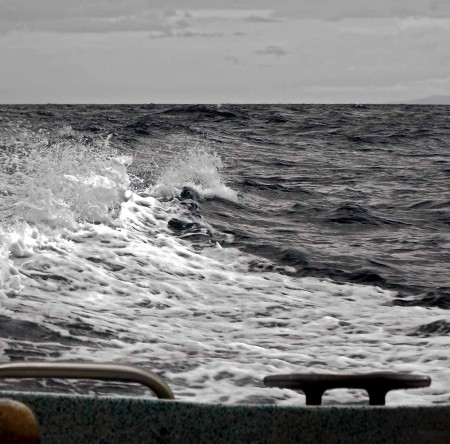 Mike put me behind the wheel on the way up. Sometimes it's nice to get a chance to just ride in your own boat and not have to worry about driving it. I was enjoying the power steering and my new Space Cowboys sunglasses: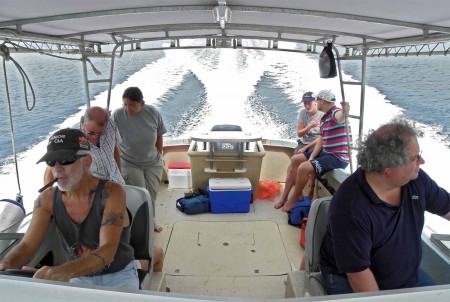 If you've seen the movie Space Cowboys, you'll probably remember the character played by Donald Sutherland, Captain Jerry O'Neill, USAF (Ret.). The former Astronaut, who now designs roller coasters, wears Coke-bottle-bottom glasses. An enthralled young female coordinator supplies him with a pair of very expensive Italian prescription sunglasses. Here's the movie poster: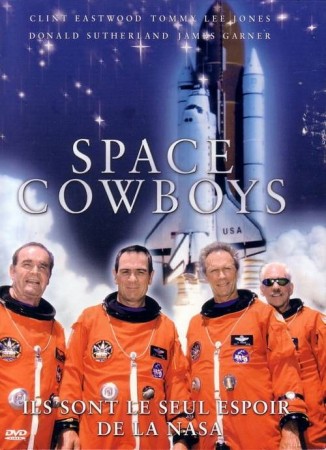 Hmmm, seems to be in French. Okay, it says something like, "They are the only hope of NASA." Thank you, Babel Fish.
I immediately coveted those sunglasses, but had little hope of owning a pair as the company's web site listed them at about US$850! Uh, that's a little beyond my price range. Way beyond.
This year when we visited Illinios, we went to a WalMart store to get Eunie's glasses repaired. I saw some nice looking frames on the rack and asked if they could fit them with varifocal lenses. Surprised that the answer was yes, I ventured to ask the price. Two hundred bucks! Okay, since I needed new sunglasses anyway (the old prescription died) I decided to spring for a pair.  I ordered brown polarised lenses because that's what you need if you're going out to sea.
So, since I never miss an opportunity to show you my wrinkled old mug, here are the WalMart knock-off Space Cowboys sunglasses in all their glory: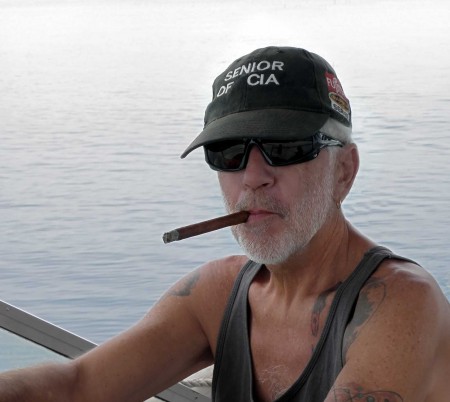 Thanks to Jennifer Miller for being my photographer. Now that I've brought Jenn to mind, I'll show you a lovely shot of her taken by Rich Jones. Here Jenn is guest-driving Big Blue in the late afternoon sun: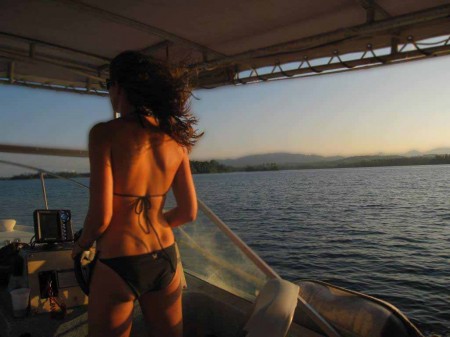 As boat drivers go, Jenn is much easier to look at than I.
Tags:
donald sutherland
,
space cowboys
,
sunglasses